I turned my back on television many years ago. Sitcoms, reality TV, annoying commercials - the sheer stupidity of it all seemed too pervasive to overlook. But in the last few years, there's a crop of programs that have me thinking twice. These shows have an almost cinematic quality - beautifully shot, sharply edited, tightly cast with well-crafted story lines.

In addition to a higher caliber of programming, many of these shows have enlisted the talents of amazing actors, such as Tim Roth, Gabriel Byrne or Mandy Patankin, to name a few. Television gives the viewer an opportunity to watch these masters in action, with a close-up, intimate feel that film doesn't necessarily offer.

Dare I say, there's some art on television?

Here's a spotlight on some of the best television shows and actors who've set the bar higher in TV land:


1. Breaking Bad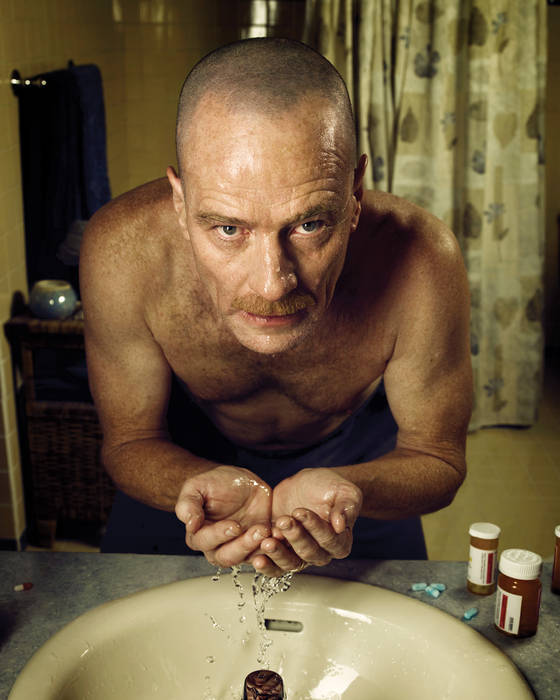 If you haven't seen this AMC series, stop what you're doing and get your hands on it. Bryan Cranston is knocking it out of the park with his performance and the show is daring and smart. It's beautifully shot, expertly edited and the supporting cast is top-notch.

It's about a down-trodden high school chemistry teacher who is diagnosed with terminal lung cancer. With two years left to live, he joins forces with a former student, skillfully played by Aaron Paul and they cook methamphetamine together as a way to make extra money.

But that summary of the show doesn't do it justice: it's really about struggling, hitting breaking points and life not turning out as you planned. It's Death of a Salesman meets Falling Down meets speed. Oh...and it manages to be quite funny somehow.

And it's so exciting to see a lesser known actor such as Cranston, previously known as a comedic performer (father in Malcolm in the Middle), showcase just how skilled he really is.

One of the best shows to grace television, hands down.


2. Criminal Minds



Criminal Minds follows a highly adept team of FBI profilers who analyze the minds of serial killers, anticipating their next move before they kill again. Each show is a noirish gem in and of itself and has more of a filmic feel than a television show.

(I had to include a photo with Mandy Patinkin who is no longer a member of the cast. But to watch him alone is worth it. And Thomas Gibson is my boyfriend, kinda.)


3. Nurse Jackie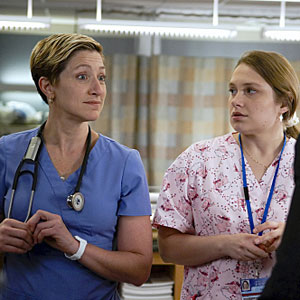 I was never much of an Edie Falco fan. She often struck me as a little flat in her approach to acting. But I'm wiser now. Nurse Jackie, in a similar vein to Breaking Bad, is a show about a good woman making some seriously flawed choices. She has a prescription drug addiction and lives a deeply opposed duel life. Amidst it all, she possesses a saintly air that is a perfect counterpoint to all of her very real flaws.

Supporting cast is solid as well. My new favorite on the show is Merritt Wever (pictured above with Falco) who plays Zoey Barkow. Her character is doe-eyed and idiosyncratic. She likes "pink, cats and panda earrings, and that she's not quiet and mean."


4. Glee



Not liking Glee is akin to not liking puppies. This fuzzy, adorable show follows a group of high school misfits lead by an earnest teacher, played sweetly by actor Matthew Morrison, trying to make his glee club successful against all odds. The cast is pitch perfect, with scene-stealing performances by Jane Lynch as Coach Sue Sylvester.

The best part about Glee is that it shamelessly has heart - lots of it. It doesn't mind being corny and touching.


5. Kyra Sedgwick, The Closer



While I'd like to give The Closer high praise, it would be a bit of a stretch. The show can be lightweight at times, with improbable and flawed plot lines. The supporting cast is spotty. Sedgwick's love interest does not spark enough flames. But to watch the enchanting powerhouse actress, Kyra Sedgwick, makes it well worth your time.


6. Tim Roth, Lie to Me



This is when I get really excited (I know - it doesn't take me much.) Tim Roth is an actor of the higher order and watching him is a thrill.

Lie to Me has its flaws though the subject matter is fascinating: Cal Lightman (Roth's character) and his team have the ability to read body language. They assist in various types of criminal investigations. And like Criminal Minds, the show's material is very well-researched. Its quite a lesson in psychology for the viewer. (Wow - learning from television? How novel.)

But the real reason to watch this show is to watch the finely-tuned expertise of Tim Roth's acting. In my book, if you get a chance to watch Tim Roth act, you watch it.


7. Gabriel Byrne, In Treatment



In the same vein of Roth, if you get a chance to watch the sublime, seasoned acting skills of Gabriel Byrne, you do so. The plot of the show is rather simple: it chronicles several patients in therapy with the world weary and depressed therapist, Dr. Paul Weston. While In Treatment can border on the pretentious, you still feel compelled to watch it, like some shrink session voyeur.


8. Law & Order

What's to say about Law and Order that hasn't already been said? It's the backbone of dramatic television, spanning decades at this point. Law and Order (and its various spin-offs) have been compared to eating potato chips, where one leads to another and another. Afternoons have been completely lost to Law & Order's well-honed formula.

I'll quickly highlight just a few of the actors who really capture that blue collar, downplayed Law and Order feel:
9. Hugh Laurie, House



Let's first address the fact that Hugh Laurie is hot. Smoking hot. Let's sit with that for a moment. Okay, I'm ready to move on:

House has gone downhill over the years. I can't really support it as a show anymore. The cast seems chilly and narcissistic and annoying. I don't feel for them, which is a real directorial problem.

Hugh Laurie is still the reason to watch House. Like Roth and Bryne, he is an actor of a higher order.


10. John Noble, Fringe



Not a big fan of Fringe. It's kind of like a bootleg X-files. But John Noble's touching performance of a troubled genius makes the ridiculous story lines worth wading through. He an actor of great subtlety and nuance...and kinda blows the rest of the cast away, frankly.


11. The Sopranos



One of the main reasons television doesn't suck anymore is that a few shows set the bar pretty damn high. Certainly The Sopranos blew us all away (hello, easy pun) at first. It was a dark but very human look at the life of a Jersey-based mob family. The Sopranos is a very good example of a near perfect cast.


12. Buffy the Vampire Slayer



Joss Wheedon's Buffy the Vampire Slayer is so well-crafted, I almost don't know where to begin, other than to say it's one of the best television shows of our time.
Interestingly, the actors on it aren't superb but they're good - they do their jobs. We relate to them. The mythic element brings us back to our childhood selves, where good conquers evil, at least sometimes.

Buffy has a strong feminist undertone, with a powerful and complicated lead character, which makes it even more refreshing. Dollhouse, one of Wheedon's more recent creations, is also a smart and creepy piece of science fiction.

(Oh and hats off to Xena, Princess Warrior, who matches Buffy in overall badassness and campy perfection.)


13. The Office - UK


Ricky Gervais gave one of the most awkward, self-conscious and deeply comedic performances in a television series. He's a beautiful trainwreck to watch. The Office, as a show, created its own existential comedy genre.
It mirrored, almost too closely, the realities of mind-numbing office jobs. Kudos the the American version of The Office. It's stellar in its own right. But nothing touches the complexity, bizarreness and heart of the original. The Brits just tend to be funnier, as a rule.
(One of my favorite scenes in video collection below.)
13. Intervention



I tread lightly in the arena of reality television. It can get so ugly! But some props are due. Intervention is deeply compelling and all-to-real. The power of addiction is something most of us relate to, for one reason or another. The transformations that take place on the show remind us all that change is possible, even under the most dire of conditions.


15. I Survived



I think this Showtime program is relatively new. But you will be glued to it, I promise. The premise is simple: 2 or 3 people retell a life-threatening situation in which they found themselves. No fiction can touch some of these stories, they are so real and terrifying.

But what really makes this show so powerful is that you see elements of heroism and strength in so many different kinds of people. At the risk of sounding a little over-the-top, this show makes you believe in the power of humanity.


16. The Cartoonists
Nobody can take liberties like the cartoonists. They seem to have carte blanche when it comes to being politically incorrect and wildly id-driven. And that's why we love them. They get to say and do things we can't and probably shouldn't. Family Guy, The Simpons, South Park go there, unabashedly. These guys are real visionaries and true artists.

Seth MacFarlane inteview
Bryan Cranston winning first Emmy
Lea Michele, getting closer to Streisand
Jane Lynch "eating cocaine for breakfast." Must watch opening clip.
Ricky Gervais being brilliant.
OS Suggestions Below

----------------------------------------------------------------------------------

Damages with Glenn Close - Trilogy
Modern Family - Lainey
Iron Chef - MyPsyche
Southland, Mad Men, Ugly Betty, and Shameless. For sci-fi fans, Caprica & Battlestar Gallactica - Leslie Basden
The Wire & Friday Night Lights - Juliet Waters
White Collar & The Good Wife - Nikki Stern
Top Gear, Mythbusters, Leverage, Burn Notice, Psych - ocularnervosa
Venture Brothers cartoon on Adult Swim (aka nighttime Cartoon Network) - nolalibrarian
Big Love, Diary of a Call girl and True Blood - Amanda Gulledge
White Collar, Burn Notice, In Plain Sight, NCIS - Liberal Southern Democrat
The Chapelle Show - littlewillie
Deadwood - D Art
Heroes - Abby Aline (A Digg comment)
Extras - mamoore
Psych - Mister Comedy
Dr. Who - Grump Old Bitch
The Amazing Race - Gee Bee
The United States of Tara - 514gal
Brotherhood & The Underbelly & The Deadliest Catch- Reader not Writer
It's Always Sunny in Philadelphia - HordeVSOptimus
Firefly & Farscape & Babylon 5 - Douglas Moran
The Young & the Restless (brave woman!) & Community - asianshoebox
Prime Suspect, The Wire, Homicide, Huff, 48 Hours, I, Claudius and Rome but definitely NOT The Tudors - Emma Peel