I was suspicious of them early on, though I wasn't quite sure why. Perhaps its that pervasive and cloying "pink means female" message. We suffer from a "cute" femmy disease and wear sweet little ribbons to prove it.
Barbie should wear one!
After watching several friends and relatives die from the disease, I distanced myself even more from the pink parade. My loved ones weren't simply ravaged by cancer; they were ravaged by the
treatments
for cancer, which seemed hoisted upon them by an all-knowing healthcare industry, for whom I was growing increasingly skeptical.
Why find a cure for something when you're making so much damn money from it?
Wear a pink ribbon instead.
And there was the convenience factor. Buying a box of Lean Cuisine or a bucket of chicken with a pink ribbon on it hardly seemed like a good deed for the day. "Pinkwashing" became the name of the game, where companies hijacked a cause for profit and PR.

Because sodium-laded soup only causes heart disease.
But the ribbons, they're about
awareness
, I've heard repeatedly. Have people not heard of the disease? Oh yes, we should perform self-examinations. And we should get our routine mammograms (where radiation may contribute to the problem) and we should, well, just be aware! Look, even the football players are aware!


My agent told me to wear it!
Unfortunately, awareness hasn't necessarily equated with action or success. Incidence rates are higher than they were 30 years ago. Awareness also hasn't included outing companies that flagrantly use cancer-causing agents in their products. Or our meat and dairy pumped with hormones and antibiotics. Or genetically modified foods. Or polluted air and water. Awareness hasn't included any
alternative
treatments for cancer, which are barely recognized because Big Pharma makes sure they keep their traps permanently and legally shut.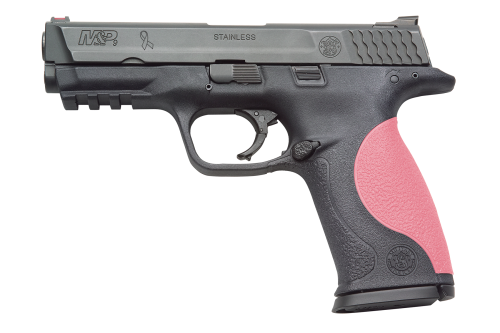 Smith & Wesson's Pink Breast Cancer Awareness 9 mm pistol, when ribbons just aren't cutting it.

Instead, breast cancer awareness includes yogurt, Tupperware parties and cosmetics (again, possibly the cause, not the cure). Noble folks "race for cures," raise substantial funds, and then promptly hand it over (potentially) to the corporations benefiting the most from keeping us sick.














Eat the cancer-causing hormones in the yogurt and donate to finding a cure to your own disease.














Wow. No sarcastic caption needed.

When I stumbled across Think Before you Pink, my concerns were validated and more clearly defined. They do a much better job of describing the potential damage of the pink ribbon campaign.
Their mission:
"Think Before You Pink™, a project of Breast Cancer Action, launched in 2002 in response to the growing concern about the number of pink ribbon products on the market. The campaign calls for more transparency and accountability by companies that take part in breast cancer fundraising, and encourages consumers to ask critical questions about pink ribbon promotions."
Have lives been saved by supporting the pink ribbon campaign? Undoubtedly, indirectly or directly. Awareness (and millions) have been raised.
Now to step it up a notch and see who is behind this research, where your donations are going, what's really making us sick, and how people benefit from keeping you that way.
Oh...and
Barbie does wear pink ribbons.
I should have known.
A fictitious ad, but drives home the point.
Thanks to greenheron for her personal account on this topic: "Cancer Bitch."