Here's my latest picks, raring and ready to stream on Netflix today. (Okay there's one show listed that you can't watch on Netflix but its so good that I came up with a back-up plan so don't worry your pretty little head.)


1. The Woman Who Wasn't There
A jaw-dropping documentary about a woman who included herself as a 9/11 survivor and became quite well-known only to be found out as a fraud. It's almost hard to believe how far she went with her bizarre charade before a New York Times reporter becomes her undoing. Wow.

2. Locked Up Abroad
This is what I call a "gratitude show" because by the end of an episode, you'll say, "My life ain't so bad after all." Well-produced and all-too-true life stories about…people locked up abroad, obviously. Damn, if I've told you once, I've told you a million times…don't bring cocaine to Venezuela, people!
3. Paranormal Experiences
Definitely a personal favorite for this paranormal-loving gal. Well-acted, well-produced and genuinely scary true stories that you definitely don't want to watch alone. Love this show! Makes you believe again.
4. Top of the Lake
Jane Cameron's edgy and unusual crime drama series shot in New Zealand is truly one-of-a-kind in its use of highly quirky, flawed characters and disturbingly real moments. Watch it for Holly Hunter alone, who is eternally watchable in this all-too-small role. (Cameron should build a movie based on Hunter's character alone.)
Or watch it for the meth-fueled bad guy (Peter Mullan) who makes you squirm with his insanely scary temperament.
5. Kitchen Nightmares, UK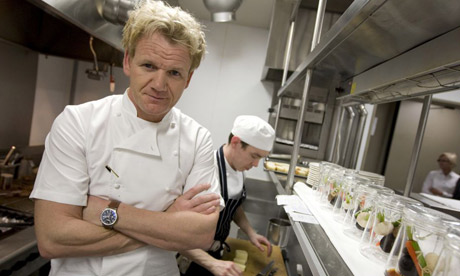 I know, I know, everyone has watched their fair share of a Ramsey tongue-lashing (which I'd welcome in all its possible innuendo, in case he stumbles across this). But have you seen his first program, shot entirely in the UK? Much more humble, simple and likable. Bonus? Tons of great lessons in marketing and running a business successfully. I find him a real inspiration.
6. Black Mirror
Billed as a "suspenseful, satirical three-part mini-series that taps into collective unease about our modern world", this show feels like sci-fi made for today, not 50 years ago. It's a UK program and can be found here, not on Netflix…but well worth an extra step or two. These are very finely crafted, highly creative works with a big screen feel.
7. The Silence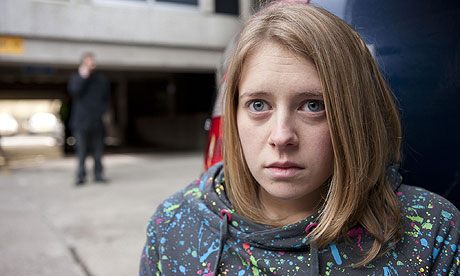 This UK series chronicles a deaf girl after she witnesses a murder and aids her detective uncle's pursuits in uncovering the crime. There are a few flagrant flaws (especially toward the end when the lead actress forgets to read lips in certain scenes!) but its very watchable and captivating enough.
8. Torn
This series typifies that gritty edge that the Brits capture so much better than our all-too-smooth and polished programming. It tells the tale of a grieving mother who years later can't seem to let go of the loss of her daughter…especially when she spots her in a mall one day. Good acting, solid story.
9. Loving Lampposts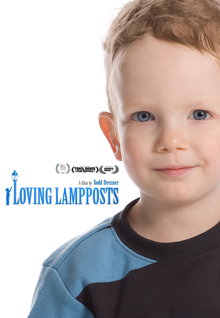 A groundbreaking documentary that makes you revisit what you think about autism entirely. Nuff said.
10. The Wedding Gift
Sad little movie made in 1994 and interestingly based on the woman who had the first "official" case of Chronic Fatigue Syndrome and Immune Dysfunction Syndrome. Don't let that scare you away. It's very well-acted (Julie Waters and Jim Broadbent) and very comfy and intimate considering the heavy subject matter.

*************************************************************
BONUS! Kinda....
Arrested Development, one of the most clever shows to bless the TV screen, has added a Season 4 to Netflix alone. The pacing is weird and it feels different, so I'm not sold yet...I hear I have to hang in there.
But I give this show a latitude because even on a bad day, it has to be good. And if they're going down, I'm going down with them.

A little Gob on your way out?
Suggestions from Fair Readers:
From Maria Heng:
Eddie and Thea, A Very Long Engagement.
Kumare
The Dhamma Brotherrs
A Short Stay In Switzerland
Paper Clips
From Mishima666:
1. In The Loop -- hilarious political comedy. This just about killed me; not recommended for people with weak hearts.

2. Five Minutes of Heaven -- James Nesbitt and Liam Neeson in a movie about reconciliation in Northern Ireland.

3. Departures -- marvelous, beautiful Japanese movie. Includes a fine supporting performance by Tsutomo Yamazaki of Tampopo "cowboy" fame.

4. Jiro Dreams of Sushi -- documentary about a master sushi chef

5. Sarah's Key -- French drama revolving around the 1942 deportation of French Jews.

6. Goats -- nice comedy about a young man heading off to college and leaving his goat-herding mentor.

7. Resurrect Dead: Mystery of Toynbee Tiles -- very strange and fascinating American documentary.
I think Art James may have suggested Hoarders...not sure.
---
Extended reviews of Maria Heng's suggestions:
1. Eddie and Thea, A Very Long Engagement
Above all this is an exquisite 4+ decade love story stripped of all saccharine and steeped in the compelling real-time personalities of two gorgeous, intelligent, sassy ladies. The doc captures their history through a slide show of their pictures that they talk about - so it also becomes a highly personable account of what is what like to escape the holocaust, to discover one's gay sexuality in the 50s(?), to find a place in life as a gay woman, the sex and love scene at the time, to fall madly in love and how that love played out and continues to express itself through Thea's quadriplegia. A really fresh and up-close take on gay love. I fell in love with Edie and Thea - they have danced through their lives in each others arms with sass, humor, style, intelligence. (so much for the short review, let's see i I succeed with the next one.)

2. Kumare
A doc(?) about an american man who very convincingly portrays himself as a guru and gathers a following of devotees. His goal was to discover if the "divinity" was really in the student rather then in the guru, and to bring up questions about charlatan gurus. It helps that he's cute as hell, the documentary (inadequate term) is actually unfolding in front of us with all the uncertainty and drama of real life tensions, and the pacing clips along through not a dull moment of revelation, sometimes funny and often moving. Ultimately, this movie leaves the viewer with key questions that every spiritual seeker would do well looking at. (2 lines shorter!)

3. The Dhamma Brothers
The vipassana meditation program is brought into the dominantly christian, high security Alabama prison by two men and offered to any of its interested inmates. We get to see what that looks like, and learn of the impact of the program on these hardened criminals, and learn of the personal changes that take place over the many years that the documentary is filmed. Then there's the drama of the prison system itself... My review here sounds very dry. But let me tell you, it made me cry - in a good way. I'll think of prisoners differently from here on out, and appreciate my own freedom more deeply. Please watch this one - it's profound.

4. A Short Stay In Switzerland
Story based on the last years of Dr. Anne Turner life who chose euthanasia for herself when she was diagnosed with progressive supranuclear palsy (PSP). She had cared for and watched her husband die from a closely related condition that left him completely paralyzed, and unable to even blink or sleep. The thing that makes this so worth watching is that Julie Walters captured Dr Anne with incredible grace and dignity. To me, this is really a story of how to die with dignity and fearlessness, whether one chooses euthanasia or not. Julie Walters kept me glued, the character and personality of Dr Anne left me inspired, awed, and changed.

5. Paper Clips
Children in a Tennessee middle school want to understand what 6 million looks like - the number of people killed in the holocaust. So begins their holocaust paperclip project - collection of paperclips from people around he world - each representing someone lost and accompanied by a story of that loss. The project changes the lives of the children, the teachers, and the community they live in with an awareness of the dangers, damages and crime of prejudice that informs their perceptions of all peoples. Healing and growth is brought not only to them, but also to the victims of the holocaust who now have a place to rest the ghosts of their loved taken in the memorial that the project grows into. A heart expanding documentary that has also forever changed my perceptions for the better - cry good tears.
6. Bride Flight
Definitely a chic flick with the soundtrack to go with it, and a hunk of a guy to swoon over and beautiful women to wish one as like and that amazing sensual sex scene - forbidden love, love, duty, yearning, lust, ambition, loss, reuniting, completion - its all there and the girl in me was super satisfied.