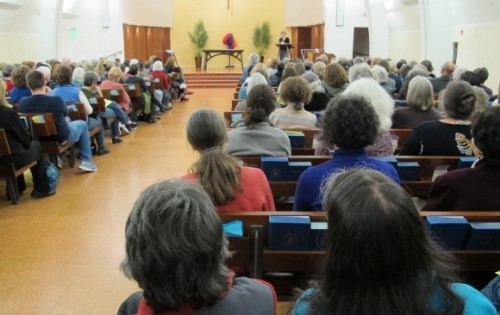 Fans filled the pews for Anne and Sam Lamott. Well, for Anne anyway.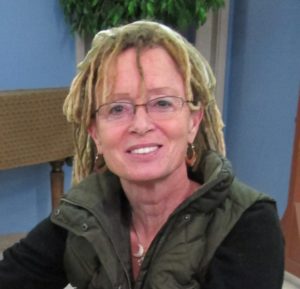 Photos by BF Newhall
By Barbara Falconer Newhall
When best-selling author Anne Lamott learned that her 19-year-old son Sam was about to become an unwed father, her reaction was, "It's all over. The baby will be raised in a shelter. They'll be on the street."
But as soon little Jax Jesse Lamott was born in July, 2009, her grandmothering instinct took over – as did Lamott's instinct for turning life into art.
She asked Sam whether he was OK with her writing about being a newly minted grandmother. He
said he was delighted. Soon the book, Some Assembly Required: A Journal of My Son's First Son, became a joint project.
Their book tour earlier this year included a stop at Montclair Presbyterian Church in Oakland, CA, where more than 250 people – mostly women – showed up for the reading and book signing.
I personally had been counting on getting a first-hand glimpse of Sam, the focus of Anne's earlier book, the best-selling Operating Instructions, written during Sam's own first year of life.
But Sam – a busy art student and now the father of 2-year-old – was a no-show that night. The assembled fans had to settle for an evening of witticisms from the mistress of bons mots.
About writing a book with Sam: They're still teenagers at 22. They just are. Getting him to finish it was like getting your kid to finish their term paper junior year.
On writing: I do it every day, five days a week. I don't wait for inspiration. I don't believe in inspiration. If you want to be a writer, you sit down and write. But Sam, at 19, believed in inspiration . . . so I would give him assignments.
(I'd give myself assignments too. For example: "Just introduce the characters.")
How some of Sam's part of the book got written: Sam would call and start to say something amazing [about Jax], and I would say wait, wait, wait – and I'd get a pen or a laptop.
On being the young, single mother of Sam: Things are so much harder than the popular culture would lead you to believe. I wanted to wrap up the baby very carefully and leave him out for just one night.
On writing about Sam when he was a kid: By the time he was 10, I cleared every story I wrote about him.
On writing about family nowadays: I don't air the family laundry. I don't write things I would tell only a few friends.
On writing about the baby's mother and her family: I showed it to Amy and her parents and said I will take [what they say] into consideration.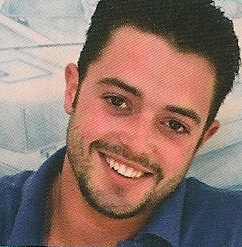 Sam was a no-show. Photo © Talena
Smith & Ricci Nazareth-Silva
What the younger generation does when they see you struggling with computers and remotes: They grab things out of your hand.
On getting your book published: Think about an ebook. It's the wave of the future.
For more of Anne's bon mots, go to: http://barbarafalconernewhall.com/2012/09/15/sam-lamott-was-a-no-show-but-anne-arrived-with-a-bouquet-of-bons-mots/
Operating Instructions: A Journal of My Son's First Son, by Anne Lamott with Sam Lamott, Riverhead Books, 2012, $26.95 hardcover.
For more writing tips go to my more capacious website and find out what Jasmin Darznik has to say.