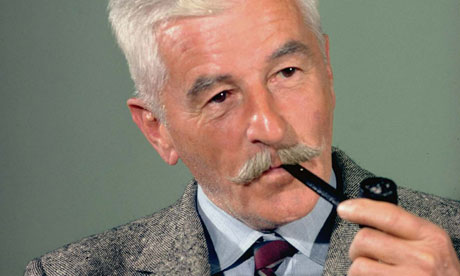 William Faulkner's complete works sold for TV adaptation
HBO signs deal with Deadwood creator David Milch to produce films and series based on Faulkner's novels and stories
http://www.guardian.co.uk/books/2011/dec/01/william-faulkner-tv-adaptation
"Read, read, read. Read everything -- trash, classics, good and bad, and see how they do it. Just like a carpenter who works as an apprentice and studies the master. Read! You'll absorb it.
Then write. If it's good, you'll find out. If it's not, throw it out of the window."
―
William Faulkner
THERE IS NO BETTER WAY TO HONOR AMERICA'S GREATEST WRITER THAN WITH WORDS:
ISBN: 978-1935725084 NOW AVAILABLE ALL OVER THE WORLD. JUST TYPE IN ISBN AT YOUR FAVORITE SITE OR GIVE IT TO YOUR FAVORITE BOOKSTORE. IN MOST FORMATS...PRINTS, E-BOOK, IPAD, WHISPER-NET
The mysticism and religious fanaticism of the Dust Bowl era has had a profound impact on the arts. Popular TV shows like HBO's Carnivale have brought this strange time period into the mainstream. These were years marked by war, a global depression, racial hostility, and a collective search for salvation. In author Lyn LeJeune's new book, Elijah Rising (inGroup Press, October 2011), a man's descent into madness begins as the world goes to war. Disillusioned with his boring life in New York City, a wealthy white heir to a railroad fortune follows a black tent-fundamentalist preacher out west. Their goal is to bring God to those uncivilized and uncharted parts of America. But as they venture deeper into the unknown, it is they who may most require the grace of God. Elijah Rising is a love story filled with captivating descriptive writing, profound characters, and a learned sense of history. LeJeune has written timeless, high-end fiction for even the most discerning tastes.
JP Souza Publicity, inGroup Press T: (773) 599-0337E-Mail: JP@inGroupPress.com Web: www.inGroupPress.com
***Note from author: Howard Zinn – greatly missed – was one of my first readers. He wrote this to me: "I read it in two sittings, became involved in the story. You write every well!" Now who wouldn't have pursued the book to publication? It is now published by InGroup Press.
Excerpt: It is 1917 …
ELIJAH RISING
Lyn LeJeune
Our youth are desperados
Warner Fabian
BLACK PROPHET ON A FIERY CROSS
Put it over the plate for Jesus.
Billy Sunday
The frigid winds of February have assaulted New York like the beginning of an ice age. Then I saw him. I had given up on him, believed he had been blown away with the winds of time. I'd been afraid that he had perished, sucked into the meanness of humanity in these last years. But today I stared at his picture; there he was majestic before me, his words no longer hued in bright colors just for me, but in plain and simple black and white, spread out on the table like demented symbols. Black hands held and threw the words at will.
Little Washington is standing upright on a platform, the sun is streaming down on his shoulders, his eyes are frenzied. He is wearing a suit and tie. In his outstretched hands he holds a Bible, as though he were making a final offering to the world: Take this or you shall be left behind. Is that what he is saying to the crowd? The caption below the picture reads: Young Negro preacher speaks in tongues. Elijah Broom captivates even white southerners in Tennessee revival. An alien hand rubbed my back, leaving bloody nail marks as it moved from my neck to my spine. That was the pain of it, the shock. Little Washington, now the great Elijah, had made his way to a home, a place to belong, and planted himself into the mind of America. Did he respond to a calling, one that had been with us as we looked down upon his dead mother that long ago day? Had God spoken to him from his open Bible, reached out and clutched his soul in big, white fabricated hands? The portent of this intention, this transformation, was captured in the picture. Elijah was out for retribution. The article goes on to describe him: He is not five feet tall, a little yellow Negro that speaks about the flood and redemption. When asked if he is going back to Africa with Mr. Garvey, he says: 'No sir, I am in the presence of the divine country. I have followed the instructions of my Lord, for I have been called to cleanse this land. Alleluia'. And then he kisses his Bible. He always kisses his Bible.