It's that time once again to list the best and worst the last year had to offer. I disclaim as always that this list only represents the people who were awesome or idiotic enough to retain my attention, that this list is in no way meant to represent the absolute best or worst.
---
HERO
#5. Link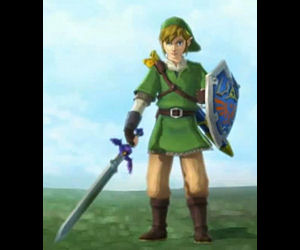 When the entire world is on the line, one quiet, unassuming kid steps up and takes care of business without complaint. If there's a problem or obstacle, Link will eventually find the tools he needs to get through it, and he doesn't let anybody or anything stand in the way of doing what is right. Not only did he save Zelda and time itself from being the plaything of evil, but he also proved that Nintendo still has some magic left in it, and for that, he deserves recognition.
---
IDIOT
#5. NASA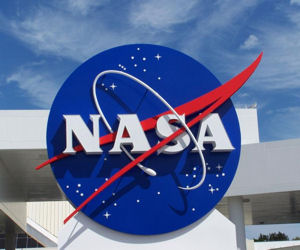 It's tempting to blame the U.S. government for tightening the purse strings on space exploration, but the sad fact is that NASA, as an organization, has refused to evolve since the end of the space race and deserves to be put out of its misery so that newer, more cutting edge science and innovation can take its place. Unfortunately, private enterprise has yet to really catch up, and so we have ironically put our extraterrestrial hopes and dreams on Russian rockets. 2011 saw the landing of the last shuttle and the beginnings of an extreme downsizing for the once noble organization that put men on the moon several decades ago. The practical death of NASA is a dagger in my heart, and what makes it so much worse is that the only good thing NASA is doing these days--the Kepler telescope that is responsible for finding all those extrasolar planets that have been in the news--is on the chopping block thanks to the budget cuts. Looks like my generation won't be the one that sees our dreams of space travel come true.
---
HERO
#4. Christopher Hitchens
The death of Christopher Hitchens marks the end of an era. Hitchens was the last great journalist, and his signature cigarette, alcoholism, and wit attest to the fact that he seemed to belong in the age of Edward R. Murrow and Walter Cronkite. There are no more men like Hitchens, who was unafraid to check every premise, challenge every belief, and who absolutely refused to be pigeonholed by politics, ideology, or preconceptions. Sure, he was kind of a jackass, and it goes without saying that I didn't agree with every position he took, but goddamn do I respect his legacy, putting his every thought out there for all to see even as he was drawing his dying breaths. To die with pen in hand, so to speak, is how every writer should go.
---
IDIOT
#4. Dr. Oz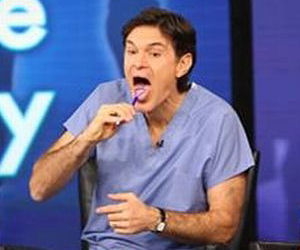 After I put the likes of Jenny McCarthy and Oprah on this list in years passed, it should come as no surprise to find Dr. Mehmet Oz here in 2011. In addition to his usual quakery and peddling of "alternative" medicine, this year, he did a show in which he reported that there are unsafe levels of arsenic in apple juice. This lead to a massive scare, as gullible and easily terrified parents dumped their juice containers in the sink, called schools across the nation, and demanded answers. The problem, naturally, is that Dr. Oz's journalism was lacking, and his conclusions were probably wrong. All he did was frighten people and harm a thriving industry in the midst of an economic malaise, which had the predictable results of boosting his ratings.
---
HERO
#3. Dr. Steven Novella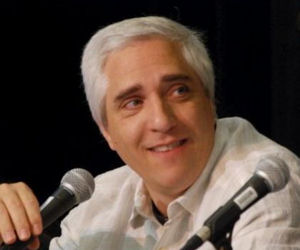 Luckily, there is one man who is willing to take the fight directly to Dr. Oz, and that man is Dr. Steven Novella. Against the advice of his friends and colleagues, Dr. Novella, a well-known skeptic and advocate for science-based medicine, appeared on Dr. Oz's show to discuss the problems of alternative medicine. Of course, Dr. Oz believes in every quack cure imaginable, be it accupuncture, chiropractic, or herbal aromatherapy mumbo-jumbo, but he also has a very large audience full of people who blithely accept whatever he has to say. For Dr. Novella to essentially go into the lion's den, where he could easily be subjected to biased editing and out-of-context representation, shows some serious balls and a deep desire to let the facts be known. The best part is that he presented his case well and likely succeeded in planting the seeds of critical thinking in some of the people in the audience, which may lead some of them to seek real medical help instead of crap when they get sick. Though there's no way to definitively prove it, I would argue that Dr. Novella's appearance on the Dr. Oz show may have saved a few lives. Dr. Novella carries the torch for science into even the darkest corners of nonsense (namely, daytime TV), and for that, he is a hero.
---
IDIOT
#3. Clarence Dupnik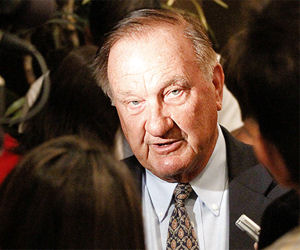 Almost exactly one year ago, Jared Lee Loughner opened fire on a public meeting featuring Democratic Congresswoman Gabrielle Giffords in Tucson, Arizona. He killed six people and injured thirteen others, including Representative Giffords. For the record, Loughner is a nutbag, too crazy to be tried in court at this time, and that is all that should need to be said about his motives. However, before Loughner's gun had even stopped smoking, the sheriff responsible for security at the event, Clarence Dupnik, got in front of the microphones to blame the vitriole coming from the political right as being responsible for what Loughner did. Democratic leaders across the country nodded in agreement and made similar pronouncements, including Debbie Wasserman Schultz, Nancy Pelosi, Paul Krugman, and Harry Reid. It became a talking point that, because Sarah Palin once used crosshairs in an online campaign advertisement to "target" vulnerable Democrats in the 2010 election, including Giffords, Palin was directly responsible for the shooting, just as guilty as the man who pulled the trigger. We the people were treated to hand-wringing speeches from the president himself about how we should be more civil and calm in our political discourse, in order to honor Representative Giffords, all because one jackass sheriff decided to leap to conclusions long before the facts were in. The worst part is that these same politicians who complain about heated partisan rhetoric coming from the right have no problem whatsoever with violent imagery or ramped up, exaggerated partisan rhetoric coming from the left. If you're going to lecture us about being civil, you shouldn't keep double standards. This terrible event didn't need to become a political matter, and all Sheriff Dupnik did by making it one is stoke the flames of the partisan divide. Way to go.
---
HERO
#2. SEAL Team Six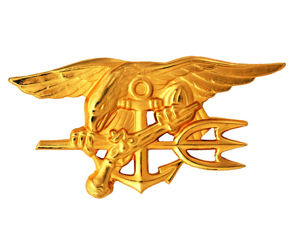 Osama bin Laden is fucking dead. Enough said.
---
IDIOT
#2. Rick Perry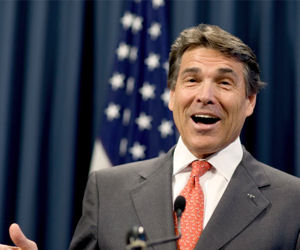 2010 saw a huge Republican victory because the majority of the American people--a center-right contingency--are fed up with how our government has been handling things. They don't like the Patient Protection and Affordable Care Act (aka "Obamacare"); they don't like corporate bailouts (yes, that includes the ones started by President Bush); they don't like unemployment higher than 8%; and they don't like extreme deficit spending from any administration. 2010 wasn't about social conservatism any more than it was about international relations with Argentina. The bottom line is that one big year for Republicans doesn't equal a change in the way government does its finances; it would take a powerful leader to unseat President Obama in 2012 in order to reverse the course we are on. So, to capitalize on the wave of fiscal conservatism going into this election year, who has the Republican Party produced to take on the president? You've got Romney, whose healthcare plan in Massachusetts was the blueprint for Obamacare; you've got Gingrich, who was the guy who came up with the idea of the individual mandate in the first place; and you've got Rick Santorum, who doesn't understand why we aren't spending more time talking about prayer and the homosexual menace. But worse than any of these is Rick Perry, a man who was essentially dragged to the podium by cheerleaders on the right who touted him as the great white hope of the Republican Party, a man whose impeccable political skills and record would bring down the Obama administration and lead to a new age of Republican prosperity. There's only one problem: Rick Perry is like George W. Bush on steroids. He announced he would join the race for the Republican nomination the day after holding a huge evangelical prayer rally for America. He launched an infamous campaign ad in which he lamented the fact that gays can openly serve in the military. How could the GOP so misread the people as to think that what we need is a die-hard, swaggering social conservative from Texas to bring Republicanism to a new generation? Too bad they won't take Ron Paul seriously, because if they did, it would prove that they are serious about learning from their mistakes. Instead, we have people like Rick Perry--and probably four more years of Obama--to look forward to.
---
HERO
#1. The Fukushima 50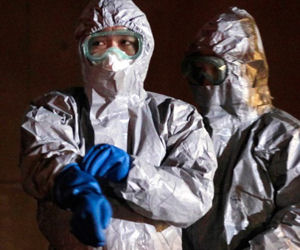 The Fukushima nuclear power plant was facing a few problems in March. There was an earthquake, followed immediately by a tsunami, and it put a few of the reactors in a spot of trouble. "Trouble" here means the potential for multiple nuclear meltdowns and extreme radiation poisoning all across Japan and the Pacific Ocean. For four days, the only thing standing between the largest nuclear catastrophe in human history and the relative safety we live in today was the so-called Fukushima 50, around fifty men who stayed on site when everyone else evacuated. These men knew they were probably being exposed to lethal levels of radiation--some of them were carried away with radiation burns--but they also knew that, if they didn't stop the reactors from melting down, a whole lot of people were going to die horrible, horrible deaths. These nameless men overcame their own survival instincts for the benefit of mankind, and if that's not the definition of a hero, I don't know what is.
---
IDIOT
#1. Occupy Wall Street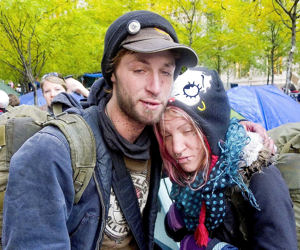 On the exact opposite end of the spectrum, you have the Occupy Wall Street protests. There are certainly valid reasons for protesting corporate greed, crony capitalism, and the growing income gap in America, but that's only the best face you could possibly put on OWS. In reality, these "Nazi-endorsed rat infested rape camps" did absolutely nothing to alleviate the problems of the middle class. How, exactly, is defecating on police cars and rallying behind Michael Moore supposed to lower the unemployment rate? How does playing bongos in a public park at four in the morning while honest, hard-working types are trying to sleep and raise their children make anything better? If you hate rich capitalists so much, why did you hold a moment of silence for Steve Jobs? Why do corporate bail-outs give twenty-somethings and their hippy parents the right to throw their $5 Starbucks coffees at public servants and tweet about how the government should forgive all their student loans? I'm sorry, but having a valid reason to protest isn't the same as having the right to rant, rave, and whine like a bunch of crybabies and make a mess of public property. The OWS movement accomplished nothing except adding "the 99%" to our memebase. Maybe if you spent a little more time looking for work--and were willing to take a blue-collar job like the rest of us when things are bad--and a little less time sewing love beads and screaming at the man, you'd realize that you hold your own destiny in your hands and that no corporation or government is responsible for what you do with your life. Go to Africa and see what tyranny is really like, and then maybe you can come back here and poop on a police car because somebody in a skyscraper is making more money than you'll ever see, you undiapered infant.