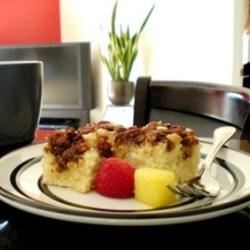 Everybody loves a simple pecan coffee cake--especially if it's homemade. This is rich and moist. And it won't last long . . . . This recipe is easily halved, which is what I usually do, but then I make the full amount of the topping.
2 cups all-purpose flour
1 1/2 cups sugar

1/4 teaspoon salt
1 tablespoon baking powder
1 cup butter, softened

1 cup sour cream
2 eggs
1 tablespoon vanilla extract
Topping:
1 cup chopped pecans
1/2 cup light brown sugar
1 teaspoon cinnamon
2 tablespoons butter, melted

Preheat oven to 350.

Sift together flour, salt, baking powder. Set aside. Butter and flour or spray a 9 x 13 baking dish. If making half the recipe, use an 8 x 8 pan. In a large bowl, cream the butter until light and fluffy. Gradually beat in sour cream then beat in the sugar. Beat in the eggs one at a time then stir in the vanilla. By hand, fold in the flour mixture, mixing just until mixed through. Spread in prepared pan.

To make the topping: in a medium bowl mix brown sugar, pecans and cinnamon. Stir in melted butter until crumbly. Sprinkle over cake batter in pan.

Bake in preheated oven for 30 – 35 minutes or until a toothpick inserted into the center of the cake comes out clean. Cool before cutting.
NOTE: Usually, I use Land-O-Lakes unsalted butter. I made a similar recipe that didn't rise properly. I was told by a caterer that they have changed their formula and this is a common complaint. My sister also had the same problem and some of her friends.