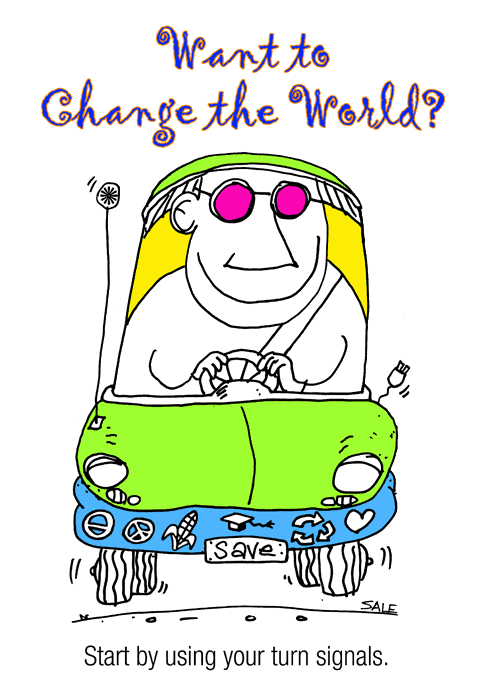 Count me in on changing the world, making peace quilts, teaching the world to sing and saving gay baby whales, but realistically these victories will be a long time in coming. BUT, I have an idea on how you can change the world this very day...
"Open Letter to: Inconsiderate, self-involved, drivers,
I can't bend spoons or read minds so would you pu-leeease use your turn signals and give others of us the slightest hint at what you are planning to do as you hurtle down the road at 60(+)mph? And that includes using your signals in parking lots where most collisions take place and drive up all our insurance rates.
If you won't do it out of courtesy or safety, how about doing it in the name of serving your country? I guarantee it would be instant therapy for every American who owns an automobile and their family. Your actions will immediately eliminate volumes of unnecessary road rage and residual anger that people take into work with them and return to their family with; thereby increasing the country's workforce productivity and GNP while also contributing to a happier home life for all Americans in these troubled times.
You will also dramatically help decrease the high rate of seething and pre-occupation with thoughts of retribution and save countless bulging neck-veins across our great land. And without a doubt you will certainly save lives and reduce the number of roadside trouncings.
I could elaborate however, this letter has already infringed on my valuable time for to make peace quilts; someone has to keep those gay baby whales from catching a chill.
Thank you from the AMA (American Medical Assoc.), AAA, and AAD (Aggravated American Drivers) everywhere."
---
This is available as a bumper sticker. I have it on my Jeep. Go to: www.grahamsalart.com (Click on Store & Go to fun Images).