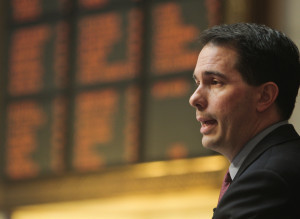 Greer McVay's Web Log (BLOG)
Volume 2, Issue 20
March 9, 2011
Cocky Democrats have lost again! Wisconsin Governor Scott Walker and his cohorts just slipped in a doozy of a procedural move by removing the portions of the budget repair bill that call for financial expenditure and passed the major part that they really wanted: to bust the union. So take that Obama; and anyone else who dares to receive or expect support from organized labor nation-wide. And I do mean nationwide because a host of other states are primed and ready to ram through their own Anti-American, civil-rights-denying legislation.
Several days ago I felt queasy because I saw far too many Democrats patting themselves on the back. Rachel Maddow spent 10 minutes giggling at the folly of Walker's latest misstep. And while I felt nothing could outdo the David Koch impersonated phone call of two weeks prior, Rachel felt she was onto something. In my mind, the fact remained, if getting caught red-handed with your hand in the proverbial cookie jar didn't deter Walker and company, then whatever Rachel was talking about certainly wasn't going to do the trick.
Democrats have to accept that the Republicans have taken politicking and sleazy back room deals to another level. They have made it an art form that Democrats are woefully inadequate to combat, let alone foresee. Republicans lie!
It is doubtful that the end game is to only render the unions impotent. You can bet that tomorrow Democrats and union supporters will be distracted as they descend onto cable news shows screaming at the top of their collective lungs about how deceitful this maneuver was. Be mindful, that the big shoe has yet to drop. I don't even know what it is, but you can rest assured that it hasn't yet dropped. Perhaps Walker is eager to sell the Wisconsin power and utility agencies for pennies on the dollar; or maybe his agenda includes disposing of cities and letting private corporations own and manage them; he might even be determined to simply show his benefactors how much influence he has and far he'll go. Regardless of Walker's plans or those of other republican governors throughout the land, what we do know is that while Democrats were giddy that e-mails had been provided as a result of the Freedom of Information Act, showing Walker's willingness to "negotiate" with the Wisconsin 14, he was doing what he said he would do, preparing to ratchet things up.
In the faux Koch Brother call, Scott Walker discussed an entire strategy that included a post Superbowl pep rally with his cabinet where he said he was ready to "drop a bomb;" he alluded to each and everything he has subsequently done, without variation; and most importantly, he told "Koch," 'if you hear that I am talking to the Democrats (read: enemy) don't believe it is sincere. Yet somehow, Democrats' hearts seem to get in the way and they insist on believing that a rattlesnake's fangs are for smiling at the camera.
Caught off guard, the 14 State Senators who retreated across state lines somehow thought they were outfoxing the republicans only to be shut out of a vote that they couldn't stop regardless. I am not suggesting that they should not have taken their principled stand by leaving, nor am I suggesting that they won't ultimately win the war after seemingly losing this particular battle. What I am saying is that Democrats have got to stop underestimating the cunning and conniving of their fierce competitor. An opponent who will stop at nothing to have their will done is certainly not beyond omitting a few pesky lines of text from a piece of paper to circumvent procedure. Get smart and trust no one. This one could be seen from a mile away and they are not finished. Perhaps the damage can be undone in courts or in the next legislative session, but for now get the emotion out of the way and recognize your power. Tens of thousands of constituents hitting the streets AND voting is a force to behold. You can defang your enemy, but only if you think like a snake.
http://www.huffingtonpost.com/2011/03/09/wisconsin-gop-plan-advance-anti-union_n_833796.html
http://www.huffingtonpost.com/2011/03/05/michael-moore-joins-wisconsin-protests_n_831886.html