This week's poem is from Matthew Dickman, whose book
All American Poem
is excellent. I saw him read last fall here are the University of Oregon. Matthew did his undergrad here, but was even then an exceptional student, and worked with poet
Dorianne Laux
(someone who was just wonderful to be around, whether you were a poet or not). Matthew and I are both friends with another poet,
Jay Nebel,
who did an MFA in Poetry at the same time I did mine in Fiction, also at Oregon.
If it seems like everyone in that paragraph knows each other, it's because the literary world is teeny-tiny, and everyone knows everyone else, and we're all related. Or something.
Matthew read the hell out of this poem at the reading, so I didn't expect the poem to hold up when I read it alone, but it did. I like the way it turns, how ti encompasses Chick Corea's voice at the end. And I'm needing this poem today, for all kinds of reasons, as a reminder of what's good in this world.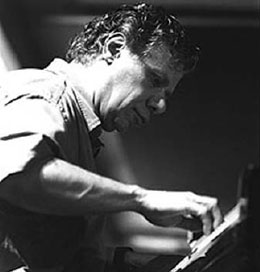 Chick Corea Is Alive and Well!

Which makes the elegy I wrote for him seem a little distasteful.
Let me tell you, just because you see someone in a black
and white photograph doesn't mean he's dead.
Even if you find the photograph in an old-looking
box inside your grandmother's closet,
the person in it standing against an old Ford
with a goat walking past and a farm in the distance,
he may still be alive, in a nursing home being fed
by a large Kentuckian named Tony, but alive
all the same. And it's the same with people
much older than you. Just because
they were buying cups of coffee
for a nickel and listening to Sarah Vaughan live
at the Blue Note, they're not always sleeping
through their hangovers under a quiet blade of grass
in God's Acre. When I bought the Chick Corea album
and saw him in the silvery sheen of the cover art,
smoking an unfiltered cigarette, the smoke rising
over his face like the hem of a silk dress,
I didn't even blink. He was dead. And I? I was sad,
listening to his fingers, his poor dead fingers, flying
like ghosts over IT DON'T MEAN A THING
IF IT AIN'T GOT THAT SWING, and thinking
this man's a genius! playing Ellington like a bartender
plays a Singapore Sling, all that maraschino cherry
sweetness, a little clink of ice, and his voice
doing a kind of mumble-moan
over the keys like a man whose been raised
from the dead, looking down at a woman's knees
after years in the dirt, singing yeaahh!
yeaahh! this is what I'm talkin'about, yeaahh! this good, sweet life!
-Matthew Dickman
*tm