My husband seems to have developed a thing for Lady Gaga, or at least for her videos. This morning, he was telling me about the video for the song "Bad Romance" -- the sets, the lighting, the dancing and the costumes. As he was describing what Gaga and her entourage were wearing, I said, "You know that sounds an awful lot like that guy, you know, that guy with the thing, you know, that guy, we saw that documentary about him." "Oh, right,", he says, "Leigh Bowery!"
Below are two stills from Lady Gaga's video: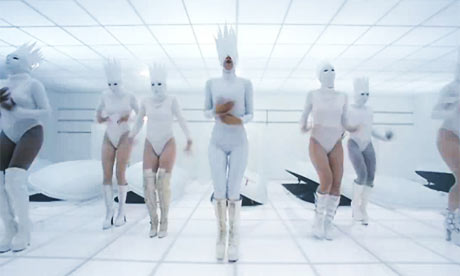 Compare with photos of Leigh Bowery, from the 1980's: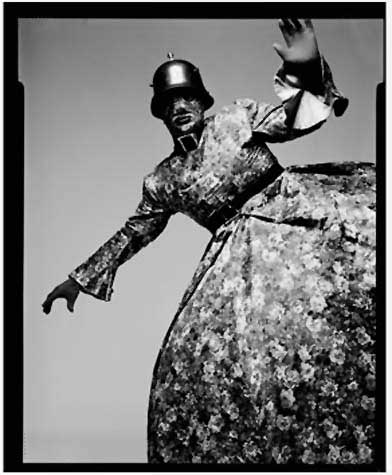 Bowery was born in Australia in 1961, and has been described as an actor, pop star, club promoter, fashion designer, model and performance artist. He was legendary in the London club scene of the 1980's, for his bizarre costumes and his performances with his group Minty, one of which involved "giving birth" on stage to his partner, Nicola Bateman, who had been held in a special harness underneath his costume. Top that one, Lady Gaga! Sadly, Bowery died in 1994, from complications of HIV/AIDS.
The documentary The Legend of Leigh Bowery, is definitely worth seeing. His creativity was undeniable, and his costumes are both brilliant and disturbing.
I don't know enough about Lady Gaga to know if she's aware of Leigh Bowery (although I suspect she must be), and I don't think she's ripping anybody off. I see it more as an homage. She's doing her own thing, making it relevant to her own audience. Still, the influence seems pretty obvious.
To quote Ecclesiastes, "There is nothing new under the sun."