Who are these Praying Mantises?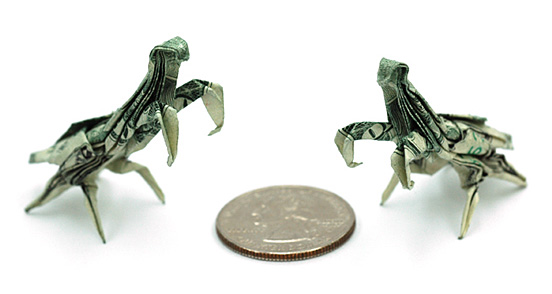 (http://orudorumagi11.deviantart.com/art/One-Dollar-Praying-Mantis-57473412)
1. Democrats & Republicans
2. Bobbie Brown & Whitney Houston (Hapless Victim)
3. Perez Hilton & Paris Hilton
4. Jay Leno & NBC
5. Halliburton Right Hand & Halliburton Left Hand
6. Real House Wives...there's nothing more to say
7. Kanye before apology & Kanye after apology
8. Jennifer Anniston & the "Chick Flick" Genre
9. Sarah Palin & Bill Clinton (pre-speech-censuring)
10. Old Facebook & New Facebook
Or...Name your own!
(Hint: the picture is a metaphor for the names on the list. If my hint doesn't help, then I'll reveal the nuances of my list at the end of the day.)
--------------------------------------------------------------------------------------------------------
UPDATE: First, let it be said, that I am a lover of dark humor. However, I am not a lover of disturbing humor. I wasn't going to post anything last night when a friend sent me these great origami pictures. When I saw the one above, what I saw was akin to two money VULTURES coveting the quarter, which represented the potential money to be made. I realized they were praying mantises, but I didn't REALIZE they were praying mantises. So, the idea that they eat each other after mating wasn't on my mind. The end result? The real humorous part about this post - the joke I played on myself by not realizing the nuance of what I was posting! And, to make matters worse, when it first went live, the picture didn't appear, so all you saw was the list! Ouch!
Man, you all probably thought I had one sick sense of humor. Let's just say, lesson learned, I'll leave humor to the pros from now on. Because, really, if you have to explain it, how funny could it really be?
So, the real JOKE? It's on me...I've now been (OS) baptized.
-------------------------------------------------------------------------------------------------
REVEAL: Just in case, from the VULTURE perspective:
1. Who will win out, the money hungry Dems or Repubs - the lobbyists and corporations are courting them both.
2. With a nasty divorce in arrears, will the newly sober Houston really come out on top financially as she puts her bets on portraying herself as a victim to Bobbie Brown versus owning her behavior addictions? It's a financial gamble; Bobbie may have his own version...
3. The gossipmonger versus the gossipy heiress - who is to say who would win in that match up?
4. Yes, they really are trying to milk 3 full hours of comedy out of prime/late T.V. now. As Jimmy Fallon joked, Welcome to the 3rd hour of Jay Leno...we'll see if the gamble pays off!
5. Can two rights please make a wrong? Will this company please die off from the ill it has caused this nation, the veterans, and all the people who died as a result of the lie it fed and profited off of. Just not funny...we need a converse math equation here.
6. In other words, they already have enough money, what the f**k are they fighting about anyway? Get off the damn TV and go do some good in the world. AMEN.
7. He was self-aggrandizing before his apology and he was self-aggrandizing after his apology. It's all about Kanye...that was until Jay Leno got a hold of him, the best silence heard on TV in a long time. Which, incidentally, brings renewed hope to number 4.
8. Really? Really? Another Jennifer Anniston chick-flick/romantic comedy? Isn't her real life enough fodder for audiences everywhere?
9. Did she really quit being Alaska's Governor to ensure the great state didn't receive any more inequities due to her many lawsuits? Or, more likely, is it more lucrative to do the right-wing-crazy speaking circuit? Is she in the running with Big Bill in terms of $ demand yet?
10. They are both extremely exploitive, no matter how many petitions are passed around about the "new" facebook. They were making money either way.
So - that was it. Quite obtuse and dark (but remember, not disturbing!) Thanks for hanging in there with me!
---------------------------------------------------------------------------------------------------------
*Photo of Won Park's Origami, he is a master of using the dollar bill as his canvas.