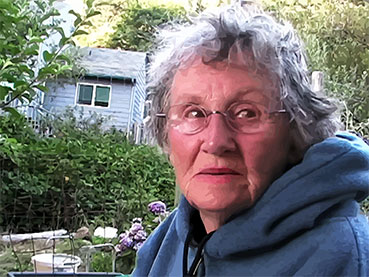 That's what my grandma wrote to her sister, Beth, five years, five months, and twenty days before her death.
I hereby resolve (almost) to write to you, Harry and Jack more often, and especially when I die.
These words are characteristic of her black sense of humor. She savored language and possessed an understated Wodehousian wit that could make everyone in the room burst into laughter.
Yet my grandma was also a consummate perfectionist/procrastinator. She wrote all of her life but rarely finished anything to her satisfaction. She also put off writing letters and browbeat herself over the guilt.
This is a guilt I shared, especially after my grandma departed without my getting a chance to respond to her last letter, dated three weeks before her death. I received my mom's phone call about her stroke at ten o'clock on Sunday night, September 23. I'd had her letter sitting on my desk at work with a post-it reminding me to call her, which I was planning to do on Monday.
What I didn't know was that my husband, Michael, and I would end up spending our last visit with my grandma in a hospital room in the middle of the night, before Monday morning even broke. I talked to her for hours, holding her hand, brushing the silver strands from her smooth brow as the coma pulled her into a deeper and gentler peace.
For months afterward, I chastised myself for waiting too long to call her. Even worse, I'd put off sending a birthday present I knew she was going to love. I did manage to send her a copy of Grandmothers Counsel the World: Women Elders Offer Their Vision for Our Planet in time for her birthday on June 17. I'd even had Agnes Baker Pilgrim, one of the grandmothers featured in the book, inscribe it for my grandma. I made the mistake of thinking she was 83, so Granny Aggie sent her blessings for her eighty-third birthday. I joked with my grandma about it and said she could save it for next year.
With that gift, I promised another that hadn't yet arrived. I told her I would send it separately later. My grandma, a diehard Jeeves and Wooster fan, had never enjoyed the pleasure of watching the BBC series starring Stephen Fry and Hugh Laurie—at least as far as I know. I'd been sending her Wodehouse audiobooks over the years, and she was always extremely particular about who played Jeeves. I'm pretty sure Martin Jarvis was her favorite. I was positive she would believe Stephen Fry is literally Jeeves incarnate.
So Michael and I got her the boxed set of Jeeves and Wooster, but we didn't send it right away. I wanted to wait until the postcards I was making for an upcoming exhibit were done so I could include one of those. And then, once those were finally ready to send, I got so caught up in the preparations for the opening reception I was also catering that I hadn't found a moment to actually write an accompanying letter. I'd been working past midnight nearly every night for the three months leading up to the exhibition I was doing with the two women in my writers' group. At last, all of the details were in place for the September 27 opening reception. I thought I could finally call my grandma and send her package that week.
But then the phone call came. "Grandma had a stroke," my mom cried. "They don't think she'll make it through the night." Of course, she did. She was always stronger than most people gave her credit for, including herself. It was Tuesday morning, September 25, 2007, when she finally danced the light fantastic out of this world.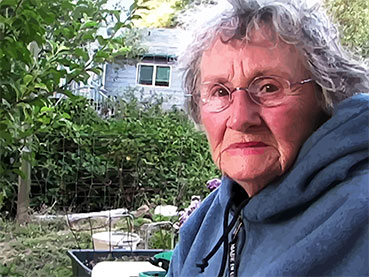 Even though she was eighty-two, I had some ridiculous notion that she'd be around for at least another decade or two. She was so independent and sharp-minded, living in her own home and tending her beloved garden, making the last part of her life quite possibly the happiest. I figured she would be around to see the rough cut of the documentary I filmed when we visited her in August 2004. Michael and I had been working slavishly on the post-production all summer, with Michael composing a score so hauntingly beautiful I couldn't wait for my grandma to hear it. But she didn't get a chance to do that. Nor did she see the hours of interview footage I shot with her in the subsequent years, intended as fodder for a more historical documentary Michael and I still hope to complete someday.
I saw my grandma for the last time in early July. My uncle Steve had flown her out to Long Beach to visit for the first time in years. After my grandma's return flight arrived, my step-father picked her up. He called me spontaneously to see if I wanted to join them for lunch before my grandma headed home. Thank God, I did, and we spent a long lunch at the coffeeshop across the street. It was one of the few times I'd seen her without bringing along the videocamera. Of course, I remember regretting not having recorded the funny anecdotes she was telling. I remember one part about her sister, Betty, dating an Australian sailor, and she joked about him saying he was "diving for pearls" while cooing on the couch with her sister.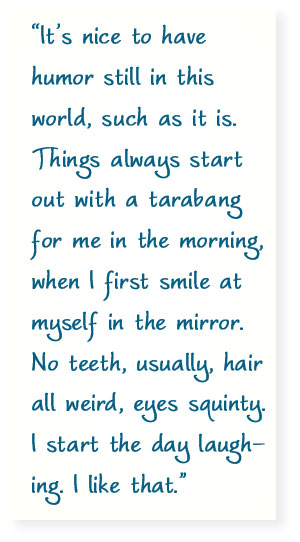 That summer, my friend Patricia had decided to interview my grandma for a book she was writing about women in retirement. I wanted to have a high-quality recording of the interview, so I lent Patricia our digital recorder. A tad technophobic, Patricia worried about failing to record properly. She wrote down my directions on a napkin. As I was explaining it to her, I asked if she would be using her standard tape recorder as a backup. She said no; she needed to stay focused on one machine at a time.
At that moment, I had a sinking premonition. "Are you sure about this?" I asked Patricia. "Maybe you should just stick with your tape recorder since you're more comfortable with it." She assured me it was fine, not to worry.
But I did worry. Not because of Patricia, but because of the unreliability of technology and my feeling of powerlessness to prevent equipment failure remotely. About twenty minutes before Patricia was scheduled to meet my grandma in her garden for the interview, I called my grandma to make sure she had backup batteries. She said she did, and that was the last time I talked with her on the phone.
When Patricia returned, I learned the rechargeable batteries had indeed died. In the interest of professionalism, however, she didn't tell my grandma but instead took copious notes during the interview. So my best efforts to stave off failure had failed. Patricia had found my grandma's story so fascinating, she bought a set of batteries and returned the next day for a followup interview. When I picked up the recorder from Patricia, I turned it on. "No song," the display read. Which meant the recorder had failed to capture the second interview, as well.
I think part of me didn't have the heart to tell my grandma about the hapless recordings, and I suspect that's one big reason I didn't call her right away. Which turned out to be not at all.
And so all of these regrets compounded into a behemoth guilt when my grandma made her final departure. The grief, the shock, the insomniac exhaustion in the months that followed were bad enough. But the guilt. The regret. Those were the most painful parts of the process for me. The unsent birthday gift. The unrecorded interview. The unmade phone call. The unwritten letter.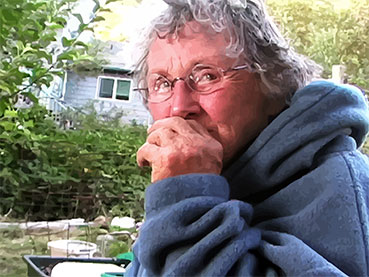 Several months later, I found a letter she had written us exactly six months before her passing. She began, "I feel so guilty! Guilty GUILTY!" Then she went on to explain why she had been feeling so guilty: "I have been trying to write to thank you for sending the amazing package . . ."
She was feeling guilty about not sending us a thank-you letter for our Christmas presents three months before! I remembered how Michael and I had told her how she had absolutely no reason to feel guilty, how we completely understood and suffered the same strain of perfectionistic procrastination ourselves.
That's when I realized: Of course she understood about all of the undones I'd been agonizing over for months. She was the exact same way herself! The last thing she would want me to be feeling was guilt. This was a grace so profound, so perfect in its precision, I was finally able to shed the weight of regret I'd been shouldering for months and just simply, achingly, grieve.
I hereby resolve (almost) to write to you . . . especially when I die.
And she did. Indeed, she continues to. The letter I quoted at the beginning only arrived last month. My uncle Bobby has been gradually sending me my grandma's old computer files (written on a PC she used for seventeen years (!), relying on floppy disks after the 40-mb drive filled up). Bobby has also been sending me her autobiographical vignettes and children's stories. So with every new fragment, I get to know more of her tender compassion, her thoughtfulness, and—most especially—her wicked sense of humor.
And now, you can, too. I think she would be especially thrilled to know she's making good on her promise to "write to you . . . especially when I die."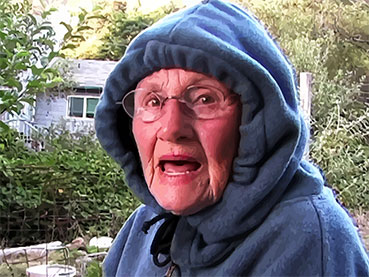 March 26? 2007
Dear Mike & Melissa,
I feel so guilty! Guilty GUILTY! I have been trying to write to thank you for sending the amazing package, but each time I write, I read what I wrote, and think "That's not funny. You expect me to write funny. Maybe tomorrow I can write funny."
So, I'll just say "thank you." And don't tell me my letters are hilarious or anything, or I can't write at all. It's OK to say "I enjoyed your letter. It's such a nice old-fashioned way to communicate. Not like email." Grandma can actually still write with her fingers. Wow! With a pen!
As far as that goes, Melissa can write funny. I remember one of the things she (you) wrote in high school that was tarabo(a?)ngingly (spelling—I gave Bobby your stuff to read and haven't seen it since) funny. And Michael (you) and Gary were always doing excruciatingly funny things.
It's nice to have humor still in this world, such as it is. Things always start out with a tarabang for me in the morning, when I first smile at myself in the mirror. No teeth, usually, hair all weird, eyes squinty. I start the day laughing. I like that.
Unfortunately, I can't play the Jeeves tapes now because the round stringy thing that makes the tape go around, broke. Some day I may get it fixed. At least I can play CD's.
When I read your interview (Melissa) with the writer (forgot his name—Bobby possesses the magazine), I thought, "How can that brilliant writer (Melissa) be descended from me?" Amazing.
Thanks again, and sorry for making you wait so long to hear. The head librarian (Sandy) was really happy when she got the CD's and gave me hugs. I love our library. Hope we get to keep it.
The End,
Grandma