When we set out on a road trip to my grandma's house five years ago, we had no idea what the fruits of that afternoon would be. My mom had driven out before us and was sitting in the garden with my grandma when we pulled into the driveway. My Uncle Bobby was making a racket in the kitchen as he completed the mise en place for a late afternoon meal.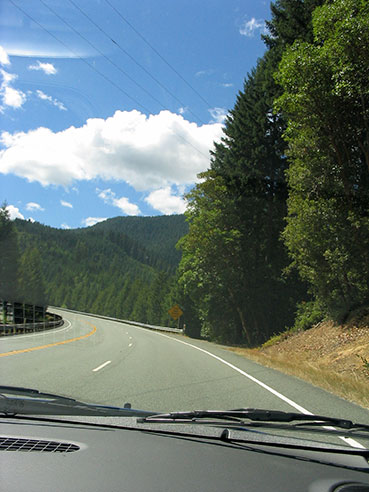 Michael and I had just celebrated our twelfth anniversary. Not ones to splurge on extravagances, we persuaded ourselves to purchase a special gift in honor of the occasion. It required going deeper into debt, but it's something we had been longing to own for years, ever since we first dreamed about making documentaries: a videocamera.
I still remember the epiphany. It was the summer of 1998, and we were driving a U-Haul through northern California after a failed attempt at moving to San Francisco. That's an excruciating—and excruciatingly long—story, so I won't go into it now. Michael and I had stopped to eat at Wendy's in some small town on our way to Oregon. I think it was Weed. After climbing back into the U-Haul cab, one of us, I'm not sure who, brought up the idea of making documentaries about ordinary people. Like the cashier at Wendy's. I don't know what it was that struck us about her. Perhaps it was her perfect everydayness, her quotidian plainness. A little plump, dishwater blonde hair pulled back into a ponytail. Nice. Quiet. American girl.
The ordinary was fresh in my mind, as I'd recently written a piece about it for a collection of essays on words, published by the now-defunct Santa Barbara Review Publications. In the essay, I quote one of my journal entries from 1993: "My characters are the ordinary and the common, the oft-neglected and forgotten, the vessels of beauty and originality that go unnoticed or ignored." This longtime penchant for the ordinary is partly what drew us to our favorite artists—Eavan Boland (favorite poet), Brian Friel (favorite playwright), Mike Leigh (favorite director), and Cy Twombly (favorite visual artist).
We didn't have the term for it then, but we later realized what these portraits of ordinary people should be called: home documentaries. Home docs for short. Like the subjects themselves, the videos would be humble and unpretentious, shot on a run-of-the-mill mini-DV camera. No tripod. No lighting. No wireless or boom mics. Just me and a crappy videocamera.
Six years after the epiphany, that crappy, blessed videocamera for which we are profoundly grateful came into our lives. We'd only had it a few days, and I had shot maybe five minutes' worth of experimental footage around the apartment. When the day came to drive out to my grandma's, I grabbed the still camera (which only has enough memory to hold about 24 photos) and the videocamera, with no real conscious intentions in mind. I just knew I wanted to bring them. Later, I would find out why.

I caught snippets of the road trip along the way: stills of blue sky and clouds, forests fringed with magnificent redwoods, schoolbus parking lots, and passing semis, lumber in tow. Every time the camera ran out of memory, I had to delete photos to make room for more. Until there were no more pictures I was willing to delete. So I moved on to the videocamera. About half an hour before reaching my grandma's, we stopped at Taco Bell and sat eating in the parking lot. While Michael finished his burrito, I turned on the camera. I noticed there was a seagull roosting on top of the KFC/Taco Bell sign. I zoomed in. It wasn't a very good lens, so the video started dancing out of focus whenever I got too close. But I experienced a stirring sense of wonder as I drew impossibly close to the seagull, whose darting, curious eyes made her seem eerily aware of my voyeuristic presence hundreds of feet away.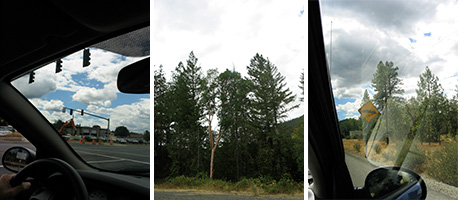 During the last leg of the journey, I shot random footage of the ocean, the guard rails, the small town where my grandma lived. I put the camera away just before our arrival. Now I almost wish I hadn't. It's those unrecorded moments that are gray spots in my mind. I remember walking with my grandma as she gave me a tour of the tiny house, but I cannot remember what she said. I know there was something about the exhibition of works on paper Michael was having that summer. And her mild embarrassment at the messy state of her cramped home. And her garden. Her beloved, cherished garden, which brought her a deep sense of joyful peace.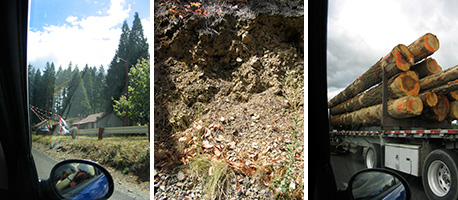 It was our first time visiting the home my grandma had moved into over a decade before. We rarely travel, so it took us five years to make the long drive there after moving to Oregon. We can never bring ourselves to abandon the creatures who have come to depend on us, so every journey must end back in our own apartment that night, caring for our animal children. Travel is also challenging for Michael because of his Asperger's. And we're generally too obsessed with our creative projects to do anything but work when we have the opportunity to take vacation.
Workaholic that I am, I managed to bring our creative projects with us, while hardly realizing it was happening. After about ten minutes of catching up with my grandma, Uncle Bobby, and mom, we decided to drive to the beach. As we pulled into the sandy lot beside the driftwood-littered shore, I reached down and picked up the videocamera.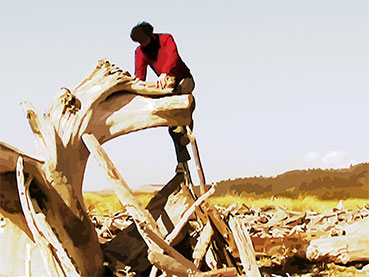 Michael climbing on the driftwood tree
Only I didn't tell anyone it was a videocamera. My mom and grandma just assumed it was a still camera, and I didn't contradict them. I just started shooting. And everyone went along being themselves, none the wiser. My mom eventually figured it out, but by then, she was acclimated, so she remained unselfconscious. My grandma and Bobby didn't seem to care much one way or the other, and Michael was his quiet, artistic self despite being in on the secret.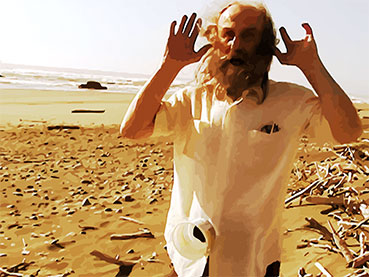 Bobby making a funny face
Nothing really extraordinary happened that afternoon. We took a walk on the beach, conversed in the garden, and enjoyed a supper prepared by Bobby. It wasn't until Michael and I got home and watched the footage a few days later that we realized this record of an afternoon at my grandma's was a surprisingly coherent narrative. Most striking was the number of compelling themes that emerged in our conversations—particularly tying stories about insects into themes of family, aging, home, mutability, and friendship. Michael, who is the most demanding critic I know, said he thought the footage was actually good enough to run as is, sans editing, even. That sent me off on the idea of doing an as-is documentary series. But that, again, is another story.
I did a rough cut of the documentary in iMovie in time for my thirtieth birthday, so that was satisfying. I had selected the score from Michael's existing compositions, and he was rather dismayed when he saw pieces intended to stand alone being paired with video. I would later be glad of his disappointment, however, because three years after the video was first shot, Michael composed a hauntingly exquisite score for Finding Their Way Home. Meanwhile, we embarked on the editing and post-production process.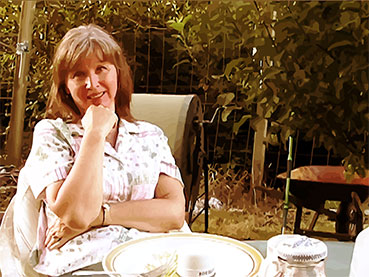 Mom sitting in the garden
During the summer of 2007, we zealously attacked the documentary, with hopes of finishing a rough cut in time for my mom's birthday in October. We could scarcely wait for my grandma to watch it. I told her about the beautiful, poignant score Michael had composed for it and said we were getting close. Almost close enough to begin sharing. But not close enough to finish before it was too late.
Just three hours before receiving the phone call, we had been immersed in editing Finding Their Way Home. So it felt like we had spent the entire day with my grandma when my mom called to tell us she'd had a stroke. It was strangely incongruous to think about having just watched my grandma playfully drawing faces in the sand while she lay in a coma nearly 200 miles away.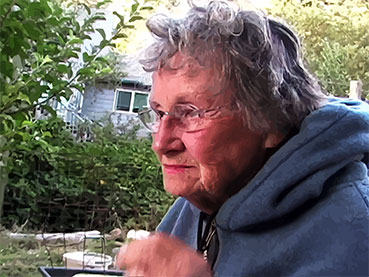 Grandma remembering something sad
After my grandma departed the soft animal of her body on Tuesday morning, September 25, we didn't know if we'd ever be able to watch the footage again. We roiled in a sad-sick brew of grief and guilt and regret and heartbreak that kept us paralyzed for weeks. We soon realized if we didn't dive right back into Finding Their Way Home, we might never be able to bring ourselves to finish it.
Opening the file for the first time and seeing my grandma's mischievous smile nearly burst our hearts with bittersweet sadness. But it was also a profound gift. The more time we spent with my grandma on screen, the more healing we experienced. Only she could make us laugh like that. Medicinal, indeed.
We did manage to finish a rough cut in time for my mom's birthday, but not until the following year. We found that, however healing, the grief was still too fresh, so we temporarily turned to other projects until summer 2008. My mom cried when I gave her the DVD for her birthday last October. Only she couldn't bring herself to watch it. She still hasn't. I guaranteed she would laugh more than she cries, but that hasn't made her any more ready to watch it. Which is fine, because we still had a lot more polishing to do.
And polish we did—through November, and December, and early January. On January 5, 2009, we burned a master copy. Three days later, the brand-new Seagate hard drive we had transitioned to during Thanksgiving weekend failed. We lost two months' worth of work on the documentary. When I called Seagate to inquire about data recovery, they transferred me to their subsidiary company, which provides this service at a cost. $1,700 to be exact. This despite what we later learned: that defective firmware had rendered the drive unrecognizable, and the failure was occurring in over a third of these models. The good news is, the data is supposedly intact, just stuck on an invisible drive.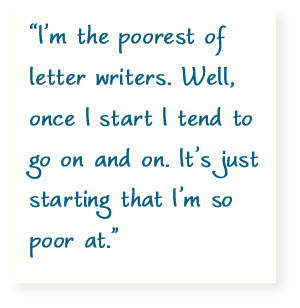 So once again, Finding Their Way Home lay dormant. We were faced with either recreating two months' worth of work from our last backed up copy (stupidly, I had performed a backup prior to the crash—but to an archives folder on the same hard drive!) or doing battle with Seagate, a task I would typically undertake with vigor. The idea of my worst fear coming true, however—the inaccessibility of our creative data—had so deflated my spirit, I could not bring myself to pursue it. At least right away. So we turned to editing footage for other, shorter home documentaries.
Then, in the spring, we had another technical crisis. Our old Mac experienced a meltdown. One of the two CPUs appeared to be failing, or perhaps it just looked that way because of a faulty system upgrade. Either way, the computer was unable to make it past the gray screen without hiccuping indefinitely. Since 98 percent of our time is spent working on creative projects on the computer, we made the rather desperate decision to buy an iMac a few days later. We will be paying off the debt for months, but we were able to resume work within the week.
The software, however, was another matter entirely. We spent weeks searching for the installation discs for various applications, including Final Cut Express. In the instances where we found the discs, we had difficulty tracking down the serial number. Final Cut, which Michael had purchased for my birthday several years prior, proved exceptionally elusive.
So the summer vacation we intended to spend working on the documentary was instead spent on other creative projects, mostly writing. That and the quicksand vortex otherwise known as OS. Now our vacation is over, and we're still prevented from working on the documentary. The wait has been almost unbearable. Then last week, we found a discounted version of the latest Final Cut Express, and we somehow cobbled enough together to order it. A couple of months too late, perhaps, but we take comfort in knowing the software is en route. Scheduled to arrive, appropriately, on our seventeenth anniversary this Tuesday, August 18.
Enough months have passed that we are actually excited about working on the documentary afresh. Instead of seeing it as an attempt to laboriously reconstruct two months' worth of lost labor, we are focusing on the opportunity to create a newly inspired work of art.
In the following letter to her sister, my grandma talks about the children's book it took her years to finish. She wasn't about to give up just because the first publisher she sent her manuscript to rejected it. Like the documentary we dedicated to her, "It was too much work to just let it lay."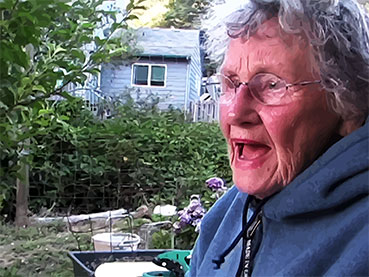 October 31, 2000
Dear Beth,
I'm the poorest of letter writers. Well, once I start I tend to go on and on. It's just starting that I'm so poor at.
I talked to Angela yesterday and she seems worried about you. She said you're not doing so well. Of course, now I'm worried too. Please keep up the fight and get well. I'll pray for you.
I expect you know Angela is in Eugene now, renting a room for herself and her dog. At least the room is for her. The dog stays outside. I think she'll be here on the weekend to pick up her cat.
I'm taking care of her cat, Peanut, a lovely and loving animal. He stayed under my bed for about two weeks, just making secret visits out to eat and go potty. At last he decided Bobby and I weren't cat-killers, and he came out to eat, go potty, and be petted. Now he sleeps on top of my bed, and often cuddles up to me, if I happen to be in my bed. I'm there a lot.
I think I told you I was having an operation. It worked, but boy, am I tired! I'm being bored a lot, because when I'm tired, I don't do anything much. My eyes get tired reading, because of those cataracts. I guess I'll go to the eye doctor to check again whether he thinks I'm ready yet for them to be removed. I didn't want to get my eyes checked until I was sure I wouldn't die from the operation. I didn't, as I said.
I'm making a cross-stitch picture for Steve and Roberta. It's their last year's Christmas present. (I'm behind). It took me months to get a new needle, since Gold Beach doesn't seem to have the right kind of needle. I finally got some in Medford, when I went there for Wendy's birthday. Needles disappear always, but now I have a large enough supply to last another year.
Is this letter making you tired? I don't think it's interesting, but I'll go on.
It was really nice to have Angela stay with us for a while. I hadn't seen her since she was about two. She and Margie were so funny then. They reminded me of Budge and Toddy. It's tragic that she got Crohn's disease. She's such a nice person to have to deal with that. She gets pretty discouraged sometimes. When I talked to her yesterday, she hadn't been feeling well, at all.
She said she really likes Eugene. In parts of it, she feels like she's in Wisconsin. I guess if we hadn't been born in Reno, we would have been born in Eugene, where Mom and Daddy planned to live after they got married. Mother said the preacher that married them liked them so much, he asked them to stay and take care of his house while he went to some religious conference somewhere. They liked Reno so much, they decided to stay. I don't know if she told you about that, but it's something I remember her telling me. I wish I knew more, but at the time she felt like telling me things, I wasn't so interested. At least I remembered a few things.
Did I tell you I finished my book? I submitted a couple of chapters to Simon and Schuster, but they weren't interested. I will, some day, submit it to another publisher. It was too much work to just let it lay. After all, I started it in 1993, I think. I didn't work on it all the time. Just in spurts. I can't concentrate on one thing long enough to accomplish much. I think I would be a good writer if I could carry things through. At least, I finished my book, if nothing else. I don't know how many things I've started and didn't finish in my life, so I am proud of my book.
You can lay down now, or lie down. My teachers never could teach me which was right. I have finished this letter.
Remember, you have to get well. It's important.
Note: If you missed the introductory essay and would like to read more about my grandma, you can do so here. Future posts will be added to the list in the left-hand column as they become available.