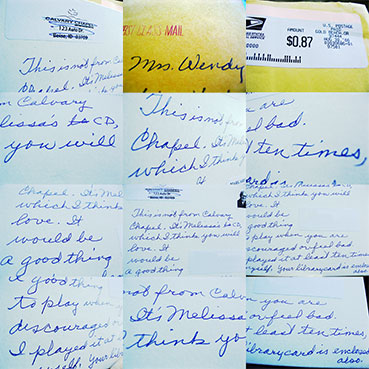 I knew I shouldn't have held my breath after asking my mom to start rummaging through her boxes for letters, writings, and other random jots by my grandma. Not only is she perpetually exhausted from work and life, but she's almost as disorganized as I am. That's why I was so surprised last week when she produced a few of my grandma's cards during our lunch together. A half-sized manila envelope postmarked August 30, 2006, caught my eye. I opened it up. Inside, I found a white cardboard CD mailer with an unpostmarked 87-cent Albert Sabin stamp and a return address that read "CALVARY CHAPEL." On the outside of the mailer in blue ballpoint pen, my grandma had written the following note to my mother:
This is not from Calvary Chapel. It's Melissa's ta CD, which I think you will love. It would be a good thing to play when you are discouraged or feel bad. I played it at least ten times, myself. Your library card is enclosed, also.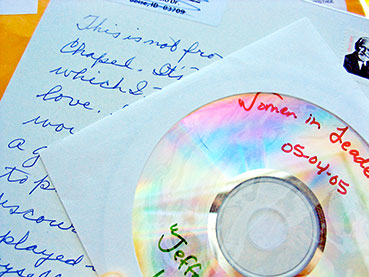 I looked inside. There was a white paper CD sleeve with a disc I had burned for my grandma in 2005. The red- and green-Sharpied text read:
Women in Leadership
05-04-05
"Jefferson Daily"
Interview Segment
My heart fluttered. I'd forgotten about sending my grandma that CD. We never got a chance to discuss it, so it took me by complete surprise to read her reaction to the content. I still don't know if my mom has actually listened to the disc. She has a habit of putting things like that off, waiting for the perfect moment, which never quite seems to arrive. I suffer from putoffism myself, so I empathize completely. But to think my grandma had played it repeatedly, had actually chosen to listen to it when she felt "discouraged"—that was an awesomely humbling revelation.
The disc contained an excerpt from the May 4, 2005, Jefferson Daily show on Jefferson Public Radio. As presenters at an upcoming conference, a psychotherapist named Taffy and I were being interviewed by Jessica Robinson about the changing roles of women in society, the workplace, and the home. Less than twenty-four hours before the interview, a friend who was one of the conference organizers had called me up, asking if I would be willing to appear on the show. I hesitated. I'd never done anything like that before. I really wasn't thrilled about the idea of listening to my trembling voice on the radio as I publicly humiliated myself. On the other hand, maybe it would be fun. It was pre-recorded, so any particularly embarrassing moments could be edited out if necessary. And I knew the topic of my conference talk backwards and forwards: "Don't Think of a Patriarch: Nurturant vs. Strict Models of Leadership," based on the Strict Father and Nurturant Parent paradigms George Lakoff outlines in Don't Think of an Elephant and Moral Politics. I was already feeling nervous about the upcoming presentation. Maybe this would be good practice. "Oh, all right," I said, a small flock of butterflies alighting in my stomach. "I'll do it."
That night, I was too anxious to sleep. Well, I guess I got a few hours. But I remember waking at the crack of dawn, thoughts racing through my head almost faster than I could type. Hundreds of pages of readings crystallized for me as I bashed out a surprisingly coherent synthesis of my conclusions. I'll include them below, partly as an archival curiosity, but also because the Nurturant Parent model so perfectly describes both my mother's and grandmother's parenting styles that this document may offer insights into their personalities.
The interview was alarmingly early—something god-awful like 7:15 or 7:30. I raced through my morning routine and stopped at the library coffee shop to pick up a Bunny Hop (two ounces of Java Juice, some melted caramel, a handful of ice, and a bucket of half-and-half topped by a dollop of whipped cream).
Yes, I was nervous, but it turned out my second hunch was also right. It was fun. Jessica, Taffy, Deltra (the Women's Resource Center coordinator), and I basically just sat around discussing feminism, sociopolitics, and history in a little office crammed with radio equipment. Poor Deltra got cut out of the final version when the half-hour discussion got edited down to five-and-a-half minutes. And it was strange hearing some of our statements out of context, but Jessica did a nice job. For the curious, below is an mp31 of the excerpt that played on the radio just hours after our initial conversation, starting with Taffy's account of what it was like growing up as a woman in an earlier, more misogynistic generation (also available here in case the embedded version fails to play):
What does any of this have to do with my grandma? Good question, really. Except this interview featuring fragments of my haphazard musings about hegemony and women meant something to my grandma. And it's no surprise, considering she forged a life of independence, leaning against the predefined roles for women she'd found so suffocating. Her unconventional interest in tools and wiring led her supervisors to appoint her the first woman electrician at the shipyard where she worked during World War II. Later, in the fifties, my grandma boldly divorced her husband, choosing to raise three children on her own rather than remain in an oppressive relationship. This meant securing a full-time job that paid below minimum wage ($1/hour instead of $1.20/hour) to support her daughter and two sons. Single mothers were a relatively rare occurrence in the fifties, and it took chutzpah to opt for this financially painful, physically exhausting, and socially ostracizing path. But she somehow managed to balance work, motherhood, and domestic responsibilities. And amazingly well, too, my mom would attest.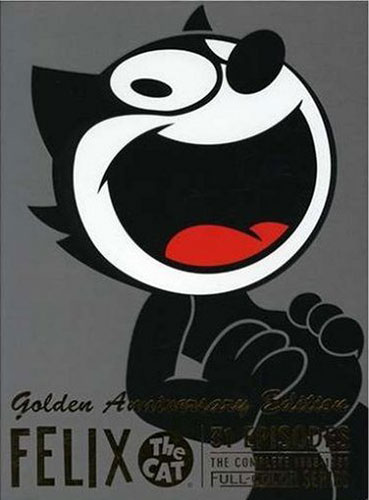 My grandma even helped to raise me, and I far preferred her nurturant parenting to the strict patriarch I was later forced to live with when my mom married my biological father. Except for a kindergarten stint in Massachusetts, I spent the first six years of my life living with my mom and grandma in southern California. It was as wonderful a childhood as I could hope for. One of my favorite memories is of waking up with the sun and racing into the living room to tumble into my grandma's lap. She was the only other one awake that early, and we would sit together in the plush, rocking recliner ulphostered in an autumn-colored floral print. At six a.m., Felix the Cat would come on, and we'd watch the Professor get into all kinds of fixes as the annoyingly gregarious Felix repeatedly dashed to the rescue of his enemy.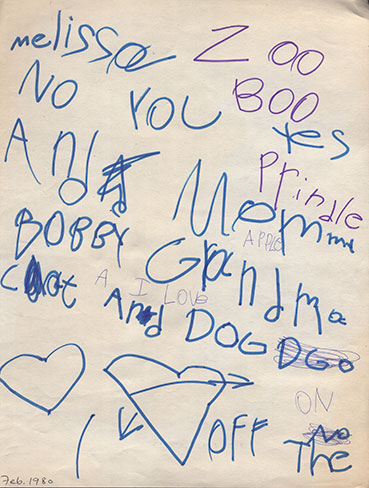 Afterward, my grandma might make me Cream of Wheat or oatmeal. Sometimes, my Uncle Bobby, who lived in a detached studio in the backyard, would come in and attempt to make pancakes. My grandma and mom would sometimes tease him about his lumpy, rubbery discs, but I still enjoyed eating them with real maple syrup. Bobby, the mad scientist hermit, would bring his breakfast back to the studio he had set up as a chemistry lab for his experiments (one of which later resulted in an explosion that liberated Bobby of the two middle fingers on his left hand, but that's another story).
The fragrance of sautéing onions, peppers, garlic, and mushrooms would fill the kitchen as my mother improvised a scrumptious vegetarian omelette. She and my grandma let me steal sips of coffee in between drinks of my Postum, the substitute my mom prepared to keep me from getting addicted to coffee. The three of us would sit together at the dining table, eating and talking and laughing, imagining what our day was going to be like.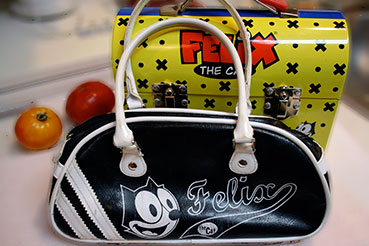 I started getting nostalgic for Felix the Cat iconography a couple of years ago. I purchased a Felix bowling-style purse on ebay, as well as a yellow lunchbox purse that made me think of Felix's bag of tricks. This nostalgia coincided with memories that had suddenly started flooding my mind out of nowhere, causing me to start writing a poem about my grandma three weeks before her stroke. The day after I started the poem, I received her last letter to me. It was as if we were somehow connected to one another's thoughts, even though we hadn't spoken for a while.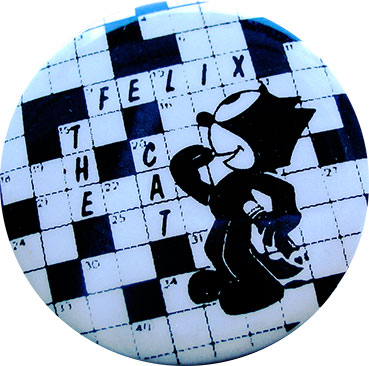 That December, I realized it would be the first Christmas I hadn't spent time searching for the perfect gifts for my grandma—usually Jeeves and Wooster books in whatever forms I could find (CDs, cassettes, paperbacks, hardbacks). On December 12, I came across an item on ebay that was an unbelievably appropriate symbol of both my grandma and our relationship—a pin showing Felix the Cat standing in a crossword puzzle! My grandma was the veritable queen of crossword puzzling. I had been tempted by the allure of crosswords myself. Two or three times I had obsessively attacked them, learning enough about myself to know I would need to wait until retirement before allowing myself this dangerously addictive diversion.
That $1.99 pin was the last present I ever bought my grandma. That's how Michael described it in the story he told after I showed him the ebay listing: the last gift. I can't remember the details of the story—just that it was so beautiful, it made both of us cry.
I wear the Felix crossword pin on my black hat, which goes into regular circulation in the fall and winter. Every time I straighten my hat in the mirror and notice the pin, I think about those dawns when I'd leap onto my grandma's lap, our voices joining as we sang the opening theme together:
Felix the Cat, the wonderful, wonderful cat
Whenever he gets in a fix, he reaches into his bag of tricks
Felix the Cat, the wonderful, wonderful cat
You'll laugh so much your sides will ache
Your heart will go pitter pat
Watching Felix, the wonderful cat.
---
Footnotes
1. I just inserted the CD in my computer to rip the audio for this post, and the disc was identified as Somme shit2 with an album title of "Marajuana Violations" by Dj Dimeyes. Wow. That is hilarious. I've never even heard of that. I can't help laughing when I think of my grandma telling my mom to play Somme shit "when you are discouraged or feel bad. I played it at least ten times, myself."
2. This is the title iTunes mysteriously derived from its online database. I tried finding a copy of this song online so I could listen to it, but alas, I was unsuccessful.
---
Addendum
Notes on "Don't Think of a Patriarch: Nurturant vs. Strict Models of Leadership"
As women have made the transition to leadership positions, they have tended to unconsciously adopt established models of authority.
In our culture, hegemony has traditionally taken a patriarchal form, or what cognitive linguist George Lakoff calls the Strict Father model.
The Strict Father model seats the locus of power with the patriarch of the family.
This model emphasizes obedience to authority enforced through punishment.
The purpose of punishment ("tough love") is to develop self-discipline and self-reliance in the child (i.e., character).
Because this is a dangerous and difficult (i.e., competitive) world, it is crucial that the child obey the father, who is responsible for supporting and protecting the family, as well as for setting and enforcing the rules.
This model gets linked up with Adam Smith's view of capitalism, which says that by everyone pursuing their own profit, the profit of all will be maximized by the invisible hand.
Therefore, by pursuing your own profit, you are helping everyone.
This is how morality gets linked to prosperity: the pursuit of self-interest, which requires self-discipline and self-reliance.
Ultimately, this model seeks to control the child through fear.
Cultural institutions tend to reinforce this model: school, religion, sports, corporations, government, the media—all of these benefit from obedience to authority, controlled through the mechanism of fear of the "other," as well as the pursuit of self-interest.
In "A Nation Deceived," Andrew Bard Schmookler discusses how fear is used to control the populace.
Lakoff argues that fear activates the Strict Father model in the mind, causing what Schmookler describes as a loss of tolerance for ambiguity.
This leads to black-and-white thinking.
Because we are afraid, we crave certainty, since uncertainty magnifies our sense of vulnerability.
This makes a leader who shows no doubt, who doesn't even think twice before acting, comforting to those conditioned by the Strict Father model.
The more afraid we are, the more irrational and therefore the more manipulable we become.
The Strict Father model parallels the Authoritarian model presented by Diane Baumind.
Like the Strict Father model, the Authoritarian model attempts to control the child's behavior in accordance with an absolute set of standards.
It values obedience, respect for authority, work, tradition, and preservation of order.
The Authoritarian model discourages verbal give-and-take between parent and child.
Interestingly enough, studies show that the children raised under the Authoritarian model tend to be aggressive and out of control, have low self-esteem, and exhibit less evidence of "conscience."
Because their sense of right and wrong was taught to them through punishment rather than communication, their moral orientation tends to be external.
The temper-tantrum–throwing children on exhibit in shows like Nanny 911 are prime examples of the terrors that can result from the Strict Father model of parenting. It is only when the nanny teaches the parents how to communicate with their children and the kids develop a sense of collaborative responsibility for the household that the children become calmer and more respectful.
These principles can be easily mapped to the employer-employee relationship through the Work Reward Metaphor.
The Work Reward Metaphor states that the employer is a legitimate authority; the employee is subject to that authority; work is obedience to the employer's commands; and pay is the reward the employee receives for being obedient.
As with parents and children, this approach tends to engender mistrust, resentment, and lack of respect on the part of the employees for the authoritarian employer, particularly when that Strict Father leadership is practiced by a narcissist.
Bruce Gregory discusses the threat narcissism poses to sustainability in his article, "The Impact of Narcissism on Leadership and Sustainability."
Narcissists are addicted to a complete domination over the present space or situation, which derives from their sense of grandiosity and craving for power.
This is the Strict Father or Authoritarian model taken to destructive extremes.
In my experience, some of the most salient examples of Strict Father leadership happen to be women.
Often, women who have risen to positions of leadership have acquired that status by playing the game—competition, survival of the fittest, etc.—which has further conditioned them to model the Strict Father paradigm.
Instead of falling into existing patterns of leadership, however, I would argue that women move to redefine dysfunctional power structures in the workplace.
This is where George Lakoff's analysis of the Nurturant Parent comes into play.
Unlike the Strict Father model, the Nurturant Parent model is gender-neutral.
This model emphasizes love, empathy, and responsibility.
Other values that follow from empathy and responsibility are:
Protection
To be and encourage others to be happy and fulfilled
Freedom
Opportunity and prosperity [because they facilitate freedom]
Fairness
Open, two-way communication
Community-building, service, and cooperation
Trust
Ultimately, it comes down to building a culture of mutual respect, open communication, and trust.
The Nurturant Parent model is similar to Diane Baumrind's Authoritative and Harmonious models.
In the Authoritative model, there is an expectation for mature behavior from the child and clear standard-setting.
There is firm enforcement of the rules through commands and sanctions when necessary.
This model encourages the child's independence and individuality.
Open communication is key, as is the recognition of the rights of both the parents and children.
Unlike the rebellious, detached children raised under the Strict Father model, children raised under the Authoritative or Harmonious model tend to be independent, able to function in both the cognitive and social spheres, socially responsible, and self-confident.
In the workplace, the Metaphor of Work Exchange applies.
Work is an object of value possessed by the worker.
Employment is the voluntary exchange of the worker's work for the employer's money.
Work is a matter of trade, not obedience.
Mutual respect, collaboration, creativity, and trust tend to distinguish a workplace influenced by the Nurturant Parent model.
---
Note: If you missed the previous posts and would like to read more about my grandma, links to earlier chapters are available in the left-hand column.