frank apisa, has a perspective on american life which provides him "superior" insights into the realities that exist in america, than those who comment below, who range in their views from the left to the right, and the center.
Certainly, years of smoking "5 or 6 joints a day...and often I would take a day or two off each year," (SEPTEMBER 08, 2011 08:10 PM) must have helped his "discerning" eye to distinguish between reality and delusion.
snip
"Why is America now a police state? Why has the US Constitution's spirit been ignored? Why is homelessness and poverty on the increase in USA? Why is US debt now greater than its GDP? Why is the US fighting expensive wars abroad when its economy and social sector need peace? Why has the US embarked on a trajectory of global subversion, intimidation and unparalleled violation of international law? Why is the government of USA lying to its own people and to the whole world? Why has the US goodwill evaporated worldwide? Why have almost 50 million people become "insecure" and are faced with the possibility of becoming "destitute"? Why is the US society fracturing? Why does the US government seem to be pursuing World War III? What is going on in the America of today?
The shortest answer to this question is that the US government, Congress and judiciary have increasingly come to be owned by a clique of international bankers.
http://www.nation.com.pk/pakistan-news-newspaper-daily-english-online/columns/11-Jan-2012/is-the-us-becoming-a-police-state
snip
"Doesn't it seem like almost everything is becoming a crime in America now? Americans are being arrested and charged with crimes for doing things like leaving dog poop on the ground, opening up Christmas presents early, not recycling properly, farting in class and having brown lawns. But is it healthy for our society for the police to be involved in such silly things? Every single day the United States inches closer to becoming a totalitarian society. While there are some that would welcome this shift, the truth is that throughout history the societies that have experienced the greatest economic prosperity have all had at least a certain level of freedom. Business thrives when people feel free to live and work. When a government tightens the grip too much many people just start shutting down. Just look at places like North Korea. Even though the rest of the world is sending them huge amounts of food starvation is still quite common in that totalitarian regime. That is why it is so disturbing that it seems like almost everything has become a crime in America now. As we continue to criminalize relatively normal behavior our slide toward becoming a totalitarian state will only accelerate.
We are throwing anyone and everyone in prison these days. It is getting absolutely ridiculous. Today, the United States leads the world in the number of prisoners and in the percentage of the population in prison. The United States has 5% of the world's population, but approximately 25% of the world's incarcerated population."
http://theeconomiccollapseblog.com/archives/almost-everything-is-a-crime-in-america-now-14-of-the-most-ridiculous-things-that-americans-are-being-arrested-for
snip
"Police in the US now rival criminals, and exceed terrorists, as the greatest threat to the American public. Rogelio Serrato is the latest case to be in the news of an innocent person murdered by the police. Serrato was the wrong man, but the Monterey County, California, SWAT team killed the 31-year old father of four and left the family home a charred ruin.
The fact that SWAT teams often go to the wrong door shows the carelessness with which excessive force is used. In one instance the police even confused the town's mayor with a drug dealer, broke into his home, shot dead the family's pet dogs, and held the mayor and his wife and children at gun point. But most cases of police brutality never make the news.
Most who suffer abuse from the police don't bother to complain. They know that to make an enemy of the police brings a lifetime of troubles. Those who do file complaints find that police departments tend to be self-protective and that the naive and gullible public tends to side with the police.
However, you can find plenty of examples of police brutality on youtube, more than you can watch in a lifetime. I have just searched google for "youtube police brutality" and the result is: "497,000 results." There's everything from police shooting a guy in a wheelchair to body slamming a befuddled 89-year old great grandmother to tasering kids and mothers with small children. The fat goon cops love to beat up on women, kids, and old people.
The 497,000 google results may contain duplicates as more than one person might have posted a video of the same event, and the incidents occurred over more than one year. However, probably only a small percentage of incidents are captured on video by onlookers, and many incidents of police brutality have no witnesses. What the videos reveal is that a large percentage of police move with alacrity to assault the public. The number of incidences could be very high. One million annually would not be an exaggeration.
Why are the police so aggressive toward the public?
In part because their ranks attract bullies, sociopaths and psychopaths. Even normal cops are proud of their authority and expect deference. Even cops who are not primed to be set off can turn nasty in a heartbeat.
In part because police are not accountable."
http://digg.com/newsbar/topnews/paul_craig_roberts_americans_are_oppressed_too_2
PAUL CRAIG ROBERTS was an editor of the Wall Street Journal and an Assistant Secretary of the U.S. Treasury.
Would it be reasonable to presume that a man like Paul Craig Roberts has a greater understanding of the realities of americn like than the apisamaniac?
snip
"
eorge Orwell's "1984" wasn't meant to be an instruction manual.
One word that emerged from the novel was the word "doublespeak," where truth is deliberately obfuscated through clever wording. In some cases, the meaning of a word is reversed entirely. Oceania, the totalitarian regime in Orwell's book, used doublespeak as a matter of course. The Ministry of Truth specialized in propaganda. The Ministry of Love was a secretive torture complex.
In the early years of public school, or in public addresses by politicians, America is touted as the Land of the Free, or the Land of Opportunity, or the Greatest Country on Earth. We're taught from near-infancy that this country was founded on the right to say what you want, whenever, wherever, to whomever. We're told we have the freedom to assemble peacefully, to petition our leaders for a redress of grievances. We're taught that if you're apprehended by the law, you have the right to a fair trial and legal representation.
Yet, today we live in a country where government aids the corporate takeover of elections. Here, banks who fraudulently took Americans' homes for profit can get bailed out by the taxpayers, and use the money to pay themselves 12-figure bonuses. This is a country where even US citizens can be detained without due process, tortured, and even assassinated overseas.
Today, in the Land of the Free, nonviolent political protesters using their First Amendment rights to speak out against all of the above can be beaten, tasered, and maced by heavily-militarized police forces, using military-grade equipment, without any provocation.
It is no longer extreme to say we now live in a fascist police state. Thanks to the Patriot Act, the SCOTUS' Citizens United decision, and a complacent electorate, our First Amendment rights of free speech and free assembly now only exist on paper. In Tienanmen Square, the Chinese government also censored the press and violently cracked down on peaceful protesters. All that's missing here are the tanks.
Mussolini said, "Fascism should be more accurately called corporatism, because it is a merger of state and corporate power." It is Orwellian doublespeak to call this country "free" while freedom is actively suppressed with aid from a corporate-owned government. The people are not free if their leaders are actively making war with them."
http://readersupportednews.org/opinion2/275-42/8599-carl-gibson-america-has-become-a-fascist-police-state
snip
"Once upon a time, the United States was a land of unparalleled freedom. The rest of the world envied the freedom that ordinary Americans had to think, say and do what they wanted. But all of that has changed. Now Americans have to fear that they will be tackled by a squad of security goons and dragged off to a detention facility somewhere if they spill a Pepsi on a flight attendant or take a few too many pictures of a public building. The United States used to be the polar opposite of totalitarian regimes like Nazi Germany and the Soviet Union, but now America is rapidly becoming very much like them. Due to the fear of a boogeyman living in a cave somewhere or some guy with explosive powder in his underwear we are all being forced to give up our freedoms and learn to live in a Big Brother police state.
But have things really changed so much that we have to give up all of the cherished freedoms that our fathers and grandfathers fought and died for? Haven't there always been fanatics and crazies and criminals out there? Why do we suddenly have to become so afraid of them?"
Some examples:
"Barack Obama is backing a plan to create a national database to store the DNA of people who have been arrested but not necessarily convicted of a crime.
Organic milk is such a threat that the FDA has been conducting military style raids on Amish farmers in Pennsylvania.
An NYPD officer has broken his silence and has confessed that innocent citizens are being set up and falsely arrested and ticketed in order to meet quotas.
A 6-year-old girl was recently handcuffed and sent to a mental facility after throwing temper tantrums at her elementary school.
One 12-year-old girl in New York was recently arrested and marched out of her school in handcuffs just because she doodled on her desk.
A new global treaty may force U.S. Internet service providers to spy on what you do online.
56 percent of Americans questioned in a CNN/Opinion Research Corporation poll said that the U.S. government has become so large and powerful that it poses an immediate threat to the rights and freedoms of ordinary citizens.
http://thisistheendoftheworldasweknowit.com/archives/20-signs-that-the-united-states-is-rapidly-becoming-a-totalitarian-big-brother-police-state
snip
"In an unbelievable shocking act of treason, the United States Senate voted on Friday to pass the controversial National Defense Authorization Act, which is enacted every year allocating the budget and expenditures for the Department of Defense.
Why are more than half of the U.S. Senators treasonous? Because there is a provision in this new act that would give the military the right to detain U.S. citizens suspected of associations with terrorism or a threat to national security without due process, without any formal charges and without a trial. Basically you're detained and you disappear forever. Perhaps at Guantanamo Bay.
Any unjust repression against the American people and doing so without due process is considered unconstitutional. Plain and simple. Every single one of these traitors in the Senate should be expelled immediately.
But interestingly enough, the act does not specify in much detail what is classified as terrorism or threats to national security. If you are a Tea Party or Occupy Wall Street protester, are you deemed a threat to national security? Or voicing your opinion of the U.S. government?
But it is perplexing as to why they are deciding to do this now, after ten years since the 9/11 terrorist attacks.
Typically in these scenarios, if the economy collapses, there will be shortages, higher unemployment, inflation and a crime wave. From there, we will see more rioting and violence on the streets. And if the country does indeed launch a war against Iran and continues to strain relations with Russia, the rest of America will be on edge.
This is called an example of history repeating itself. This has been seen in Nazi Germany under Hitler, China under Chairman Mao and Cambodia under the Khmer Rouge.
But perhaps the most shocking of all is a statement that then candidate Barack Obama said during his campaign in 2008:
"We cannot continue to rely only on our military in order to achieve the national-security objectives we've set, we've got to have a civilian national-security force that's just as powerful, just as strong, just as well funded."
Well obviously, the USSR had the KGB and in Romania, Nicolae Ceausescu controlled the dreaded Securitate. I suppose we can all go ahead and allow a new civilian type police/military force in the United States which is just as powerful…
What harm could it really do?
Time to wake up and realize this country is being hijacked by a group of treasonous thugs!"
http://independentword.com/2011/12/us-becoming-a-police-state/
snip
"Is The NYPD Experimenting With Drones Over The City? Evidence Points To Yes
Miami, Cities In Texas Also Said To Be Trying This New Way To Be Eye In The Sky
January 23, 2012 11:59 PM
Surveillance cameras already dot the city's streets, but is the NYPD exploring the use of even more eyes in the skies, in the form of drones? Some evidence points to yes.
Drones are already being used by law enforcement in other cities. CBS 2 has obtained footage of a huge protest in Poland a few months ago, shot by a small drone that could fly a few dozen feet right over the heads of the crowd and the police. High-resolution cameras can capture every detail, including faces and license plate numbers. In this country, Miami and several cities in Texas are experimenting with such aircraft.
But some are concerned about the invasion of privacy. Last month, the American Civil Liberties Union issued a 16-page report citing the growth of the use of drones and the lack of laws protecting citizens from airborne intrusions."
http://newyork.cbslocal.com/2012/01/23/is-the-nypd-experimenting-with-drones-over-the-city-evidence-points-to-yes/
snip
"UN report cites US Human Rights abuses
The United Nations Human Rights Council has released a report expressing serious concerns over human rights abuses in the United States of America.


The report by the Office of the High Commissioner for Human Rights (OHCHR) points to human rights violations and concerns regarding torture, police brutality, and wide-ranging discriminations that the US government has neglected to properly address.

Systematic violations of human rights by the US government were detailed in the report, which indicates that most violations affected African Americans, minorities, especially Muslims, and immigrant communities in the US as well as abroad.

One serious case cited in the report is the impunity given to private (armed) contractors and civilian intelligence agents for killings of innocent people in Iraq, Afghanistan and elsewhere.

The use of torture against prisoners and detainees by military personnel in Guantanamo Bay prison, as well as detention centers in Iraq and Afghanistan, is also condemned in the report, which alleges that the US "had established secret detention facilities, and that those detained in such facilities could be held for prolonged periods and face torture."

It also censures rendition activities as they have increasingly placed people at risk of torture.

According to the report, after the 9/11 attacks, non-US citizens suspected of terrorism-related activities, have been detained with few legal rights.

The human rights report also points out that the US government is holding over 380,000 non-citizens in over 300 different facilities in the US for removal proceedings.

Another serious concern raised in the report was "persistent racial disparities regarding the imposition of the death penalty," where by it was recommended that the US adopt "all necessary measures, including a moratorium, to ensure that the death penalty is not imposed as a result of racial bias."

Discrimination continues to pervade the US, where minorities, especially African Americans, face "disproportionately high levels of unemployment, lower income levels, access to education and to quality health-care services."

It also reiterates that many low-income African Americans continue to be displaced five years after Hurricane Katrina.

Police brutality towards African Americans, Latinos and undocumented migrants were also a cause for scrutiny and concern in the report.

In addition, Arabs, Muslims and South Asians were said to be the targets of racial profiling. The US government has reportedly been monitoring private communications of individuals within and outside of the country without judicial oversight, infringing upon people's rights to privacy."
http://edition.presstv.ir/detail/147706.html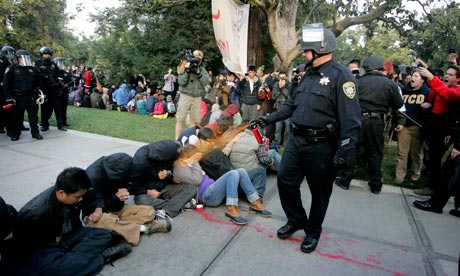 snip
Ted Rall:
SYNDICATED COLUMN: Brave New Book
June 28th, 2011
Political Scientist Argues the U.S. is a Police State
"The United States is a police state.
Not in danger of becoming one.
Is.
And it's too late to restore democracy.
Though "a glimmer of hope seemed to appear after President Obama took office," Kolin shows how the Democratic president "merely modified police state practices." Furthermore, the transitional nature of the brutal authoritarian tactics enacted by Bush into the next presidency indicates that they are not anomalous but structural. "The Obama Administration's position that amnesty should be granted to those who tortured [under Bush] as well as those who authored the torture memos, itself violates national and international law; it also ensures that such policies will likely be repeated."
Attorney General Eric Holder said: "We don't want to criminalize policy differences." Kolin replies: "Since when is support for a police state a policy difference?"
If you've somehow managed to ignore Obama's record over the last few years, and you're still thinking of voting for him next November, this book will change your mind."
http://www.rall.com/rallblog/2011/06/28/syndicated-column-brave-new-book
Most who read this blog will find little surprising here.
Those who are new to these facts and concepts, can be reassured that frank apisa will always be around, to add new slogans to explain how everything is OK or it has always been like this.
Always remember, he IS the man who was never wrong.