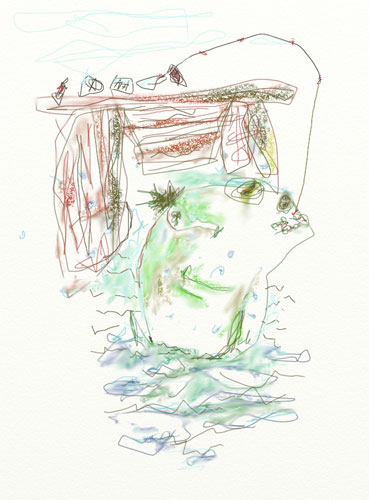 Michael: Maybe we should start having artwork.

Melissa: Like what?

Michael: You'll see.

(later)

I'm gonna name the subject right off the bat this time.

(pause)

Melissa: Don't you need to eat?

Michael: I don't know. Maybe. Probably.

I'm still trying to think of a subject, but while I was trying to think of one, I started thinking that maybe we should just limit our subjects to movies.

Melissa: What?! We shouldn't limit our subjects.

Michael: Well, here's what I started thinking. If we stick to movies, then thinking of a subject would become much easier. Also, I feel more comfortable talking about movies.

metaness is supposed to be more playful and—

Melissa: Cerebral?

Michael: Yeah, cerebral.

Melissa: And it can touch on emotional elements, too.

Okay, let's try sticking to movies for a while and see what happens.

Michael: Great. (pause) I'm surprised you gave in so quickly.

Melissa: So am I. What movie should we start with?

Michael: How about our favorite?

Melissa: Big Night?

Michael: Big Night.

(long pause)

Once again, I'm not sure of the ground rules anymore. Should we talk or not talk about our subject?

Melissa: Well, you can't bring up something we wanna talk about and then prevent us from talking about it. So yes, we should talk about it.

Michael: You know, this actually started when I made the observation that we ended up saying very little about our subjects.

Melissa: If you bring that up, we're not gonna be able to post this before our other one that's almost finished. We can't go back to talking about saying so little about our subjects after this one gets posted—that would make the other one obsolete.

Michael: "Obsolete! Obsolete!"

Well, let's just go finish that one then.

Melissa: Okay. Here's where this post will become unstuck in time.

Whaddyou wanna say about Big Night?

Michael: So we're talking about our subject here?

Melissa: Yes!

Michael: Okay, but I still think that because we only have our enthusiasm for movies to bring to the discussion—

Melissa: I'm really getting tired of this.

Michael: No, this is important to me because part of this experiment was to see how writing this, if untethered by a subject, would evolve over time, both as a reflection of our lives, and life here at OS.

As soon as you mentioned discussing Big Night, this cold feeling came over me, and I thought, "Oh no, now we're gonna have to dredge up some kind of dialogue about what we think about Big Night, or how Big Night has affected our lives, or maybe even doing research, assembling reference materials—"

Melissa: Hold on a minute.

But you're right—I think we would be much more authentically engaged in the conversation if it evolved organically.

Michael: See, this is what I've been feeling lately. That we're being artificially hindered once again by some arbitrary rules.

Let's get back to the fact that we should probably simply drop subjects.

Melissa: Yes! That feels liberating. The subject was really just a crutch as we began to develop our process. Now, it feels like it's getting in the way instead of helping.

Michael: Well, to me, it just feels fake. Since we're supposed to be recording our conversation about the writing of this, our conversations need to flow as naturally as possible.

When we started this, I just assumed that we would need a subject for every post.

Melissa: See, that was making it feel more like homework, instead of an integrated part of our daily lives.

Michael: Okay, great!

(long pause)

You know, I'm gonna kind of miss not coming up with a subject every post.

Melissa: Here's where we reach the future that is our past.

You STILL haven't eaten yet.

Michael: Waho-waho-waho-wa!

I have no idea what that's supposed to mean.

Melissa: You had a Rice Krispy treat as a meal at 3 a.m., and now it's 9:00 a.m.

Help you.

Michael: (laughs)

Melissa: And I ate an actual meal at 4:00 a.m., slept a couple of hours in between, and I am genuinely hungry right now.

I'm starting to make breakfast burrito stuff if you're gonna stay up.

(sound of neighbor's door closing)

Michael: Ker-splat!