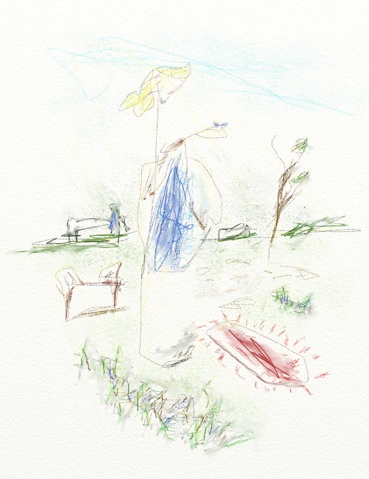 Michael: You know what really disturbs me about what we just said?

Talking about if we're real or not.

Melissa: I wonder if it's more obvious to people who've been reading us from the beginning—

Michael: Has anyone been reading us from the beginning, other than maybe Delia and GalaxyMan?

Melissa: Probably not.

Michael: Those first posts are pretty rough. But then again, it was a record of a beginning, which is like childbirth. That's pretty rough, too. I remember saying something at the time that this is like the initiation phase. If you can get through this beginning part, then you're initiated into the club, as it were. The thing is, this isn't a club, it's not a secret society, it's not anything except you and me sharing these conversations that we have about writing this.

Do I sound morose?

Melissa: No! Where'd you get that idea?

(A) Can you check my glasses? I think they're smudged.

Michael: (B) Uh-oh. They've begun. Isn't that "(A1)", not "(B)"? We talked about this being "(A1)".

Melissa: (A1) That's exactly what I was thinking to myself after I typed "(B)".

Michael: (A1) Wouldn't we go back and fix that?

Melissa: (A1) I was wondering that, too. Do you think it's too disorienting for our reader when we do that? I mean, isn't that like pulling the textual rug out from under their feet before they've even finished taking a step?

Michael: (A1) Yes, but it's also deceptive. In our earlier posts, the ones that didn't follow our new way, it was okay to leave them because they were correct for their context. But in many cases, once we've discovered a way of doing something, we've retroactively gone back and made those changes. "Michael:" and "Melissa:" was one of them.

Melissa: (A1) No, that doesn't count. Because we did that before we ever posted. That's what's so liberating about blogging. It frees us from the perpetual perfectionism loop that prevents all of our other projects from becoming finished.

Michael: (A1) So it's just stuck there like that? "(B)"?

Melissa: (A1) I think so. I don't like it any more than you do.

Michael: (A) They look okay to me.

Melissa: (A) I see smudges.

(A) I hope it's on the glasses and not on my eyes.

(A) I've got smudges in my eyes.

Michael: (A) "You've got flies in your eyes."

I don't know. It was weird. I was sitting here, and in the silence, you sitting there typing. The fan going on in the background. I just thought, am I too minused to do this right now? I would hate to think that I could ever really be too minused to do this because doing this does give me such a sense of worth, really, that I don't normally have. I mean, not because people are going, "Oh, Michael, you are great." It's just that I feel like I'm contributing something to other people that they're able to enjoy, hopefully laugh, maybe learn something, I don't know. And that all we have to do to do this is to take the time and effort to record ourselves having these conversations as we create the thing that our reader ends up reading. The finished piece.

Man, was I talking a long time?

Was that a tangent? Or just something said later? About something said earlier?

Melissa: Oh my. Let's just keep that top-level. I'm not ready to deviate into all those sub-threads right now.

It's really odd how we both feel sort of deflated right now—and at a time when the responses are so encouraging.

Michael: (B) It's interesting because we're not really feeling that way anymore, but it still fits because we did just get some encouraging responses today. When did we actually write this?

Melissa: (B) Back on Monday, I think.

Michael: Wait a minute. When you say "deflated", do you mean you are discouraged from writing metaness?

Melissa: No, of course not! I'm very encouraged, actually. I think part of the problem is we had this creative flow during the weekend, and then having to go back to work today and be separated, prevented from working on this—uh, this blessed metaness that—

Michael: Wait, did you just say "blessed metaness"? Oh man. Now I think you've gone too far. But I agree with what you're saying. I think it might actually have more to do with the day. Monday. You mentioned it was about the weekend. We're together, we're able to work without too much interruption. It's great. But as soon as we're separated, we're not really able to work. We kind of pine away the day until we can get back together and start working again.

Melissa: I'm almost blind without my glasses right now, so it's hard for me to—

Michael: Oh, I didn't realize that! I was just sitting here holding them.

Melissa: Yes, it makes me miss you even more than I already do during the work day.

Michael: What does?

Melissa: Well, working together so—

(together): Closely?

Melissa: Yeah, and it's strange because we've been working together on so many creative projects for so many years.

Michael: I know, love, but this is different. This demands more of us. We have to pour more effort into it. We have to pour more of ourselves into it. I mean, we're literally pouring what we say into it.

This boo-boo itches.

Melissa: Hahaha.

Okay, but going back to analyzing our melancholy.

Michael: Melancholy.

Melissa: Yes, I mean, last night, we were on such an ecstatic creative high, after having worked nonstop since the second I got home on Friday evening.

Michael: Well, that's an exaggeration, love. I mean, we slept. You said nonstop from the time we got home. You made it sound like we just worked the whole weekend through without sleeping!

Melissa: Obviously not. But it really sort of felt that way. I probably got maybe four hours of sleep a night. So that's another reason I think I'm a little sleepy-eyed tonight.

It's probably also feeling so helpless to ease C's Sisyphean burdens, but I won't go there because I'm not sure she'd approve of us talking about that.

Michael: I'm sure. She wouldn't.

(C. calls)

(next day)

Melissa: Do you realize the only dates we have in this calendar are of deaths?

(later)

Michael: "I see what you did, lady. You dropped your caps. You dropped your caps. And now you need two spaces. Two spaces are mandatory when you drop your caps."

Melissa: (G) It seems like we should put that in quotes because you said it in a character's voice—

Michael: (G) I didn't say in in a character's voice, I said it in a funny voice. I was talking to you.

(C) This is a weak ending. It was going fine until we got here.

Melissa: (C) I know. But that's because that was just some random character you were making up, and I didn't get the context surrounding it.

Michael: (C) No, it wasn't. I was talking to you. About the fact that because you stopped using capitalization in your emails, you were forced to use two spaces after your periods.

Melissa: (C) Oh, now I remember. And it's not "forced"—it's just that I realized I still practice the antiquated two spaces when I type emails, whereas that would be an abomination in body text.

(C) So I've actually been trying to remember to stop typing two spaces, but I keep forgetting. It's just weird that it's habitual for me to do two spaces for emails when I automatically do one space in every other kind of text.

Michael: (C) Yeah, that is weird.

Melissa: (C) This actually ties in with something I've been trying to decide about lately.

Michael: (C) What?

Melissa: (C) I've been wondering if I should start making my emails sentence case. I mean, maybe keep lowercase for our closest friends or informal emails. But it's starting to seem a little odd that I still do lowercase now that I'm in my thirties.

Michael: (C) Like lowercasing is some teen thing, or some intimate thing only for your closest friends. "Notice how I'm dropping sentence case for you?"

Melissa: (C) Haha.

(C) I know. But sometimes I have to email people outside and I sentence-case for them, so then it just becomes a hassle to try and remember whom I've established sentence casing with, and whom I have a history of lowercasing with.

Michael: (C) "People h'outside."

Melissa: (C) But then it would be strange to just go sentence case on everyone.

Michael: (C) Well, I've always thought it was weird when you would lowercase people's names.

Melissa: (D) There's so much "weird"ness in here. I'm gonna make mine "strange".

Michael: (C) I thought, Aren't some people offended by that? But I guess they were just all your closest friends.

Melissa: (C) I don't think anyone would be offended by their names being lowercased when the entire text is lc.

Michael: (C1) Melissa, would you say "lc"?

Melissa: (C1) I was just trying to decide that myself. Because I would actually sometimes say that when doing editor-speak. I wouldn't typically say it to you, though. But the reason I did is I had just finished saying "lowercased", and I really didn't want to repeat myself again so soon.

Michael: (C2) You can use splat-i again, love. I fixed it!

Melissa: (C2) Yay!

Michael: (C1) I know. But you're only conscious of that because you're writing it. You wouldn't be conscious of that if you were saying it, I don't think.

Melissa: (C1) Yes, I'm speak-writing it, which makes my sentences a little less colloquial, a little less natural. It's just because I have to type simultaneously while conversing with you. See, that wasn't very natural.

Michael: (C1) That's why I want you to say it before you write it. I have to say mine out loud.

Melissa: (C1) I know, but if I say it and then wait too long before typing it, that would be even harder to capture the authenticity. I mean, the actual words I used.

Michael: (C1) That's why I suggested just saying a short sentence, and then when you're happy with that, writing it down.

Melissa: (C1) But that's not dialogue. That's saying and writing lines. I need to keep my hands on the keyboard to capture the natural flow of our conversation.

Michael: (C1) Keeping your hands on the keyboard is what hampers the natural flow of your conversation.

(C1) You get to points where you stop speaking at all and just write for long periods of time. Now here's the thing, we usually have to go back and work on those sentences to make them sound more natural. Wouldn't it be better to just make them naturally to begin with?

Melissa: (C1) We do! It's just these anomalies, usually when we're metaing and trying to finish the fecking post.

Michael: (C2) So I thought that might work as an ending, but it doesn't.

Melissa: (E) I was just realizing we are about to post a post we first wrote last Monday on a Saturday, which actually just became Sunday, and in a previous post, we posted a post we wrote on a Sunday on a Friday, which actually became Saturday.

Michael: (E) "This year, you buy next year's car, and next year, next year's come out already again."