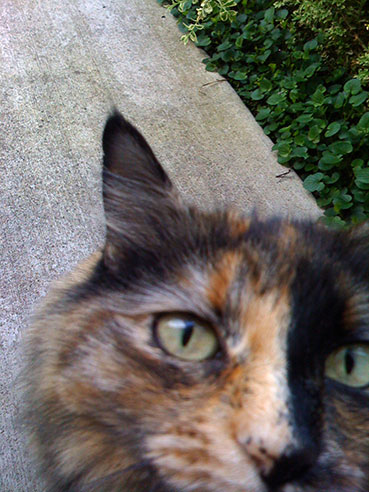 Welcome to the first installment of Fragments Friday. Since many of these were written a while ago, you'll find some anachronisms—like referring to Franny and Zooey as "girls." Now, enjoy three cool, refreshing sips of metaness lite.

Fragment No. 1
Michael: I know how we should begin our next one. About our computer starting to go poop.


Melissa: (typing) Do you wanna keep going on that, or do you want to finish this other one first?
Michael: We can finish the other one first. That's better.


(another day entirely)
Michael: If a friend is "friendly", what is an enemy? "Enemous"?


Melissa: Wouldn't it be "enemly", if you modeled it on "friendly"?
(later)
Melissa: Who was out there, the gardener?
Michael: Both of them. They got to see me in my underwear, putting a little plate of cat food on the ground for Tinkerbell.


(later)
Michael: Do you know why it bothers me that the gardener saw me in my underwear?


Melissa: You mean "gardeners"?
Michael: I said "gardeners." That's not a—don't bring that up. This isn't interesting, love. This is like making jokes about farts. Let's rise above this.


Melissa: Okay, sorry. But I still think you said "gardener", singular. But yes, why does it bother you?
Michael: Because it's like, here are these two guys, in the middle of the day doing the gardening around our complex. And here comes this guy out of his apartment—


Melissa: Wait, wait. You didn't come out of the apartment. You simply slid open the screen door to feed Tinkerbell.
Michael: Technically, the upper half of my body went out of the apartment. So, I would say I did, just not completely.



Fragment No. 2
Michael: I think school encourages children to compete for attention. Some children realize it's not even worth it. You don't want the attention, because you don't know the answers anyway. You wanna keep a low profile. You want the teacher to call on someone else. To me, most of the time when a teacher came around and put their hand on my shoulder asking me this or that, the spotlight was now shining on me. And I hated that. It burns.


Melissa: I hated the spotlight, too, but I almost always knew the answers. And for me, it wasn't about competing—or maybe it was, but I didn't realize it. I was just pretty much a perfect student from birth—or "I was just naturally a perfect student." Which do you prefer?
Michael: Both are things that when said will get you beat up when you're a student.


Melissa: Hahaha. I guess I was lucky, then.

Fragment No. 3
Melissa: I can't believe we're all out plates!
I have to do the dishes.
Michael: Tinkerbell!

What're you doin'?


Melissa: I have to.
Michael: No, I'm talking to our friend.


Melissa: Ohhh. Tinkerbell!
(to Tinkerbell)
You can come in. You wanna help Mama load the dishwasher?
Michael: What did you just say?


Melissa: Oops.
You're right. She smells like laundry.
Tinkerbell, where are you going?
Michael: I prefer the cleanness of parens.


Melissa: Me, too.
Michael: And it's easy to follow.

She's being a good girl.


Melissa: Maybe she should be rewarded.
Michael: Yeah. Oh, she's lying down. Just let her kick back. She got tired of waiting.


Melissa: Should we feed her right here?
Michael: I guess.

Help us.


Melissa: Don't tell me you want more, Tinkerbell.
(performing) "You're terrible, Tinkerbell."
(later)
Melissa: Tinkerbell's still here.
Michael: She heard you and she's leaving.




L E G E N D
letters =
sequential meta conversations
(C occurred after B, B after A, etc.)
numbers =
mini-meta tangents within meta conversations
quoted letters =
prior meta conversations