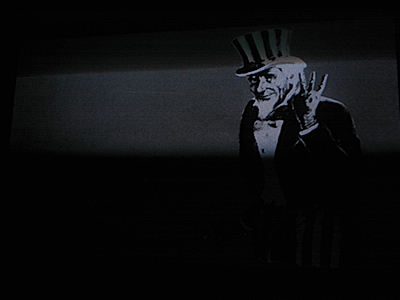 Welcome to the first installment of Snippets Sunday. Since many of these were written a while ago, you may find some anachronisms. Happy snipping!

Snippet No. 1
Michael: You know how on
American Chopper
you can tell the dialogue has been coached?


Melissa: Oh, you mean the formula they follow?
Michael: Yeah. One of the things they told them was to start a lot of sentences with "You know."


(later)
Michael: Let's work on our work.

Come on.

You don't have that much here.

I said, "Let's just work on our work."


Melissa: No, you didn't. You said, "Let's work on our work."
Michael: No! You wrote, "Let's work on our work," and you're quoting that. Not what I said.


Melissa: I have a very accurate auditory memory of the last ten seconds. That's part of my superhero Recorder abilities.
Michael: The minute you claim to be a superhero is when the challengers will begin to queue.



Snippet No. 2
Michael: So, here we are again. With my doubt in the experiment even stronger.


Melissa: How can you say that? I think it's going great.
Michael: Well, you would. You're an optimist.



Snippet No. 3
Michael: I was wondering about those story songs. Back when I was little, they dominated the top ten and—


Melissa: Wait, wait—
Michael: I knew you were going to say that.

Anyway, they would play the top ten songs over and over, and it got to where you just started hating those songs.


Melissa: I didn't think you hated them. I thought you loved story songs.
Michael: I do! That's not what I'm saying. I'm saying I was wondering about those story songs and how sick you could get of them.


Melissa: We'll have to pick this up tonight because Cass is waiting for me.
Michael: All right.


(pause)
Michael: (thinking to self) Now that Melissa's gone, I can't keep working on this.

But look! I still am.


Narrator: At this point, Michael introduced a narrator. The narrator began by pointing this out.
Narrator: With Melissa off to work, Michael sat quietly at the computer, settling into a mild depression. After a few moments, his mood suddenly lightened. Drawing the keyboard closer, Michael began to excitedly tap away at the keys. Once finished, he read aloud from the narrator's part. After a few corrections and tweaks, he considered it finished.
Michael: (thinking to self) At least for now. And right now, I'm gonna stop before I make things any worse.



Snippet No. 4
Michael: So what were you saying about narration?


Melissa: I was just overhearing that what-is-it—some reality TV clip—
Michael: What're you saying?


Melissa: What is that show?
Michael: The one I'm watching right now?


Melissa: I mean, what would you call that kind of show?
Michael: The one I'm watching right now?


Melissa: Yes.
Michael: Um, that's interesting 'cuz I remember when the phenomenon of this first began, when people would send in the videos they'd made with the relatively new handheld cameras. I mean the cameras themselves were relatively new. So, I guess these shows are video clips stitched together with inane chatter—


Melissa: That's what I was talking about—their narration. It's totally superfluous, but when I was listening to it from the other room without watching the picture part of it, I realized all they're doing is describing what you could see for yourself with your own eyes—only they're not just doing that. They're overlaying the interpretation of the image they want you to go away with.
Michael: Yeah.


Melissa: So that's the propaganda layer.
Michael: Did you say "layer"?


Melissa: Yes.
Michael: Well, the whole thing would be propaganda. It's not like it's a regular show with the propaganda added on top of it. If you consider PR propaganda, too, just about everything we see is propaganda. It's someone trying to get us to believe and act in a way they want us to.


Melissa: Yes, but what I meant by the propaganda layer was the voiceover is where they interject that propaganda—
Michael: Well, they're interpreting for us what we're seeing, which is unnecessary in most cases, as you pointed out. But in the course of interpreting it, it's very clear that they're fomenting fears about certain people and puffing up others. Usually, the police are puffed and young black men are vilified. Now, perhaps it was racist of me to even mention young black men, but—


Melissa: No, because that's your point.
Michael: Well, the truth is it's not just black men. It's poor people.


Melissa: Yes, the disempowered.
Michael: As they have throughout history, they suffer the brunt of everything.


Melissa: Right. The ones who go and die in the stead of the sons of those who make the decisions about them going and dying.
Michael: Yes.

(performing) "Thank God for the all-volunteer military, because if we can afford it, we can send our own sons and daughters off to college, so they don't have to go into the military. Or, if they don't wanna go to college, we can just set 'em up in something."

But if you're living from paycheck to paycheck, the options for your children are slimmer. They'd better be really good academically, because they're gonna need scholarships. Or athletic excellence. 'Cuz you can't afford to pay for it. But you know, the military offers to give you matching funds for scholarships, so they'll help you get in there. And you're not gonna be setting them up in anything, 'cuz you're not set up yourself. So, the options for the poor are narrower, the prospects bleaker.

You know, they're given hope in the form of, "Oh, well, you're gonna get a basketball scholarship, and you're gonna go on and be in the pros and get out of the ghetto." Well, how many children living in a ghetto somewhere who have been told that all their lives are still not that? The few who make it aren't an example for us. They're the freaks. We like sitting around watching freaks. Everything is a freak show. And no one can seem to stop watching.


Melissa: What you were saying earlier reminded me of
OT: Our Town
.
Michael: Right.


Melissa: Once the students were actually given an opportunity to practice a collaborative, creative process, they blossomed. These were the students who were ignored in the Compton school district, which focused its funds almost solely, extravagantly, really, on the athletics programs.
Michael: Right.


Melissa: Completely to the exclusion of the arts. But you get this teacher, or two teachers in this case, who actually care and believe enough in the students to help them see there are other forms of expression, ones that feed something inside, as opposed to the material wealth that's dangled in front of them through popular cultural mediums—music, television, movies, etc. So once that happens, it's like these windows they thought were walls all their life just open up to them. There's hope, and not defined in terms of the narrow parameters culture promises them, but in terms of their own creativity and inspiration. Their imaginations.
L E G E N D
letters =
sequential meta conversations
(C occurred after B, B after A, etc.)
numbers =
mini-meta tangents within meta conversations
quoted letters =
prior meta conversations