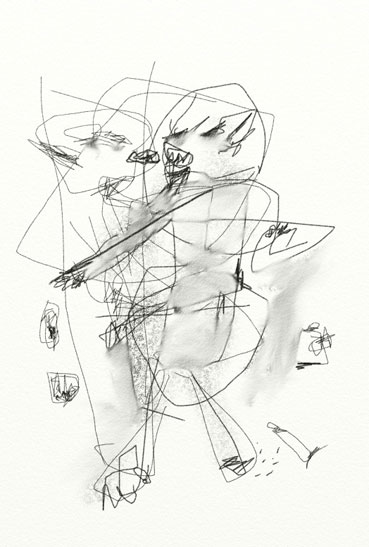 (sings)

Where Was Elvis when he died?

He was poopin', poopin', poopin'!



(laughs)



I wish songs could just be that long. I could make a million of them.

(A) Elvis-lovers are gonna wanna lynch me.



(B) The smallest bit Of Elvis shit was in the possession of a woman who lived in a modest two-bedroom home in Garden Grove, California. Her name was Carol, and she graduated twenty-first out of a class of twenty-eight, an accomplishment for which she received a Velvet Elvis Pin. Thus began her obsession with the "King". Her Prized Elvis shit was contained in a little green-capped vile filled with a mixture of vodka and Listerine, and it was the size of a pepper flake. It floated there like a potato chip in space, gracefully performing somersaults as Carol waved it to and fro. It was a piece taken from the sample obtained from the doctor who performed the chemical analysis on it to see what was In Elvis's bloodstream.



(E) Why is that capitalized?



(E) Because it's a law. Every word that Precedes "Elvis" has to be capitalized.



(E) Hahaha.



(B) (performing) "Oh, hey, wow, you wanna buy a speck Of Elvis shit? I got it from my sister who knows this guy who knew the woman who got it from the guy who took the original piece from the original shit that was in the original toilet That Elvis was sitting on when he originally died. But you can only buy today, 'cuz I'm not gonna be around tomorrow."

(C) We're not gonna do our post tonight, are we? The birds know it. And I know it, too.



(C) I think this is our post.



(C) What?!



(C) If we can actually avoid too much metaing, we have a chance of this being our shortest piece yet.

(C) That'll give us more time to finish the epic post in which we work out our new system.

(C) And after that, we'll finally be able to publish the Tinkerbell post!



(C) (sings)

(C) Do-do-do-doo-doo-do do-do-doo-doo

(C) We sat on bean chairs and sampled sounds

(C) Slowly destroying our backs, as we soon found

(C) But still, when I look back on those days,

(C) I realized the progress we made

(C) The things that were become, what was to become, too late

(C) Do-do-do-doo-doo-do do-do-doo-doo

(weeks later)



(D) Corporations have usurped culture. They are the ones who deliver culture to us, and it's not culture that we've created. It's culture that's been manufactured for us. Corporations decide who rises, and who gets left behind. And the ones who rise are the ones who are not going to be a threat to them. Corporations are interested in making money, and so they're always gonna pick somebody who's gonna make a lot money. But someone like Bob Dylan can fuck their shit up, while someone like Madonna causes everything to sail right along. If anything, she became her own personal corporation. They discuss this in that Hal Hartley film.



(D) Simple Men.



(D) Yes. How Madonna has progressed because, rather than being exploited by others, she was exploiting herself. That was progress.



(D) Only a misogynistic society would think a woman being exploited—whether by others or supposedly by herself—is progress.



(D) Do you think Hal Hartley's misogynistic?



(D) No, that's not what I'm saying. He isn't even saying that. One of his characters is.



(D) But there is really no disagreement to this. I think it is the conclusion of the movie that Madonna has succeeded because she is no longer being used by others; she is using herself. And that reminded me of what we were talking about.



(D) Which was?



(D) It's interesting, because I can't even remember now, my train of thought is just so fragile. It's so easy for me to become lost in my own fantasies, the stories that I create in my mind and relate to you.

(D) I guess they're really scenarios, but I always imagine them finding a place in a story somewhere.



(D) Maybe they are all part of one lifelong story. They're all characters in our collective narrative.



(D) Mmm, I don't know. What I'm talking about are the things I will speak of and then promptly forget. I don't see how that's a part of our life. It's more like jotting down a note, but for me, it's storytelling, and so notes for me would be something like, "A person who has a faucet fetish."



(D) Eeeiu.



(D) Well, that's not something you may have thought of before. I just now picked it because I was searching my mind for something. I knew it was gonna be a fetish of some kind, because, of course, in storytelling, you have to use titillation to hold interest sometimes. And I just imagined an outdoor faucet and a person looking at it longingly. If I was making a movie, I would wanna show from that person's perspective that they aren't just looking at this, this person is in love with this thing. You would hear the love music playing. He would look at the curves of it the way a person looks at the curves of their lover. And then I imagine the wife coming out and almost catching him, and him having to explain it away. You see, that's just a note to me. If I was ever writing a story, I would like to dip into those notes, giving the characters in the story life through multitudinous human eccentricities.



(F) Hey, if we've got titillating content, maybe we'll get on the cover!



(D) I just thought of an idea.



(D) What?



(D) I want us to test something. We do know that color is possible, is that not true?



(D) That's true.



(D) I would like us to try color for this metaness. Each meta's a different color. That way we can get rid of the labels—



(D) Errr—



(D) We'd still have to have the legend, because we'd have to say what the order of the colors is. It occurred to me that when I read metaness, I really see how much enjoyment would come from it only if you could clearly see the metaness of it. A perfect example would be someting like where I say, "Let's just do a short one," and then I immediately say "Ha!" Now, that's not funny in and of itself, but if we notice that the "Ha!" is the letter "(P)", we know this metaness has gotten out of hand. It is just very meta-high.



(D) And that is precisely why we can't do away with the letters! The colors don't indicate any kind of chronology or progression.



(D) Okay, you're right, I agree. It was just . . . I saw it . . . that by having the text be a completely different color, it would be harder to overlook the fact that it comes from a different time.

(D) Let's put it this way, I think an ideal system would be the idea that older text is fainter, and darker text is the most recent thing said. So the original text would be the faintest text, hopefully still legible. Like you said, you would still have to have the letters, but it would give you more of a visual clue as to how early in the conversation this was said or how late it was said. Because it's not just a superfluous detail. Sometimes the humor relies on noticing the metaness.



(D) Right, but there aren't anywhere near enough gradations to represent the—



(D) I know but, Melissa. I know that, I understand that. I was just saying how I could see it would be nice.

(D) I know what the solution would be. I just don't know if we could implement it at OS. And I think it would be the size of the text. You can see that, can't you? The bigger the text, the more recently it was said, or what. Even that, I can see having problems. We might as well face it, we've probably settled on our system. And so we should stop tinkering for a while and just see how it works.



(D) That's what we've been doing and why we've finally been able to start having substantive discussions that don't center around the development of the system! But the problem is, we've got that one ginormous monstrosity of a post we've promised mamoore because we just happen to talk about the art in there.

(G) She's gonna be disappointed when she sees how little we actually say about it.



(D) I doubt very seriously we'll ever be able to make that piece postable. It's just too . . . it's become like spaghetti prose.

(H) How about this. What if instead of "Michael:" and "Melissa:", we just had our pictures?



(H) You mean like our little floating heads by the text?



(H) Why not?

(H) (two hours later)



(H) Look at this!



(H) Hahahahahaha!



(H) (beams)



L E G E N D
letters = sequential meta conversations
(C occurred after B, B after A, etc.)
numbers = mini-meta tangents within meta conversations
quoted letters = prior meta conversations