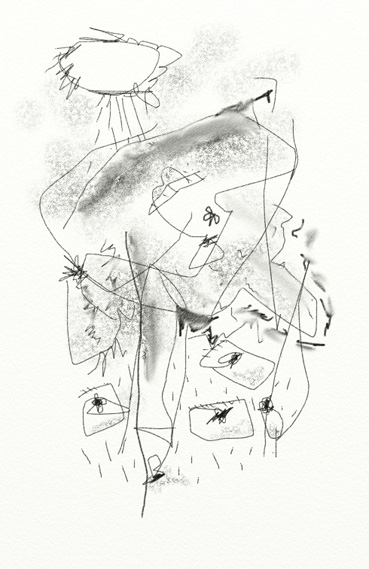 (A) I've just decided I'm gonna be in a perpetual state of quitting OS.



(A) Haha.



(A) Every morning I wake up, and I read the front page and I see what people are commenting on and reading and spending their time on, and I get so depressed. I just really wonder if I wanna help contribute to this or not. I mean I'm not gonna change if I stop posting here. I'm just gonna be exactly who I am. But maybe a little happier. Then another part of me says, "But what about all those great friends you've made? I can't let them down." And the pull of that brings you back. So rather than be surprised every morning, "I'm quitting today!" I'm just gonna be in a perpetual state of quitting.



(A) But in a way, I think that gets at something more profound about how artists do actually have to sacrifice a little bit of themselves to share their light with the world. It's no longer just about the artist. It's about the people who are being affected by that art. You suffer a little bit for their sake. But you also gain something meaningful in return.



(A) Yes, but sometimes it's those same people who cause you to despair. Like that line in the Creedence song, "Lodi": "Every time, I had to play / while people sat there drunk." This idea that you are giving as an artist but at the same time, for the people experiencing it, it's like a given, it's just something they accept, not anything they actually have to show appreciation for. And for the artists who aren't doing it for money, it's even more important that there be some kind of reward.



(C) Yes, and I think that's why we've been particularly blessed to find the sensitive group of readers we have at OS.



(C) Definitely. All of the people we've met through here are wonderful. They're gifted, funny, and real.



(C) Yes, I feel like, by sharing our work with this community of fellow creatives, we're avoiding the toxic suffocation of writing in a vacuum. It makes me think of that quote by May Sarton: "The gift turned inward, unable to be given, becomes a heavy burden, even sometimes a kind of poison. It is as though the flow of life were backed up."



(C) This is interesting. Because while I see this as true in my own art, especially music, I see that it's true also for how I feel about people. The love and kindness I'm prevented from showing others because I don't look like a loving and kind person does feel like a heavy burden, and it is becoming a poison.



(C) Right. That quote actually led me to another quote I had forgotten by Marcel Duchamp: "All in all, the creative act is not performed by the artist alone; the spectator brings the work in contact with the external world."



(A) Sometimes, I'll go through the listing of all the posts, and I'll see so many people who have only a few views, no ratings, no comments, so many of them. It's just . . . I don't know if it's just me, but I can't help always noticing the sadnesses in life. It's not that I don't see the happinesses. And you and I are very happy together. It's just I can't be completely happy when I know that other people are suffering. And if I think about my brothers and sisters in Iraq and Afghanistan—both the military and the civilians who live there—I can't be happy. And when I think of women who are being treated like a resource, a commodity, like Rolling is describing, I can't be happy. And when I think of people who because of the way they look or the way they sound or the way they act, they're despised, ignored, reviled. How can I be happy?

(A) They're the least. And I can't be happy because they're not allowed to be.

(A) It must be Sunday. I'm preaching.



(A) On Friday, you were ranting, and on Sunday, you preach.



(A) Well, is there really much difference between ranting and preaching?



(A) Hahaha.



(A) I'm not talking about the great preachers of history, but still, I'm really not in favor of selling God. Let people find God as God wants them to. I don't think people need the prodding and bashing over the head that some people think they need. Mind your own business. Lead a quiet life. Answer love for love. And love for hate. You win.



(A) Amen.



(sings)

The boogeyman is keepin' a diary

This was his entry for yesterday

"I bought two ears of corn

And two bottles of that grape juice I like so much

Because it was on sale"



The boogeyman is just like you and me

The boogeyman has aspirations

The boogeyman wants to write a great novel

But he's been turned down before

Yes, he's been turned down before



The boogeyman's book's on grilling

His favorite are the fish

But tonight he's gonna grill some ears of corn

And visit a girl named Trish



Trish is only five years old

And she's scared of only one thing

You're right. It's him. The old boogeyman.

But only because he's vain.

He'll talk and talk about his book

An hour, even two.

And Trish must wake at strike of eight

Oh, what is she to do?



The boogeyman is keepin' a diary

This was his entry for today

"Visited Trish. Happy to see me.

We talked about the book

And though she begged

I had to go

But not before I killed her."



The boogeyman is just like you and me

The boogeyman has aspirations

The boogeyman is writing a great novel

And he just got accepted by Farrar, Straus, and Giroux

Yes, he just got accepted by Farrar, Straus, and Giroux



(laughing)

(next day)



That term is so creepy. "The Family." Who else used that term? Jim Jones and Charlie Manson. What did they have in common? Lots of dead people around them.

(performing)

"Hey! You'll love them, World. You cess-pool swilling agents of sin."

"Let's follow them out into the desert! Let's cut off all ties with our loved ones. Let's give him all our money and possessions! Let's completely subvert our own will to follow a madman. What could go wrong?!"



Hahaha.



This reminds me of Safe. That enigmatic movie.



That's a good word for it. That's one of the few films I think we had to watch multiple times before really getting a sense of the director's feelings toward the characters.



Yes. It's very sophisticated.



Exactly. It's one of the most subtle and understated films, and yet, when we went back and watched it a second time, I realized how overpoweringly sinister the whole cult experience was. The Leader—



Ah, but see, that's the thing. Never so sinister that you even wonder sometimes if the director is somewhat sympathetic. That's what so interesting. It was that brief shot up at the Leader's mansion, that sinister shot of that mansion on the hill. The director isn't a part of this—he is just quietly filming it all. Letting the story itself just tell the story, without trying to be so manipulative and giving the audience enough credit to make up our own minds. Very few films let you do that. Movie-making is so manipulative.



Right. That's why it really needs to be treated by the director with that degree of respect for the audience and sensitivity to the affect of their films on the viewer. Which is why it feels like rape when the director violates that sacred trust.



Yes, don't even get me started with that "human paraquat" Lars von whatshisfuck. He is a cinematic rapist. (performs) "If I get ever get my hands on him, I'm gonna make him perform sexual acts on strangers for my gratification. But that's okay, I'm gonna play bells out at sea for him when he dies."



Haha. Yes, that was brutal. I don't even want to link to that film because it makes me feel dirty inside.



No fecking way.

(later)



One summer afternoon, when eternity was real to you, and everything was right with the world, and you were probably about eight . . .



(B) Do you remember what you were saying here? I only got that fragment, but it sounded interesting.



(B) Not at all.



(B) Haha.



(B) But it did have to do with something we all experience, usually when we're young, when we intrinsically understood eternity. Time did not exist for you.

(later)



Getting pissed on. It makes your light go out.

(later)



Those who know the language master the words. Those who know storytelling master the minds.

(later)



Oh! Oh! Can you ask Meryl what her favorite kind of cookie is? I just really need to know.



I bet it's oatmeal raisin. Or snickerdoodle. Maybe peanut butter chocolate chip.



Melissa, as she would fail to learn, was wrong. Meryl's favorite cookie, although she is reluctant to admit it—even to herself—is the humble Oreo. With a nice tall glass of milk, of course.



Mmmm.

I do not talk to well-known people. That is against my religion.



What happens if someone we know becomes well-known?



Who could that happen to?



I don't know. Us? It could happen. Then we couldn't talk to ourselves.



I never wanna be famous because that requires you to have to spend too much time appearing a certain way to people. It's like, once you become larger than life, you need to become that, and the truth is no one is larger than life, and it usually ends up destroying everyone who tries. That's why you get those depressing "rockumentaries" with the mind-numbing predictability of the rise and fall and rise from the ashes of these biographies. But at heart, you started with someone who had some kernel of something that made them special. And then, the whole thing blows up for them, so they enter this freak world. Where people are treated like no one else in the world. You're a superstar. But the thing is, you're that person. You're that person who had a little spark of something. The same thing everyone has. But now you can't handle the disappointment of people when you see that "Oh, you're just a person" look. So you start wearing those platforms, and you start making your hair as tall as it can be, and you glitter as much as you can, and you just try to exude total confidence. But the thing is, you can only fly that close to the sun for so long. Your wings melt. Because it's all fake. The lifts, the hair, the glitter, the confidence. And so you come sailing back to earth in the form of heavy drug addiction, heavy sex addiction, addiction of some kind. But you come crashing down nevertheless. And then of course, you've got your ten years later, your comeback, the happy ending to these things. I remember just finishing watching one of these "rockumentaries" once. I think it was on the lead singer for Motley Crue.



Euuh, that must've been pathetic.



Well, what's more pathetic? I think I'm more pathetic for sitting there and watching the thing.



Hahaha.



And I just remember feeling so thoroughly depressed because the truth of the matter was there was no light in that story. No people's lives were enriched in any meaningful way. No children were rescued from an orphanage, no mountain lions were saved from extinction. It's just one sad tragicomedy after another. And it's like we're all living inside a machine, and we are the fuel.

I'm done.



Haha.



I'm surprised I didn't sing something.

I guess I'm in rant mode. Because of that fecking Lars!

I hope someday he's filming, and the camera tips over and the lens goes in his anus, and he has a really hard time getting it out, and it's painful. Because that's how I feel. I feel raped by him, and it would be nice if the same medium he used to rape us would rape him, too! If you've ever seen that guy who gets a microphone jammed down his throat at some wedding reception, you know exactly what I'm talking about here. I think the reason people would have trouble getting it unstuck is they would be laughing so hard. (performing) "Hey, Lars has a camera stuck in his ass. Come help get it out!"



Hahaha. Help.



It's just fair. It's just life. It makes a perfect kind of black-and-white sense. And there's a purity of it that's undeniable. But it's an insane purity. Like the insanity of wanting a pure master race. Or a pure ideological system.



Yes, I think that's precisely the danger of fundamentalism. That fascistic obsession over purity, completely at the expense of humanity.

(later)



This guy likes trucks. (performs) "I like trucks!"



Does he just have a bunch of pictures of trucks?



Yes, old ones, new ones. . . . Wow, I never thought of this before. That there could be famous truckers. A former country western star is now a truck driver. That's very apropros. That's very believable. I wonder if he ever sang about being a truck driver. I wonder if he likes being one as much as he liked singing about it.



"He does trucker poems."



That's right. Today, I am the serpent, and all I have is poison.

(performing) "That's a sweet right rig there, man. Got the extra breathing unit." . . . I definitely do not make fun of people like this, though. They give me faith in humanity.



Yes. Once again, the least.



I find self-indulgently happy people really annoying. I'm not talking about people who are happy because their life is turned around. I mean people who are happy because they don't think about the bad things that are happening to other people. For them, life is swell. (performs) "I don't know why anyone doesn't embrace life!" I don't know, maybe because some people find life is like embracing a rosebush. Painful. You suffer from it.



It's like the obliviously happy people are going around and picking all the roses. And they don't understand why some other person is hurt because all they ended up with was a bunch of thorny stems.



Right. What most people seem to admire so much in other people, I can't even relate to. I don't even have the capacity to relate to it. And this isn't just some later manifestation in my older age. This is something I remember thinking even as a child. That the things that people invest so much psychic energy in just don't fecking matter. And I could never understand why a person who loved someone couldn't tell that other someone that they love them. It would be "awkward." I don't know, I think it's more awkward that we can't show each other our humanity. I think that's awkward. I am definitely with Robert Frost. That I am going to my grave having lost a lover's quarrel with the world. I have had nothing but love for people, but because of how most people respond to that, very negatively, that love turns to something else.



"It turns to steaming piss."



Yep. My extreme hypersensitivity prevents me from getting too close to people. You know, it's like inviting people to a dart game when you are a hemophiliac.



Getting too close to anyone you think would respond negatively, right? Not everyone in general.



I mean displaying affection toward people who seem lonely or hurt or desperate or scared. They rightly mistrust you. But because of that, I would be hurt. So I can't do it. I can't help people the way I would like. I wish I could go to retirement homes and visit with them. I know they're lonely. I wish I could visit with special children and play games with them and make sure they know how important they are. I wish I could visit prisons and hospitals, but I can't. My AS is an emotional prison, but it protects me, too. Like a fortress.



That fortress keeps you from being able to experience love, just as much as it protects you from potential harm. I know you have to be extra-careful because of your AS, but I think you would be surprised at how overwhelmingly positive the responses would be if you were to go into any one of those communities you described and offer to share something of yourself.



I have no doubt how overwhelmingly positive it would be. It's that overwhelming part that's the problem. The tiniest little thing will break my heart. I would do no good to anyone sitting there balling like a little child. I am too emotional. I am too sensitive to do any of those things.



Ah, but I think if you practiced it more often, you would become more acclimated, and therefore it wouldn't be quite so painful.



You must think you're talking to one of the able-minded people here at OS. You certainly aren't talking to me.



I am, while knowing it sounds unrealistic to you now. But—



No, it sounds impossible. I know how I am. Think of Erin, how she cares for those birds. I could never do that because it requires her to handle them in ways I would find harsh. It's like a doctor. A doctor is willing to do things that normal people are not. Cut you open, for instance. But without them, a lot of them would die needlessly.



But think about Alex. We spent time with him, and that didn't bother you. It uplifted your spirit.



Alex is special! Of course, I was completely fine with him. I'm talking about regular people who judge you and make fun of you and mock you and dismiss you. Special people don't do that.



But of course, you're focusing on all the negative things that people can do.



Look, I don't blame you for being an optimist. Don't blame me for being a pessimist.



Haha! But the thing is, the risk you take in caring for someone is the very definition of love. Making yourself vulnerable to hurt also means making yourself open to love. It's the closed fist versus the open palm. I choose the open palm. And I think that's ultimately what you're doing every day when you wake up, decide you're quitting, and then get to work on our latest post. You're opening yourself up to devastating heartbreak, as well as surprisingly joyful friendships. But that risk you ultimately take is done out of love.



L E G E N D
letters = sequential meta conversations
(C occurred after B, B after A, etc.)
numbers = mini-meta tangents within meta conversations
quoted letters = prior meta conversations