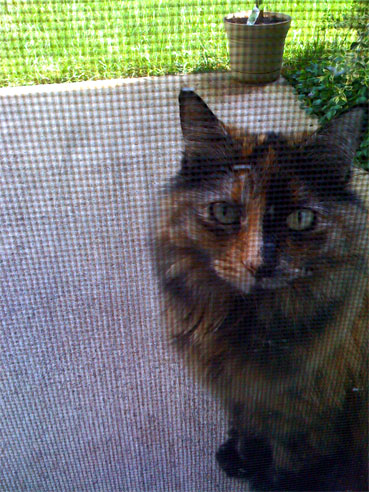 Here, at last, is the long-ago–promised Tinkerbell post. It was written almost two months ago, before we had formalized our lettering system. We apologize in advance for the extreme metaness of this post.
(scratching nails down sliding glass door)

Oh my gosh. She has the most irritating way of getting attention possible.

She's a genius.



We're gonna have to stop feeding her.

But she always seems so starving.



Don't her real Mama and Daddy ever feed her?

I wonder what happened to her sister. I never see her anymore.



I was thinking the same thing a while back. I thought maybe she just likes to stay indoors, or maybe the couple separated and split the kitties up.

Possible. Hopeful.



Yes, I have to think of happy reasons why we haven't seen her.
(H)
I always think it's funny that we think a couple splitting up is happy, hopeful here.

(H) Hahaha!

(H1) I said three "Haha"s, but that would actually be, "Haha Haha Haha!"

(H1) Hahahahahaha!

This is becoming morose.

See what happens when we give up subjects?

(N) This happened so long ago. I would never talk about subjects now, love.



(N)
I know. I was just about to interject with an explanation. I—

(N) No! No explanations.


(later)

You know what I just realized our apartment is like? A miniature junkyard. Let me be more specific. It's like the scene of all these miniature junkyards. Like a miniature junkyard museum.

(H) I still feel like a giant every time I look at these diecast cars. I mean, I don't know what the scale difference is between them, exactly.

(I) Okay, I think we need to clarify, because I don't want people thinking I'm having trouble distinguishing between this HotWheels car and a full-sized car. No, no. These are small-scale versions of—and we'll have to verify this—a 1/24 scale version of show cars designed by Tom Daniel.



(J)
What you're saying here is even more confusing to me, so I don't know if it's going to be very helpful to our reader.
(J)
(head pendulating)

(J) Tinkerbell's back. She's trying to peek around the swinging vertical blind.




(J)
(laughing)

(J) We've lost it.

(H) And even accounting for the normal difference between what you perceive as an adult and what you perceived as a child—in other words, that fence out front that you looked up at when you were a child and thought was so high, to you as an adult might just break over your knees.



(B)
Which would make you a really tiny child!

(B) Melissa. Children are this tall! (holding hand about two feet off the ground)

(J) Okay, I'm not going to say, "Children are this tall." That's the stupidest thing I've ever heard! Children only coming in one size.



(B)
That would make them a toddler.

(A) [ . . . might just break over your knees.] A completely different interpretation of the same thing that you're looking at. The only difference is that you've grown up. You're now physically taller.

(K) What's that bracket business? I am just mystified every time you read it.



(K)
I'm about to explain it!
(G)
Okay, I've sort of just introduced a new convention. If one of our asides from the future interrupts what we're in the middle of saying, and it's too hard to figure out what's being said when you jump into the next part, we can bracket the last part of what was said before the interruption at the beginning of the part where it picks up. Does that sound okay?

(G) Guess so.

(K) Yeah, it sounds good, but I have absolutely no idea what it means! I mean, you'd have to read that again a couple times. Did you actually say that? This is insane.



(K)
It's only confusing because I'm reading it out loud to you, and you're not looking at the actual brackets. If you were reading it, it would be obvious.

(K) Really? Because when you've read it, and you've read it out a couple of times, I keep thinking, "What does this mean?"



(G)
Okay, good.

(A) I think I've figured it out. I think they're one-and-a-half times smaller. So that means it would make it seem to me like I'm one-and-a-half times bigger. So if I'm six feet, one-and-a-half times bigger would make me nine feet tall! And so I'm looking at this little car, and I'm saying, "How the hell did I get so big?"


(a bit later)

I have a life of the imagination. When I'm sitting somewhere, I'm not there. I'm somewhere else. I may be in the middle of a piece of code, trying to figure out why it's not working. Or I may be in a story, seeing what the protagonist will do next. Or I may even be earlier in the day, thinking about how something could have gone so much better.



So when you're there in that moment, you're not there.

Right.



But, when you're there later, in your head, you're THERE!

Right! When I just discussed it now, I'm discussing the time there, and I find myself transported back to that time. Now, here's the funny thing. That time didn't really exist. There was no
there
to go back to. It's 'cuz I imagined the time itself as just an aspect of a story I was creating in my own mind to place myself in a something—

Wow, I just had that in my mind. And then it vaporized.



That's 'cuz you realized you were on.

Maybe. . . . Darn it. Oh well.



I can read it back to you!
(reads back)

Yeah! That is exactly where I was. Very good.

So there are definitely certain benefits to this, to record exactly what we were saying. But the pauses that are necessary to capture it can sometimes become distracting. Admittedly, though, it lets you think a little more quickly on your feet.

(C) I got an experiment for us to do.



(C)
What?

(C) The next time the birdies are fussing, we turn on the downstairs bathroom fan and see if it calms them down.



(C)
How come?

(C) Well, because I realized I had left the downstairs bathroom fan on almost all day, forgetting about it, and the birdies were uncharacteristically quiet. When I would check on them, they would just be sitting there happily snoozing or preening or whatever—

(C) If we're going to keep doing this, we'll need to get you one of those court recorder machines.



(C)
Court reporter machines?

(C) Court recorder.



(C)
Court re-
port
-er. Yeah, but then I'd have to learn that technology—isn't it different from the standard keyboard?

(C) Yeah. It's not a court recorder? 'Cuz then you could be confused with a reporter from a newspaper or something. "Yeah, I'm a court reporter. I report from the court."



(C)
(reads from Wikipedia) "A court reporter, stenotype reporter, voice writer or stenomask writer"—

(C) Yeah, that's that thing we're seeing in
The Sweet Hereafter
—a stenomask.



(C)
And it's always so perplexing to watch, it really distracts from the scene 'cuz it's so bizarre-looking.

(C) Yes, it does surprise me that Atom would put it there, especially at that moment.



(C)
Well, like he said in one of his interviews, he was just being authentic. That's the way the setup would be in a standard deposition.

(C) Okay, I know. But it's like how a GUI is most perfect when it is most transparent to the user.



(C)
Yes, so you actually have to fake some things to make it seem more real.

(C) Dang it, I've got the hiccups!



(C)
I know! I was just about to tell you to drink some water upside-down.

(C) I don't, I try not to do that. Because all those water-drinking techniques just end up making me have a bursting tummy and hiccups.



(C)
You just aren't doing it right.

(C) Well, my hiccups are gone now. And I didn't have to do any technique. Seems like if you catch them quickly enough before they have a chance to set in that rhythm of theirs, then you can actually kind of carefully—hmm. This is hard to describe—



(C)
So it
is
a technique?

(C) I suppose. Perhaps I just haven't examined it before. I mean, I used to use a technique that I could tell you about. It was something I laughingly called "willing them away," where you tense every muscle of your upper body while holding your breath. It seems like all the best techniques involve something about breathing. It probably has something to do with—well, I don't know. Who knows? I don't know. You know. I think we may have slightly gotten off track, again.



(C)
Okay, so we went from the bizarre stenographer in
The Sweet Hereafter
—

(C) Yes.



(C)
To the transparent GUI.
(C)
And then I said something about having to fake something to make it look real—which I was really still thinking about that scene from
The Sweet Hereafter.
In other words, I was saying, in order to make the scene more transparent—like you're saying occurs in a good GUI—

(C) Okay.



(C)
Atom would have had to fake the scene a bit. I mean, remove the bizarre stenographer or take away that mask and replace it with some more traditional-looking court-reporting equipment.
(F)
I realize this is funny what I'm saying. That a director would have to "fake" a scene—as if what he's doing isn't already faking it. But he really is trying to capture the situation as authentically as possible, so what I mean is he would intentionally have to make it not as authentic in order to make it more believable to people. Like how in that early radio program, they used a real pistol shot, and people laughed at it because it sounded ridiculous. Like caps going off. So they started using special effects to make it sound like how we expect it to sound.

(C) That wouldn't be necessary. All that would be needed is some introductory scene earlier in the film where we see this court reporter getting her equipment out, then setting up so that toward the end when this occurs, we are not so distracted by this odd-looking thing.

(C) Okay now, for instance, this—


(C)
Meow!

(C) (to Tinkerbell) Whatchyoudoin'?

(C) Contrast this with the burning easy chair in
Box of Moonlight
.

(K) Now, do you think we need to indicate that I'm saying this part to you?



(K)
No—

(K) That would be funny to think that I would be saying that line to Tinkerbell.


(C)
Meooow!

(C) (to Tinkerbell) Bad girl.

(C) That's another remarkable scene. But it doesn't throw us off at all, it's just incorporated into what we see. In the director's commentary, DeCillo said this is something that was just occurring—he didn't start the fire himself.



(C)
I wonder how aware he was of how perfect a symbol that easy chair was for Al's transformation—from the staid, reliable, hardworking Al Fountain to the more playful, wild, and even a bit dangerous Al under the influence of the Kid.

(K) Wait a minute. Did you say "dangerous"?



(K)
I meant "dangerous" in the sense of—

(K) I would just say "reckless," he became more reckless. That's all. He became more of a thrillseeker, but he probably ended up settling back into his life somewhat. There're still these aspects of it—I'm not sure. Like things unaddressed.

(L) Who are we talking about?

(L) Is this the next thread? Oh my God.

(L) Melissa. "(L)" . . . "(M)"—we're only one away from halfway through the alphabet! I thought we agreed that if we get to "(M)", we've gone too far.



(L)
Oh no! You can't say that.

(L) Why not?



(L)
Because I accidentally skipped the "
(D)
"s and now we have to go back and adjust all the letters, so what you're referring to as "
(L)
" is actually "
(K)
"—

(L) Oh, I see!

(L) So it's only one back. We're two away.

(L) Still. Help us.


(C)
Meow! Meoow!

(C) (to Tinkerbell) What is it? You're kidding. Do you realize what time it is? Don't you need to go home? We're gonna have to close the door. We're gonna have to close the door. I just feel bad about it.


(C)
(dragging claw down aluminum screen door frame)

(C) (to Tinkerbell) Don't. Don't. You must know how obnoxious that is.

(C) Is there any way of landing this one back down to earth?

(C) Does this ever get more than four layers deep? I hope not. We never get back to our original things.

(E) What're you doing?



(E)
Adding all the meta layers. We need to get them straight before . . .

(M) Okay, you will be making a very fatal error if you don't keep the consistency.

(M) Can you not say a "fatal" error? I wanna soften that. I'm saying that, but I guess I'm saying that in a programming way. I'm saying if you were to code that up the way it is, you would be producing a fatal error. Why? Because you would be producing an error that would cause the program to no longer work.

(M) We must finish this post.



(M)
I got it!

(M) Wow. You said that like Charlie! I hope it's as good as a golden ticket.



(M)
Um, no. But I realize the missing "
(D)
" is going to be like the missing thirteenth floor in a hotel building. It's really technically there. I mean the thirteenth floor doesn't cease to exist just because it's called the fourteenth floor.

(M) Okay, I see where you're going with this. But to me, that's just us being lazy. I mean yes, there may be a ton of these that have to be changed, but we're using a text editor. We can just replace them. It's not that big of a deal. This kind of stuff is done while programming all the time.



(M)
No, it's not that. It's that we've referred to specific letters—like this is "
(J)
" or this is "
(L)
"—

(M) Okay, first of all, we need to know what to call these. Because we keep saying threads. But I'm not sure that's the right term. Maybe they should be called "passes." They are passes through the text, and each letter represents a different pass. But is that technically accurate? Because before we finish the whole thing, we'll already start metaing—"(A)", "(B)", "(C)" . . .



(C)
So after I said, "isn't it different from the standard keyboard?", what did you say?

(C) That's too far back for me to remember.




L E G E N D
letters =
sequential meta conversations
(
C
occurred after
B
,
B
after
A
, etc.)
numbers =
mini-meta tangents within meta conversations
quoted letters =
prior meta conversations