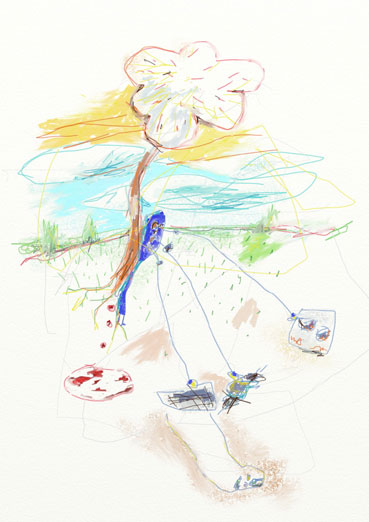 This post has a metaness quotient of zero (no metas).

At the entreaty of their dear friend,
Nabina
, Melissa and Michael have agreed to discuss their firsts. Are you ready, Michael?

Yes, I'm ready.



Melissa?

Sure. Fire away.

Here is your first "first", then: The FIRST outstation stay.

What's an "outstation stay"?



I'm not sure, but if you read
Nabina's post
, it seems to be about the first place you traveled to away from home. What I'm not sure of is how it's different from your first sleepover, but I think it has to do with distance. That's my guess, anyway. So let's go with that.

That would be when I traveled with my "Uncle" Jim following behind my grandfather on our way to Phoenix, Arizona, shortly after my grandmother died. I spent one night there and left the next morning with my grandpa.

I just remembered a joke I told my uncle that night while driving. I was in the back, leaning over the front seat, and I told him a joke I'd learned in my fourth-grade class. I remember padding it quite a bit, thinking, "I gotta make it interesting for an adult. So I gotta add a lot more words." When I finished, Uncle Jim let out the heartiest laugh. That was one of my favorite things about him. Hearty laughter.



What was the joke?!

Well, remember, this is a ten-year–old's joke, so we're not talking about the height of humor.



I don't care. You have to tell it.

Okay. A father takes his son, who is just learning to talk, to the airport. As the plane's taking off, the father says, "Takeoff!" And his son says, "Takeofff!" Then he takes his son to the zoo, and they're standing by the zebras, and the father says, "Zebra!" (You can probably see where this is going.) And the son says, "Zebraa!" Finally, the father takes the son to the hospital. They go to the delivery room, and the father says, "Baby!" And the son says, "Babyy!" When they get home, the mother asks, "What did you learn today, son?" And the son replies, with great pride, "Take off ze-bra, baby!"



Hahaha. I think mine would be driving to San Bernadino to visit my Uncle George. He was really my great uncle. I remember being about three and swimming for hours upon hours in his pool. Maybe I was a little older then, I'm not sure. I just remember my mom having to bring me a piece of bread with peanut butter on it because I wouldn't get out of the pool. I hung onto the side, kicking my legs, while I ate the most delicious piece of bread in the world.

I know what you mean about after-swimming food. For me, it was a banana. That was the best banana I had ever eaten, maybe even the best food.



Yeah! Isn't it amazing how delicious swimming for hours makes food taste?

Yes, swimming allows you to become distracted enough to not notice how exhausted you're becoming.



And how hungry you've gotten, which is why the food tastes so yummy!

Who was your FIRST prom date?

I didn't go to my prom, but I did half-jokingly ask one of the waitresses at the steakhouse where I worked to go with me.



What did she say?

"Yes." It was a big joke at the restaurant. But as the day got closer, I started thinking, "Wow, if I really did show up with her, that would sure put me in good standing with the guys." I can't believe I used to think like that.



Haha. Was she a lot older than you?

Much. Probably in her early thirties.



I bet she was flattered that you asked her.

Maybe. I was also kind of afraid of her. She was really tough to work for as a busboy. Very demanding.



I didn't go to the prom, either. All of that socializing stuff made me uncomfortable. Not because I was an outsider or anything. I had lots of friends. I just made it clear I was focused on my studies and wasn't interested in the social life aspect of high school—sports games and dances and all that crap. I was too busy spending eight hours a day on homework.

Who was your FIRST love and do you still talk with him/her?

That would be you, Michael! And yes, I guess you could say I still talk to you.

Even though there were others I thought of as having loved, I didn't really know the meaning of the word until you showed me.



Awww.


(kiss)

Who was your FIRST crush?

Mine was a girl in first-grade named Cindy. She didn't know I existed, but she had a haircut like one of the girls I had a crush on in the
Little Rascals
. I just thought of something. Wouldn't my first crush then be the little girl in the
Little Rascals
?



Well, we're probably talking real people here. But which little girl?

I doubt you know her. She's from the earlier episodes, before they even had sound. But I believe her last name was "Darling."



Let's look her up.

Yeah! Jean Darling.



I wanna see a picture.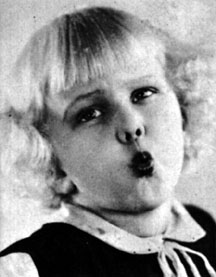 Aww, she's cute. So I guess if Cary Grant and Humphrey Bogart don't count, I'd have to say Justin. Maybe it's because I was drawn to that name—it's what I would've been called if I'd been a boy, after one of the Moody Blues members. This was in second grade, and Justin lived across the street. He was in my class, too. Weird thing is, I barely remember ever talking to him, and I'm not even sure why I liked him, other than the name! I think I was too young to really understand what a crush meant then. I just knew I was expected to have one, so that's who I picked at the time.

What was your FIRST alcoholic drink?

That would be kahlua. Anything coffee-related got my attention. There was a bottle of kahlua in the kitchen that lasted for probably a year. I just remember pouring a teeny amount into my coffee, usually when I was pulling an all-nighter doing a research paper or something. I think maybe I was in seventh or eighth grade then.

I was around nine or ten and was attending a wedding, where I began sneaking drinks of champagne. I found out that day what kind of a drunk I was. I proposed to every woman I met.



Hahaha! How adorable.

What was your FIRST job?

That would be a summer job working at March Air Force base while I was still in high school. My favorite part of the job entailed painting signs, which I liked but was terrible at.



Really?

Yeah, I learned how easy it is to lift all your hard work up with masking tape if you're not careful. But I also found out how cool people in the military tend to be. It's not
their
money, after all.
(performs)
"Just make another sign." Other than that, I swept warehouses with sweeping compound and cleaned toilets.

That was the job where the airman told me to climb up on this huge dumpster, and when he saw me scamper up there, he exclaimed, "Man, you'd make a great thief!" I was so proud of that.



Haha. If you don't count the decals I used to color in for Danny's silkscreens, I guess my first job would be working at the library in college. I remember before I even started classes, I marched into the library director's office. I knew I wanted to work with books, and I couldn't imagine a better place than the library. They didn't have any openings, but they hired me anyway because they could see how passionate I was. I got to make signs, too—on the computer.

I remember those! Remember they had a mistake in them that you had to correct?



I had a mistake?! I don't remember that at all. How bizarre. But then I ended up working in every other area of the library over the next few years—cataloging, acquisitions, the bindery, circulation, periodicals, pretty much anywhere I was needed. I even got to be the interim head of acquisitions after my boss left one summer.

What was your FIRST car?

A Mercury Capri that I lowered, chopped, and basically turned into a Frankenstein car. It never got out of primer. It was great.



Hahaha. Yeah, it was cool. It looked like it belonged in some sci-fi movie or something.

Yeah. It wasn't the one of the early model Capris, though. It was the 1979 model.



I guess my first car would be
our
first car together—the 1955 oval window ragtop bug. Blue. Just like our current car, only a lot less reliable. Although the way our car has been acting lately, maybe not so much.

Haha.



Your FIRST air ride?

Hmm. That's hard, because I started flying back East to visit relatives every summer by myself starting in third grade, I think. But before that, I was probably about two or three when we flew back to New York to visit my Grandma Alice. She was dying of lung cancer, and we visited her in the hospital. I barely remember it, but I do remember being by the hospital bed looking up at her, and she was very kind. I think she gave me a ragdoll. My mom told me she talked about how beautiful I was. I remember how heartbroken my mom was because she had really connected with Alice in a way she hadn't with the rest of Danny's family. They were both introverted, artistic, sensitive souls. I wish I had been able to get to know her better.

Mine would be with the second family I was living with—Betty and Don. Two of her natural children, Jon and Elizabeth, and I flew with Betty to Indianapolis to see her sister. She was married without children and had two Siamese cats. They were very quiet people, so we were told we couldn't make too much noise while we were there. My fondest memories of the place were the huge backyards with no fences and watching the black-and-white version of
Superman
. It made it almost seem like I had gone back in time to a quieter place.



Like
Willoughby
? Only with television.

Who was the FIRST person to text you today?

We don't text. Ever.

Haha.



Who is the FIRST person you thought of this morning?

That would be you, again, Michael. I was worried you had forgotten to eat, and I heard you heating up the macaroni and beans, so I was relieved you were eating, even if it was your usual crap.

Well, my morning would've been last night when I got up, and I'm not sure if it was you or Christine, because I remember asking if you'd finished sending the corrections for her manuscript.



Right. And I had!

Yay!



Who was your FIRST-grade teacher?

My first first-grade was interrupted only a few days into it, and the name of the teacher at my second first-grade completely escapes me. At least I remember the name of the girl I had a crush on!



The name of my first-grade teacher was Mrs. Hunt. I don't really remember that much about her. It was the only year of school I spent in Long Beach, but I went to the same school my mom had gone to as a child. Birney Elementary. My favorite thing about it was the rings. I would spend all my recess time hanging and swinging from ring to ring, like a monkey.

You also liked pullup bars. I remember that.



Yeah, that's how I split my chin open when I was about five. I was swinging on the bar in our kitchen doorway and fell. My mom did a butterfly bandage, and it healed quite well. I probably got right back up on the bar and started swinging again. I was addicted. That's probably why I always beat everyone, including the boys, at pullup exercises and even situps, too. And running.

You make yourself sound like quite an athlete!



Haha. That's funny, because I was mostly an academic and never really got involved in sports. But at recess, I loved playing and just doing athletic things on my own, not with a team or anything.

I guess you
are
kind of Pippi-like. Without the magical powers, that is. Or are you keeping something from me?



Hahaha.

Who was your FIRST best friend & do you still talk?

My first best friend was named Stephen, and the thing I remember most about him was us making up a song together in my room while I laid on the top bunk and he laid on the bottom bunk. It went something like this:

(sings) And when you get down there, whaddyou see?

And Stephen said, "A picture of . . . a doozle!"

We both laughed so hard at that.



That's where that comes from?!

Uh-huh. I lost touch with him after my grandmother died and we moved away.



Mine would be Laura, who was about three years older than me. I always had friends who were older than me, probably because I was more mature than most of my peers. Laura and her cousin Dee Dee lived down the street from me in Long Beach at their grandmother's house. Dee Dee's mom, Boo Boo, and dad were usually in prison, so that's why she lived with her grandparents. Laura divided her time between living with her grandparents and her mom and dad, who I think had problems with alcoholism (although I remember her mom being quite sweet). So Laura and Dee Dee came as a package, but I was always much closer to Laura. I was so upset when my mom finally gave in and married Danny and we had to move away from Long Beach.

Did you ever see her again?



Yeah, she visited me years later, and I remember going to see
Ferris Bueller's Day Off
at the movies with her. The house featured in the movie actually belonged to one of her classmates. That was the last time I was in touch with her. But I remember looking her up online a couple of years ago, and I think I may have found her. I remember her saying something about having a daughter and working in a bowling alley. I never tried to contact her.

Where was your FIRST sleepover?

My first sleepover was not at a friend's house, but our next-door neighbor's house. My grandparents had to go somewhere, I forget where, if I ever knew. And the three things I remember about the neighbors were: (1) my grandparents lent them $2,000 that they never repaid and instead sent a note saying they hoped God would bless them with the money; (2) I laughed when the mother told me her children were afraid to sit on the toilet because they believed Satan would reach up and grab them; and (3) (and this is related to #2) she slapped me. For laughing.



Wow. Was that the first time anything like that had ever happened to you before?

Yes. Whenever my grandmother punished me (my grandfather never did), she would paddle me with a wooden spoon.



Ouch. So my first sleepover would be Laura and Dee Dee's. I remember being terribly homesick, even though my mom was right down the street. I was definitely a Mommy's girl.

Yes. There's nothing wrong with that.



Later, I did have quite a few sleepovers there and had a lot of fun. I remember their grandma Pauline kept jars of candy in the livingroom, which I always found so exotic. We didn't tend to have a lot of candy and crap at home, so I indulged when I visited friends who did. I also remember staying up late and secretly watching cable movies while their uncle sat in the recliner and drank beer. And I remember being traumatized when we were snooping one time and found black-and-white pictures of Dee Dee's parents naked. It was very disturbing and embarrassing.

Who was the FIRST person you talked to today?


Each other.

Whose wedding were you in the FIRST time?

I was in my grandfather and Pat's wedding. I was the ring bearer.



Did you realize at the time how horrible she was, or did you only find that out after they got married?

Only after. She went from being so very nice to ugly step-grandmother overnight. Although she insisted on being called "Mom." She said she wasn't old enough to be called a grandmother yet.



Did you actually call her "Mom"? I can't imagine you doing that, just like I can't imagine calling Danny "Dad."

Well, right after the wedding, when we went back to the condominium my grandfather and I had been living in, my grandfather whispered to me, "Call her 'Mom'." I remember going into the darkened kitchen and trying to work up the nerve to do that. Suddenly, a welling of love filled me, and I went back in and called her "Mom." It was a very happy time for all of us. A very rare time indeed.



Mmm. The first wedding I was in was my mom's and Danny's. I was six and a half, and I was the flower girl. I remember actually crying, but I didn't understand why. Like you, I didn't realize at the time how much I was going to hate living with Danny. Didn't matter that he was my real father. I never thought of him that way. He was just this stranger who was interfering with our life. I just wanted to keep living with my mom and grandma. I never saw the need for a father, really.

That need was in your mom, invisible to you.



No, I don't get the sense that she felt that way. I think she just decided to finally give in to his marriage proposals after seven or eight years of resisting, maybe because it seemed like time for her to have her own home. She should've stuck with her intuition.

What was the FIRST thing you did this morning?

Waved hello to you, Melissa.



Yes, and I guess I did the same to you when I got up this morning. Then I went and said "Hi" to the birdies.

I don't think you waved to me. I think you kissed me on the cheek.



Oh, you're right.

What was the FIRST concert you ever went to?

The first and only concert I've ever been to was a KISS concert at the Anaheim Convention Center during my senior year of high school. It was a dream of a group of friends of mine, each identifying with one of the personas of KISS (mine was Gene Simmons). I remember a kid from my woodshop class I didn't know very well walked up to us while we were talking about going and asked if he could go, too. And I said, "Sure!" He wrote in my yearbook how much that whole experience meant to him. I'm always touched when I read that. I'm so glad I said "Yes" that day. Have you ever been to a concert?



Yes, two! The Moody Blues and the Beach Boys.

You're kidding? I had no idea. Do you remember those experiences very well?



Barely. I can't remember which one was first. I was probably around six. It was with my mom, of course. I think the Moody Blues left the biggest impact because I always found their music so moving.
"Tuesday Afternoon,"
especially.

Yes. During the darkest days of living with my grandfather and Pat, "Nights in White Satin" was playing on the radio, and I memorized the poem that was read along with that song. It began, "Breathe deep, the gathering gloom, watch lights fade from every room."



Mmm. They stopped playing that poem with the song later on, but I remember it from my mom's reel-to-reel tapes. She used to tape all of the radio programs, and so I think she even had Wolfman Jack on some of those. I wonder if she still has that reel-to-reel player, and if any of those tapes are still playable. That would be an amazing time capsule.

Yes, and now I'm wondering if you didn't get this recording obsession from your mom.



Oooh, I never thought of that, but I bet you're right.

Is she obsessive about recording anything else?



Yes, when she was younger and had a lot more energy. She used to take meticulous notes in her calendars and stuff. I asked her recently if she still had those, and she laughed and said, "No." I told her I wished she had kept those, and she said they were just silly girl things. But I know a lot of it had to do with the Beatles and
Lord of the Rings
.

Did your mom have a favorite Beatle? I bet it was George.



Wow, I'm not actually sure. You're probably right, though. Or it could easily be John Lennon. I'll have to ask her. I remember her talking about being around after a Monkees concert—is that what it was?

Well, first of all, The Monkees aren't a real group. Although there are some people who would vehemently argue otherwise. They are, in fact, actors hired to play musicians in a group.



Did they actually give concerts?

How could they? They weren't musicians. They would've had to fake it.



Oh!!! I just realized! It was actually the Moody Blues! Their first concert after coming to the U.S. I remember my mom said something about them having visa problems or something. I think it was Justin, my mom's favorite, who asked if he could have a sip of her Pepsi. Or was it Coke? Either way, I remember she kept the can for years. She may even still have it. I really need to ask her about this again. But that also made me remember it was at a Moody Blues concert that my mom met Danny. So the Moody Blues had a lot to do with my being born.

Your FIRST tattoo?

Hahaha!

(smiles) Why don't you go first?



Haha. Okay, that'll be easy, since I don't have any. But I've thought about getting one on my back someday to cover up the acne scars. Okay, that was embarrassing, so yours shouldn't be too bad, now.

Ppptt!



Remember when the nurse in the hospital asked you about it after your gall bladder surgery? That was funny.

I don't. What did she ask?



I can't remember exactly, but I explained this actually happened in the eighties, hence the unicorn and the rainbow. And the name of another woman.

(silence)



Hahaha.

Actually, since this is about firsts, I got the unicorn with the name first. I only added the rainbow and the cloud—and you forgot the little lightning bolt—



Hahahaha!

—after I saw one of my Marine friends with a much fuller tattoo than my original unicorn. The funny thing was, I asked for a white unicorn, which I guess is impossible, so the one I have looks kind of bluish-green. But it looks blue enough to look like a blue unicorn, which at the time was a popular kind of acid. I've never taken it, of course.



Haha. Did anyone ever ask you about that?

Of course not. It's just my paranoia.



FIRST piercing?

My first and only piercing is in my left earlobe. I got it at the mall.



Don't forget to add that it was in the eighties!

The fecking eighties.



Hahaha!

What happened to our minds?!



Yes, I used to make fun of the seventies for their poor taste, but I'd take chartreuse-and-orange paisley over salmon-and-turquoise flipflops anyday. Although just as I came to love the orange and green I once hated as a child, I'm now coming to appreciate the coral and turquoise I despised in the nineties. I think it's all relative. Whatever you get sick of, you later get nostalgic for. And the corporate media plays on those cycles of nostalgia.

Have you even answered your question yet?



Whoops. So my only piercing is my ears. I think it was sixth grade. I got mine at the mall, too. Afterthoughts or some creepy girly store like that.

We both got our ears piereced at the mall? Are you sure we're interesting enough to be writing this?



Oh, come on.

The FIRST foreign country you've been to?

The only foreign country I've been to is Mexico, and that was late in my life. I went with some friends, and we did normal American touristy things—drank, visited shops, bought nunchucks. Well, I guess that last one isn't so normal. The nunchucks got confiscated at the border, and we were let go with a warning. Those nunchucks were so cool, too. They were made out of a black, lightweight metal that screwed together to form one piece. I'd learned to do nunchucks from the maître d' at that steakhouse I worked at. I got pretty good at them, too. I made a pair in my woodshop class. I told my woodshop teacher they were handles (a lie) for the snowsled a friend and I were making (which we were). Of course, he didn't believe a word of it, but he knew I didn't mean any harm with them, so he just smiled and walked away.



I think my first was Mexico, too. Although most Mexicans I know don't really consider Tijuana Mexico. I was probably about seven or eight. I just stayed in the car most of the time while we drove around the colorful streets. I remember thinking it was weird that they confiscated something as innocent as fruit and vegetables. I couldn't understand at the time why they'd do that.

Well, you know, once the nunchucks fail you, you can begin throwing cantaloupes and avocados. It's martial produce arts.



Hahaha.

And the FIRST movie you remember seeing in the theater?

I remember mine. It was
Chitty Chitty Bang Bang
. A Saturday matinee. Lots of screaming kids, who halfway through the movie became bored and began roaming the theater. It was kid heaven.



Haha. I don't know if this is the first, but it's the first I remember.
Star Wars.

I think I just recently read someone else who mentioned that
Star Wars
was their first movie. I don't remember who, though.



I'll have to ask my mom to make sure, but that seems right. And I don't know if it was after that movie, but it could be, when we came home and learned our cat Pippin had been hit by a car. That was our first Pippin. We had two more—all of them gray shorthairs—and they all came to similarly tragic ends. I wonder if it's because they blend into the asphalt more easily, which makes them vulnerable to getting hit by cars. I was devastated each time.

FIRST Detention you had?

I can't remember ever getting a detention of any kind.

I was constantly getting in trouble in the fourth grade, when I found out how much attention I got for being funny or disruptive. But one time, I did something bad enough to get me sent to the principal's office.



Really? What was it?

I can't remember. I'm sure it was something minor. I didn't get a literal detention, but I was detained.



Haha.

What was the FIRST state you lived in?


California.

If you had three wishes, what would the FIRST one be?

I remember getting questions like this when I was little, and of course, I would always try to figure out some clever way to answer so I would end up getting an infinite number of wishes. But that does seem like cheating. I guess if I put aside all of the obvious like the eradication of bigotry and hatred and the joining together of humankind to end global destruction, then I would say I wish all of our pending creative projects would finally be completed, and we could begin working on new ones!

Well, I was going to say I wish the hopes and dreams of the sixties would've come to fruition, but you pretty much covered that with your eradication of bigotry and hatred and joining together of humankind. So I guess I would say I wish one of our projects would be successful enough that we could begin to help financially all of those people we've been having to stand by and watch struggle all these years.



What is the FIRST thing you would learn if you had the chance?

How to play the piano.



Really? I was going to say the cello.

Well, at least we're both musically minded!



Yes, learning an instrument is the one thing I never really got a chance to do. Except for the little bit my grandma taught me on an out-of-tune hand-me-down piano.

Which brings us to the end of metaness's firsts post. Try saying that five times fast, why don't you?

That was actually kind of fun. Thanks, Nabina!

Yes, thanks for the motivation.




L E G E N D
letters =
sequential meta conversations
(
C
occurred after
B
,
B
after
A
, etc.)
numbers =
mini-meta tangents within meta conversations
quoted letters =
prior meta conversations