Gotta recount my trip in order. So...to finish the saga of the German sausage.
Desnee, are you there?
Couple things I forgot. James asked if I'd brought a book. Indeed, and paper-and-ink at that (while all about me people were reading off their e-books). I brought le Carre's Tinker Tailor (and left pages behind all over the place - it was an old, fragile paperback). But I checked out the computer on the back of the seat in front of me and, reminiscing about another trip with my daughter, to Egypt, dialled up a documentary about the sphinx. Dumb doc, of course – but I could hear every word. That encouraged me to try a movie. Well, with movies people speak differently, imitating 'natural' speech, and that requires sitting hunched over with fingers keeping the earpieces well wedged into ears. So: discomfort or miss half the dialogue. But I got hooked on some kind of political thing with Geo Clooney playing a Kennedyesque character. So then I decided to try Moneyball, just to see Stephen Bishop, son of a certain OSer. Not bad, despite a terribly perky Brad Pitt, and baseball (sports is not an interest of mine, to put it politely), and Stephen didn't show until about a third of the way thru...and the flight was over before he got to do anything but deliver a few lines and a determined practice swing.
Lovely to look at, tho. Yum. (I hope Lezlie isn't too grossed-out by an old lady drooling over her boy...)
Anyway, the plane deposited us at the hub of the world, air-travel-wise at least, the Frankfurt airport and, as recounted previously, we had to trek all the way from Gate A1 to A42, beyond the food stands. So, when we got to the gate, my daughter checked on how long we had and, reassured, went off to find one of those hermetically sealed glass cages for smokers. I told her to get me a sausage if she saw one.
Meantime, I tried to get onto the internet, me and another woman at the next table. However, if you haven't got a mobile ID, forget it. Even if you have one, like my neighbour, you still might not get on. But then my daughter returned. And put a paper plate in front of me. Vass eess dass? I cried. She said she'd gone to the only stand in the vicinity of the smoking box, run by a Chinese guy, who didn't seem to know what she wanted (the Frankfurt airport should not give licenses to food-stalls who don't know from a German sausage, for chrissake!), but eventually produced a couple of weiners. Bunless weiners. But with one of those enormous dough pretzels on the side. YOU VILL HAFF A PRETZEL! She got him to add some hot peppers, since she knows I like hot and that might mollify my outrage.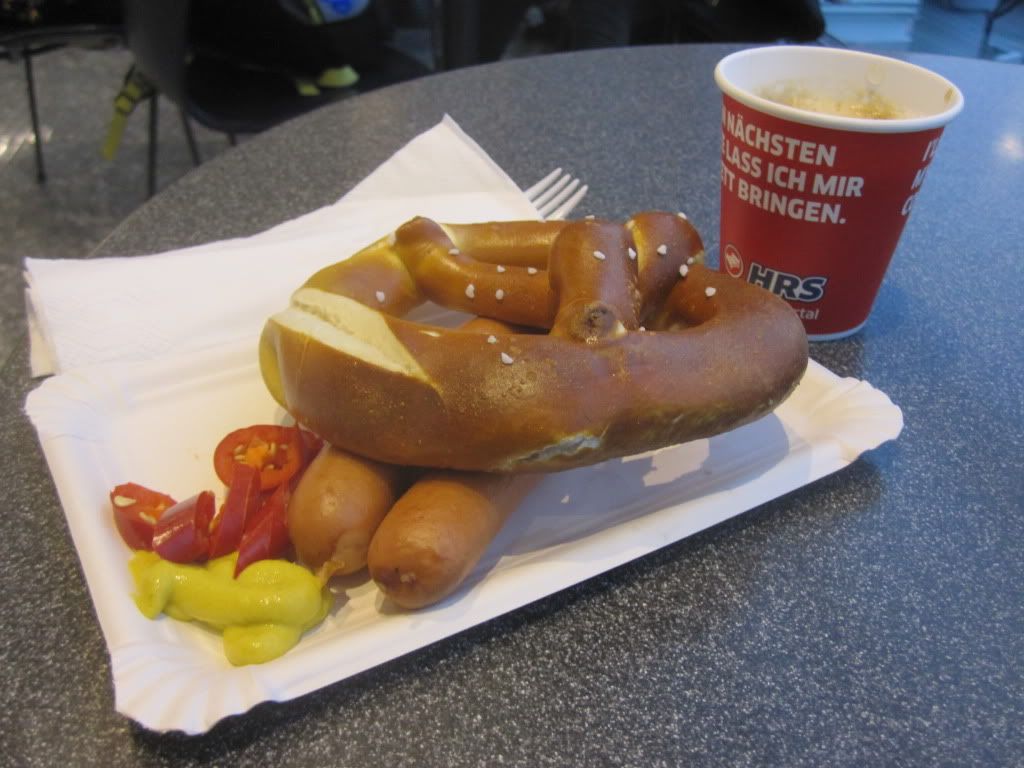 The cup says (by translation on the back) that the next cup of coffee you'll have will be in bed. ?? It was cappuccino out of a machine. Free, tho.

Okay, so the weiners were good. Or should I call them frankfurters, given that we weren't in Vienna. The hot pepper didn't go too well with them, so I left most of it. I picked the huge crystals of salt off the pretzel and ate that. On the way back, I vowed, on the way back.
Famous last words.
On the way back, we had to go to the Barcelona airport early, to accommodate everyone's flight times. The Barcelona airport is a splendid example of modern Spanish design (I'm assuming). Clean simple lines, lots of windows, enormous squares of dark marble for the floor. Fine by the windows. But I wandered off to the central area to check out shops, and there, where it's relatively dark, the extremely shiny dark marble gave the impression of water...slightly disorienting. A woman on a marvelous motorized mop continuously polished the floor, maintaining the illusion.
I bought another Gaudi book. I had one on The Complete Gaudi, but now I picked up one dedicated to the park. And a bag. I liked my carry-on, especially for the way it accommodated my laptop and i-pad. But it didn't have enough pockets. Too much rummaging amongst stuff and only every second day finding my eye-liner. This bag (at outrageous airport price, for which I beg the forbearance of my Scottish forebears – Sally Ann no longer good enough for you?!) but it livens up my otherwise all-black Italian widow's ensemble (no worries about mismatched outfits, and besides it's slimming), and it has pockets for everything! End pockets for toiletries and camera stuff. Two front large pockets for a camera and video, also flashlight, small upper pockets for hearing-aid & batteries and pills. Other side, big pocket for le Carre, also passport and boarding pass when needed, above it a tiny pocket where I put my park&fly card, medium pocket for receipts, and beneath it lower rectangular pocket for glasses. More pockets inside for bills and change, both Euros and Canadian, extra glasses, pen, car key... And the computer fits inside fine. (Tho next time, if there's a next time – and with this wonderful bag, there'd better be – I'll just take the i-pad I think...)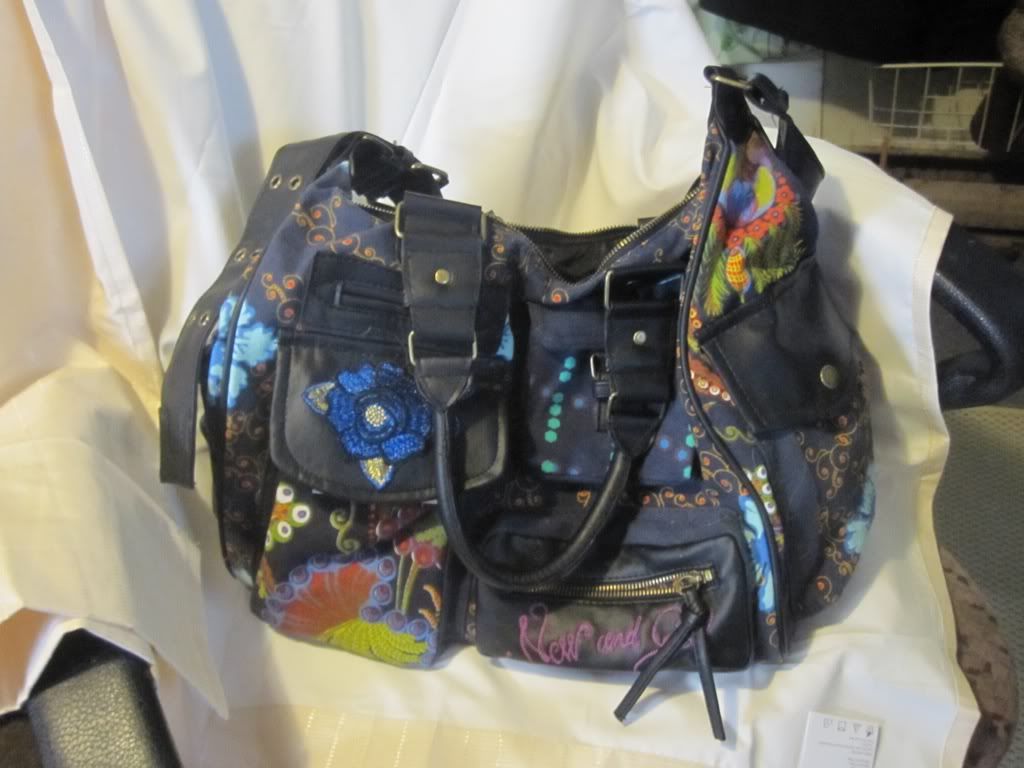 Okay, back to the gate. By the way, you need a mobile ID to access the WIFI in the Barcelona airport too. Anyway, back to the saga: My daughter complained that there's no clocks. I guess they'd spoil the sleek uncluttered look of the place. (Sleek and uncluttered just mocks us bedraggled travellers.) I finally found that there are digital time read-outs discreetly located on the boards that give you gates and times. Which boards are sleek and free-standing, unlike those overhead things in less fashionable airports.
She also pointed out that the P.A. announced at intervals that it would be giving no damned announcements, cluttering up the sleek empty air with the usual airport squawks and crackle. Turns out there are also sleek free-standing info boards, with touch screens, one of the choices being boarding times. And, hallelujah, it also turns out that if you are in the vicinity of your gate around the proper time, there are quiet, discreet, localized PA announcements.
Anyway, we get to Frankfurt. My heart sank at the realization that our gate this time was B-42. But, thank god, we didn't have to start at 1, and the gate was close to where the bus left us....and there was a proper sausage stand close by.
Damn. If I'd just settled for a bratwurst. I fully intended to. But listed on the board was also a curry sausage. How could I resist? There were also lots of pre-made enormous sandwiches...including "the Strong German" with roast pork and horseradish. But, no, I'd go for the curry sausage. Are there no actual Germans in the Frankfurt airport protecting their culinary heritage? The guy behind the counter was African, and the two women with him were Chinese. But that doesn't really account for a curry sausage, does it?
Anyway, that's what I ordered, and the guy grabbed (eek) a very long weiner and (eek) shoved it into a thing that chopped it into bite-sized pieces and (EEK) ladled barbecue sauce on it, threw a bun on the side.
Cappuccino accompaniment.
My own fault. Next time in the Frankfurt airport I SWEAR I'm gotta get me a proper German sausage.
(Full disclosure - on some trip, where we had to stay overnight, we actually went into the city of Frankfurt and got a proper sausage-filled German dinner, mitt beer, so I'm not totally deprived. Or depraved.)
Oh, and the curry sausage, as far as I could tell under the barbeque sauce, tasted like a regular weiner.
Good tho.
Okay, you're wondering maybe where the title of this post comes from. Back, back, to the beginning of our journey. From Frankfurt, we boarded a Lufthanser to Madrid, and midway they served a meal. The main course at first glance looked like (eek) poutine. It was french fries and, as it turns out, some chicken balls, with a dollop of some kind of cheese/egg/pasta mixture on top.
For dessert was a biscuit, sort of orange-flavoured and coloured, shallow-dome shape like a fried egg, with hard white icing on the flat side. It was called, by the package, an Amerikaner.
Just because I've never seen anything like that in any of my ventures into Amerika doesn't mean anything...
OKAY! - Next post giffs der some actual Spain, with Spanish food, Spanish coffee, Spanish vistas, cathedrals and people! Ole!