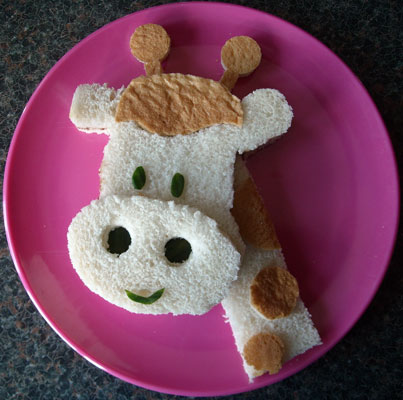 We love anything that helps kids learn to eat healthy here at Planetpals!
Here is a creative solution to healthy eating where you can include many of the food groups wrapped up in a fun sandwich treat that would make any kid hungry for more!
Mark Northeast, a UK-based food artist creates sandwiches in the forms of unique images, such as animals, fun objects, themes and many more, to encourage kids to eat a varied diet. Whether your kids like flowers, pirates, Hello Kitty or Sponge Bob there is a sandwich for them! How about a design a week for a whole year! His work is found on his website http://www.funkylunch.com, where you can take a peek at many of his creations.
Take a look at these fun, simple and yet cute food and sandwich designs, a selection of ideas that will be in his book due out this month.
To see larger images and get directions visit his gallery at: http://www.funkylunch.com/gallery.htm
His designs are creative and ingenius, ranging from simple shapes created with veggies, sauces , multigrain bread and different types of cheese used for different color patterns and shapes, he has created a whole new concept of food design and not just for entertainment.
Stop by and see his competition entries from his recent Foodie contest, too:
Help your kids learn to be healthy with Planetpals nutritional Pages and free
Image credit: http://www.funkylunch.com
© Judith Gorgone www.planetpals.com all rights reserved