JULY 5, 2012 5:10PM
U.S Navy Sonar Training and Testing Could Kill 1,800 Whales & Dolphins and Deafen 15,900 More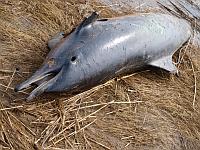 In a previous Environmental Impact Statement (EIS) for 2009-2013, the U.S. Navy estimated that 150,000 marine mammals could be harmed in sonar training and testing exercises. Now in the EIS for 2014-2018, Navy estimates have soared, suggesting that sonar training and testing might unintentionally harm marine mammals 2.8 million times a year over five years, including deafening 15,900 whales and dolphins and killing 1,800 more over the next five years, in testing in Hawaii, off the California and Atlantic Coasts, and in the Gulf of Mexico.
To sign a petition opposing the Navy's plans, click here.  Time is short.  All comments are due by July 10, 2012, so please sign the petition today
Navy raises sonar impact on dolphins, whales dramatically
The Navy said the numbers were misleading since the new area is much larger and more activities have been added since the last statement. "It's like comparing three grapes to a watermelon," Pacific Fleet spokesman Mark Matsunaga told msnbc.com.
"These are just worst-case estimates," he added. "That's not to say we're going to go out there and hurt them all."
"Direct comparisons with the prior analysis might not be comparing apples to apples," acknowleged Smith. "But I think that's irrelevant. … Regardless of what accounts for this change the fact is that we — including the Navy — now understand that the Navy's activities will have a much greater impact than previously thought."
See also: Naval Sonar Exercises Linked to Whale Strandings, According to New Report