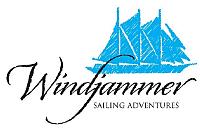 Last April we posted about Australian mining billionaire Clive Palmer's plans to build a 21st-century replica of the Titanic. I am not sure how I feel about naming new vessels after maritime tragedies. On the other hand, the Titanic may be as well known today as the setting for a movie, as it is as an ill-fated passenger liner.
I have to admit that I have the same mixed feelings when I heard recently that Florida entrepreneur, Charles Kropke, is endeavoring to revive Windjammer Barefoot Cruises and Chalk Ocean Airways.
Both ventures had long and interesting histories which unfortunately ended badly. Mr, Kropke is also attempting to revive the Belleview-Biltmore Hotel in  Belleair, Florida
Windjammer Barefoot Cruises was founded in 1947 and offered low key, economical cruising on a variety of refurbished sailing ships in the Caribbean. In its later years, there were complaints about safety, a lack of vessel maintenance and sporadic payment of wages to the crews. In 1998, the company flagship, the 282-foot steel-hulled four-mast schooner Fantome, sank  in hurricane Mitch, with the loss of the crew of 31. After the Fantome loss, the company battled lawsuits from the crew's families as well as ongoing IRS investigations. New and tougher SOLAS regulations also forced some of the oldest ships out of service.  Windjammer Barefoot Cruises went out of business in 2008.
Chalk's Ocean Airways is also a company with a long and storied history. It traces its history back to Arthur "Pappy" Chalk, who started the Red Arrow Flying Service in 1917.  It operated in the Caribbean and the Gulf  and saw a range of different owners and trips in and out of bankruptcy. Chalk's suspended operations after the crash of its Flight 101 on December 19, 2005. The plane was a 1947 Grumman G-73T Turbine Mallard and it crashed after its starboard wing ripped off in flight due to metal fatigue. 20 died in the crash.
We can only hope that Mr. Kropke succeeds in reviving the more positive aspects of the two firms. Kropke has purchased the refurbished S/V Mandalay, a 236′ barquentine built in 1923 for E.F. Hutton.  The ship will be operating under Windjammer Sailing Adventures based out of Grenada.
Entrepreneur aims to restore Windjammer, Chalk's and other Florida travel relics
Thanks to Irwin Bryan for contributing to the post.