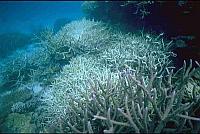 Earlier this month, we posted how the North Carolina legislature is considering legislating limits to sea level projections, even though recent studies suggest that sea levels are rising faster on the US East Coast than they are in the rest of the world. That hasn't stopped Virginia legislators from opposing the use of the phrases "climate change" and  "sea level rise" in state documents.  Instead, they refer to the issue of the rise in sea levels as "recurrent flooding."  One brain-dead legislator is quoted as saying that "sea level rise" is a "left-wing term."
The constant ranting of the climate change deniers raises several questions. How long can we deny the obvious? What happens if we wait too long?  Recently Roger Bradbury writing in the New York Times suggest that it is already too late for the world's coral reefs.  The frightening question is – what if he is right?
It's past time to tell the truth about the state of the world's coral reefs, the nurseries of tropical coastal fish stocks. They have become zombie ecosystems, neither dead nor truly alive in any functional sense, and on a trajectory to collapse within a human generation. There will be remnants here and there, but the global coral reef ecosystem — with its storehouse of biodiversity and fisheries supporting millions of the world's poor — will cease to be. 
Overfishing, ocean acidification and pollution are pushing coral reefs into oblivion. Each of those forces alone is fully capable of causing the global collapse of coral reefs; together, they assure it. The scientific evidence for this is compelling and unequivocal, but there seems to be a collective reluctance to accept the logical conclusion — that there is no hope of saving the global coral reef ecosystem.
…Coral reefs will be the first, but certainly not the last, major ecosystem to succumb to the Anthropocene — the new geological epoch now emerging. That is why we need an enormous reallocation of research, government and environmental effort to understand what has happened so we can respond the next time we face a disaster of this magnitude. It will be no bad thing to learn how to do such ecological engineering now.