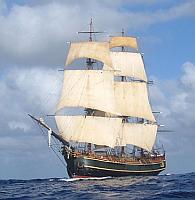 The replica of the HMS Bounty built for the 1962 movie, Mutiny on the Bounty, starring Marlon Brando make the port of Galveston, its winter home.  The deal apparently has not been finalized but the Galveston Daily News reports that negotiations are on-going. Thanks to Stacy for passing along the news.
'Mutiny on the Bounty' ship could dock at isle
The Bounty's owner has been seeking a place to dock the ship in the winter months to allow the captain and crew to go on vacation, Mierzwa said. While here, the Bounty would be open for tours.
If the agreement is finalized, port officials hope the Bounty would complement and perhaps be co-marketed with the 1877 Tall Ship Elissa, which this month was moved to the Bollinger Shipyard in Texas City for hull repairs expected to take several months.
The Elissa, a three-masted square-rigged barque, is expected to return to its Pier 22 berth in November.
The Bounty is a replica of one of the world's most famous ships, widely known for the story of a British crew who sailed to Tahiti and in April 1789 mutinied while en route back to England. The mutineers cast the ship's captain, William Bligh, and part of the crew loyal to him, adrift in a 23-foot boat in the South Pacific Ocean.