OCTOBER 8, 2012 7:21AM
Update: Honk Kong Ferry Sinking 'Äď the Two Minute Tragedy : Why Did the Lammna IV Sink So Fast?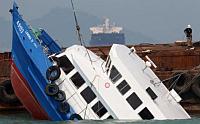 It only took about two minutes for the ferry Lammna IV to sink in Hong Kong harbor off Victoria after being struck by another ferry boat around 8pm October 1st.  Of the more than 120 passengers on the Lammna IV, 38 are believed to have drowned. It was the worst harbor accident in Hong Kong in more than 40 years.
How could the ferry have sunk so fast?  Currently, there are far more questions than answers.  The Lammina IV was built of fiberglass by Cheoy Lee Shipyard in 2003. The other ferry, the Hong Kong ferry The Smooth Sea, is built of aluminum. Both vessels were believed to be traveling at close to their full speed of 15-20 knots at the time of the collision. Two water tight bulkheads are believed to have ruptured in the collision, rapidly flooding the stern of the ferry causing it to sink rapidly with its bow pointed skyward.  There is some question as to whether the watertight doors in these bulkheads were open which would have accelerated the rate of the flooding.
Why the Lamma IV sank so quickly
Seven officers and crew from both ferry boats have been arrested.   The investigation into the tragic accident is expected to take six months.
Thanks to Christina Sun and Phil Leon for contributing to the post.