OCTOBER 12, 2012 11:19AM
Derek Hutchinson – Legendary Sea Kayaker, Designer and Author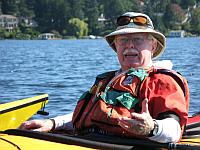 The Sea Kayaker Magazine blog is reporting that Derek Hutchinson, often referred to as the father of sea kayaking, died on Wednesday at the age of 79. Hutchinson literally wrote the book on sea kayaking, even before it was universally called sea kayaking. The first addition in 1976 was called "Sea Canoeing."   Hutchinson's The Complete Book of Sea Kayaking is now in its fifth edition and is joined by a small bookshelf of works on expedition kayaking and Eskimo rolling also penned by Hutchinson.
Hutchinson also designed kayaks and paddles. His kayaks were often designed with lower back decks to make them easier to perform an Eskimo roll, to right the kayak if it capsizes.  Beyond writing and design, Derek Hutchinson was a paddler. He completed the first crossing of the North Sea in a kayak in 1970 and would later paddle in the Aleutian Islands and other areas around the globe.
Last September, Eric Soares wrote a profile of Derek Hutchinson in the Tsunami Rangers blog. In it he wrote:
That brings me to an important aspect about Derek. He is very knowledgeable and opinionated—downright cantankerous in fact! If you ask him, he will tell you all about boat design, Alaskan paddles versus Greenland paddles, soft cover versus hardback books, and his development of self-rescues (for example, the "all-in" rescue)…
But even though I don't always see eye to eye with Derek, I respect him for all he has contributed to sea kayaking. He has designed over a dozen sea kayaks, he has written several seminal sea kayaking books, he has made long distance trips and surfed and did seal launches and landings and paddled in ice and wind. He has developed innovative ways to rescue. And he was the first modern kayaker to accomplish these feats, now standards of modern sea kayaking. We have all benefited greatly from his contributions.
Here is an interview with Derek Hutchinson in 2007 at a kayak symposium in Port Townsend, Washington.
A Conversation With Derek Hutchinson