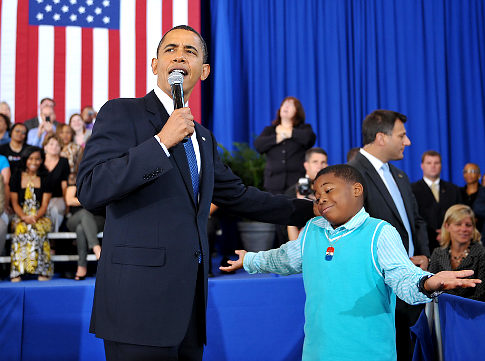 For those who like to make false comparisons, you might recall that there were some secular liberals who didn't even believe in an Antichrist but who nonetheless metaphorically expressed a similar sentiment about George Bush. But let's be clear: many on the religious Right literally believe Obama to be the Antichrist, just as they literally believe in the Rapture and Armageddon and that scapegoating Obama is their path to both.
Rachel Maddow has been exposing how Fox news
and populist authors with huge followings (like those behind the hugely successful,
Left Behind
book
series and movie spinoff), have been exploiting this "antichrist" theme against Obama to great effect:
And a key narrative being constructed by these people, essentially, is summed up perfectly in the title of the following timely article:
The Rotten Heart of White Conservatism: The Nonsense Argument That Is White People Are Oppressed in the Age of Obama
And how we need to respond to this type of extremism I cover in my new, August 2, 2011 article: "CRUSADER CHRISTIANITY, TEA PARTY CULT, & THE LEFT " (please read also) http://open.salon.com/blog/ronrobinson/2011/08/02/crusader_christianity_tea_party_cult_the_left_wip
The political consequences of such extremism and the differences between the Left and Right in this regard are enormous. We see all over the world the consequences of violent political and/or religious extremism. And we felt it on our own shores on 9/11 and, lest we forget, in Oklahoma City.
"A thousand ghastly and genocidal plots are imagined, and a few attempted, every springtime around the world by aberrant men and women, fascists, neo-Nazis, every year on or about April 20--Hitler's birthday."
And just what was the grievance of these conservative McVeigh sympathizers? The totally fabricated and paranoid fantasy that Obama plans to take away their guns. In other words, they seem poised to provoke a pretext for that to possibly happen and eventually create the kind of springboard for other McVeigh-type terrorist attacks.
Provoking pretexts is what they do best. Glenn Beck everyday is trying to provoke a move to shut him down with his dangerous extremist and paranoid rants. In the wake of Gabby Giffords shooting, and as the protests in Wisconsin seemed poised to spread, we should expect the Right to engage in "Reichstag antics." They badly need a Rove style disinformation campaign to make the Left look like it's the real violent threat and create a false comparison with right wing extremism in the public's mind.
In fact, as the now famous prank phone call to Scott Walker, Wisconsin's Republican Governor, shows
(made by a reporter impersonating rightwing billionaire, David Koch), Walker was ready to have thugs infiltrate the protests and engage in actions that would discredit the protestors! This is the old "agent provocateur" maneuver used by the Right against Civil Rights and anti-war protestors. They create an offensive or violent act to project an image of violence and intolerance onto the protesters to discredit them and
divert the public's attention away from the issue.
So watch for Fox News and the right-wing blogosphere to find some Wisconsin protestors with some offensive placards and slogans and then focus on them to death. Those "protestors" and posters might possibly be part of the troublemaker strategy Walker envisioned. In any case, you can bet Fox and the Right will carry out an aggressive disinformation campaign to discredit the protests and falsely equate them with the actual gun-toting, hate-filled protests against Obama that have gone unabated for the past few years.
And why do Conservatives continue to falsely tie health care reform to baby-killing and murder? Could it be to help rally their troops and put boots on the ground for an even bigger, potentially more violent battle? To terrorize the electorate and the media into acceding to right-wing demands in order to avoid the violence?
There is much research on what is called the
"scapegoat mechanism"
by psychiatrists like
Arthur Colman
and historical scholars such as
Rene Girard
. It shows that scapegoating, shunning, or demonizing others outside your "clan," "family," "religion," etc., or even someone within it, increases bonding and trust among the others in the "in group" and/or provides immediate emotional benefits for individuals who engage these types of ancient "survival instincts."
However, when both individual and collective benefits are combined, and the urge to scapegoat and demonize stoked by others (e.g. Palin, Beck, Limbaugh, friends, co-religionists, etc.), you get contagious transmission of these "survival instincts" and resonance between the transmitters. This amplifies the effect. Demonizing Obama as the Antichrist triggers this instinct among the believers, inspires and amplifies extremist behavior, while inducing the "high" of togetherness and superiority among the in group.
But what about the silent majority of us Christians who look upon these decidedly un-Christian deeds with horror? What lessons does our faith provide for us to put this into perspective?
I'm sure you've heard this gospel story: it's the one where Jesus was greeted by the crowd as a liberator and was showered with Hosannas and Palms as he rode into Jerusalem on the back of an ass. But the crowd craved what I call a "Messiah high." They saw Jesus as an easy solution to their suffering who was also growing in fame and popularity.
So they did what many -- but not all -- do today: they jumped on the bandwagon hoping for an easy ride, simple solutions, and a feel-good high. We see this played out today in some of the prosperity-gospel-preaching megachurches, at Tea Party demonstrations, and, yes, even at rallies supporting Obama during his 2008 presidential run.
But in his day, Jesus taught tough and complex truths that challenged many of the crowd's most cherished beliefs and their corrupt and compromised leaders. So when things got tough, he became their scapegoat, and the mob and their leaders threw him under the bus. His final words as he hung from the cross:
"Father, forgive them for they know not what they do."
Well, 2000 years later it seems as though they know exactly what they do. In fact, they appear to be experts at scapegoating and inciting mobs to violence.
So this is what I ask of the silent majority of Christians horrified at such defilement of our faith: let us pray for President Obama and our better angels and against Christian-cloaked conservative extremism.
Let us pray that we have the courage to stand up and push forward a realistic and positive agenda of change.
Let us pray that we have the courage to confront those misled by right-wing media and political demagogues, and that we not let our country be weakened by those who see Obama as the Antichrist and hate America's rich diversity.
Let us pray that those idealists who sought an Obama "Messiah high" but later turned against him learn that there are no simple solutions, that he is our best hope right now, and recommit themselves to the cause.
Let us pray that, collectively, we are successful in bringing forth an agenda that is humane, and that Christians re-root themselves in the true Christian ethos, which Jesus described as:
"Love thy neighbor as thy self and as I have loved you."
Many people who legitimately feel dejected and disillusioned are being rallied like never before by Sarah Palin and other demagogues, by hate-mongering "Christian" conservative pastors, by militias and other racist groups, by the right-wing media, and by powerful interests with lots of money. And the internet gives them unprecedented capabilities to raise money and mobilize boots on the ground.
Sadly, many of them call themselves Christians, doing an incredible disservice to our great faith and the silent majority of us Christians who accept the New Covenant of the Beatitudes and the Sermon on the Mount, not Old Covenant calls for violent stonings, death, and revenge.
These latter practices and beliefs were the ones favored by the mobs and their leaders during Jesus' time, as well as by those who now pretend to worship his name yet cry "communist" and "baby-killer" and throw F-word and N-word bombs against congresspersons who only want to extend a helping hand to those who need it. Yet they will take the helping hand themselves in the form of unemployment benefits, social security, Medicare, police, fire and other public services. They maintain that life begins at conception, but for them it seems to end at birth; after that, it's every man for himself. "The devil take the hindmost" is what they practice and they preach, except when it comes to themselves and their in-group.
To all my secular friends on the Left, especially those who battled in Seattle and Copenhagen and against the Iraq War but look down their nose at the "messiness" of the political process, I plead:
Stop scapegoating Obama and ceding the political process and media landscape to mobs whose fascistic fervor is successfully moving the media and subconscious minds of the electorate to the right. Stop for a minute and consider that it may well be a form of white privilege to so steadfastly maintain the supremacy of a type of ideological purity and idealism that will exact a heavy price on all of us if the Republicans, this time with Tea Party and militia support, take over the government again. The price? Drastic, if not permanent, erosion of our freedoms, civil rights, and dignity as human beings, not to mention violence and intimidation by force of arms.
I'm asking -- no, I'm praying -- that you get out there like you did in Seattle and Copenhagen and confront face-to-face the real threat. Cease your fire on Obama. Remember, the Secret Service has more that it can already handle without additional fuel being added to the fire.
Finally, I offer this prayer to my fellow Christians: that we follow the New Covenant and let the words of Jesus as expressed in the Sermon on the Mount, the Beatitudes, and the parable of the Good Samaritan guide us, as well as his condemnation of the Tea Party types in his day, whom he called "serpents," "vipers," and "hypocrites," whose rewards "await them in hell;" that we follow his example when he drove the Koch brother billionaire money changers of his time from his "Father's House" - that we too drive these RepubliKlan/Tea Party serpents from the sanctuary of religion behind which they hide their true agenda. Let us call out and stand up to their terror, apostasy, slander, and false witness, which they bare against the very Christianity they dare to claim to uphold for ALL of us! And as we stand up to their terror, let us remember that even Jesus asked that the cup be passed from him before he finally accepted his difficult fate as an act of supreme love.
We, too, "have difficult days ahead," much like the Rev. Martin Luther King prophesied in the very last speech he gave before he drank from that very same cup, offering his life as a gift of love, that we might one day reach the mountain top and fulfill the promise that could be America.
But we too must accept our fate and restore our faith as we confront those caught up in the fervor of FOX-encouraged, fact-free fundamentalism, which daily stirs up the hate of those cloaked in a false Christianity that bears no resemblance to the teachings of Jesus and are hellbent on tearing asunder the potential of "beloved community" and "more perfect Union."
May we do so with a vigorous love for the best in ourselves and humanity with its multiple faiths, and strive to thrive together, even in the midst of malice and religious threats.