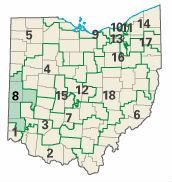 I present: Stimulus Defense in Pictures (because words clearly aren't getting through).

John Boehner, House Republican Leader, is the representative of the 8th District of Ohio, pictured here. Today on the floor of the House, Mr. Boehner asked, "Tell me how spending $50 million for some salt marsh mouse in San Francisco is going to help a struggling auto worker in Ohio?"


This is the salt marsh mouse. He lives in, hey, salt water marshes, but particularly those surrounding the San Francisco Bay. He's been endangered since the 1970s, because of development encroaching on his natural habitat.

This is part of the recommendation for conservation of Mr. Salt Marsh Mouse: "Up-to-date data are needed on range-wide habitat occupancy and relative abundance. Research is needed on the effects of plant salinities on water balance and habitat use of mice." It's also included in larger efforts to conserve the San Francisco Bay.

As you may have guessed, to conserve an entire Bay, you have to do things like hire researchers (who may or may not buy cars). You also, if you're part of the U.S. Fish and Wildlife Service that's overseeing these efforts, give grants every year to community groups for "on-the-ground actions, information collection for decision makers or advocacy/outreach. Our priority is to fund projects leading to on-the-ground results benefiting fish and wildlife."

Right now, the Coastal Program at San Francisco Bay has $180,000 total available each year to distribute for these projects. In the stimulus package (in which the salt marsh mouse never appears -- read it yourself), there is $165,000,000 set aside for "maintenance and construction on wildlife refuges and fish hatcheries and for habitat restoration."

What does it take to maintain and construct wildlife refuges and to restore habitats?


Front-end loaders, like the one pictured here that's part of the effort to clean up the San Francisco salt marsh. Now, if one were in the market to buy or repair a front-end loader, where might one go?


How about The Dana Corporation, "the world's leading supplier of off-highway drivetrain components and systems." Now, Dana is also well known as an automotive drive-train producer. Making it part of the auto industry as a whole (it supplies, for instance, drive shafts for Cadillac). But it also provides compete drive-trains for front-end loaders and excavators, which, it seems to me, might be useful to a department looking to do a bunch of earth moving. Oh yes: The Dana Corporation hails from Toledo, Ohio.

But maybe that's not direct enough. What else does it take to clean up a marsh?




Oh, yeah. People. People must be employed to do the work -- and not just the aforementioned possibly-car-buying researchers. The Fish and Wildlife folks will need to hire people to run the Ohio-supported front-end loaders and the dredge boats and the shovels. And to get to these marshes, these people will need cars, because, as told by the South Bay Restoration Web site, that's pretty much the only way to get out there.


Now, maybe in California there's a system by which people can travel powered just on the strength of these tiny, endangered mice and the will of Nancy Pelosi to do progressive work in the world, but I haven't yet heard about it (so, no picture available). So until then, I think Ohio's auto workers might, indeed, benefit from saving the salt marsh mouse. As might have Ohio's most famous House of Representatives members. (that guy --->)