I'm not a high-stress person, most of the time. I have a pretty easy life of eating cupcakes and blogging -- OK, that's not completely true (¿dónde están mis cupcakes?1), but here's what I think is an accurate graph of my stress: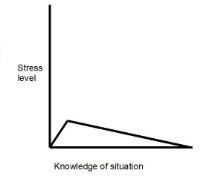 The more I know (after that initial blast of ignorant bliss) on any situation, generally the less stressful I find it. Theoretically, in any given situation, I could reach a point where I know so much about the situation that it wouldn't add to my stress at all to be in that situation: driving, for instance, would be a great example of this. When I started driving, it was scary -- now it's just a natural part of the day.

Apparently, the government feels the same way, because they're instituting this week stress tests on the 20 major national banks, in order to find out exactly how screwed we all are.

So what does a stress test look like for a bank? Though I have a (rather pleasing) image of all the CEOs being forced to run on treadmills under physician supervision, it's actually a numbers game -- in fact, it's most similar to a War Game, if you want to think in usual government terms. The New York Times kindly explains:
The stress tests will use computer-run "what if" situations to estimate what would happen to each bank under Depression-like conditions, with unemployment surging to 10 or 12 percent, for example, or home prices dropping 20 percent further, Treasury and Federal Reserve officials said.
Fed officials emphasized that these hypothetical events were "highly unlikely" to occur.
By the way, if you're wondering -- everyone expects several of these banks to fail the tests. And if that last line seems un-reassuring, well, hey, when has the Fed been wrong before?
Oh yeah
.
Is your stress line going up? Mine is.
So, since the Fed's playing with hypotheticals, I thought I'd join in: What happens if these banks fail the stress tests?
Someone leaks news of their failure to, I don't know, CNBC, if they can get through what with all of Rick Santelli's fans clogging the phone lines.
The markets hear about it and go, "OH NO!" except probably with a sterner vocabulary.
The markets tank. (I'd draw you a graph, but you could just go check out the Dow today).
Mass hysteria, depression, etc.
There's an option 3.5, but it involves that word that's so strenuously avoided:
nationalization.
Oh no! Nationalization! Pass the cupcakes, quick, before the Politburo outlaws them!
Here's the thing: No one is actually talking about
real
nationalization. No one, not even my so-left-he-voted-no-on-the-Stimulus Congressman, is advocating complete, permanent government take-over of the banks. What is being suggested is
receivership
, which is actually a well-established tenet of the free market system and American bankruptcy in particular
2
. A business fails, and instead of having to liquidate its assets, a receiver is appointed to take over management of the business. With smaller banks -- like those that failed last week, for instance -- usually the FDIC, as appointed receiver, approves a take-over by some other bank, and there's little disruption for customers or even the market in general.
Now, I'm going to assume that your average Wall Street trader knows the difference between nationalization and receivership. So why is this so scary? What's the hang up? Well, it turns out, when a bank goes into receivership, two things happen:
Management is replaced.
Shareholders have the lowest priority for claims on any assets held by the group -- essentially, they lose their money.
So people -- traders and shareholders alike -- freak out on mention of nationalization, and even receivership, for good reason: they stand to lose substantially. Or, I guess, more substantially, because shares of Citigroup (as an example) have tanked recently, and closed today worth something like $2 (a year ago: $24; two years ago: $54).

The Catch-22 of this situation is this: if people hear that the government is about to take Citigroup into receivership, they sell their shares frantically, which reduces shareholder confidence even further, which makes it more likely that it will fail the stress tests, making it more likely that the government will need to take it over.

This is all based upon a lot of unknowns: what are the specific tests the Treasury and Fed will be giving? How will the banks do? What will happen next?
I would love to see those questions answered in President Obama's address tomorrow night, but it turns out that Wall Street bankers in general have an opposite stress graph to mine: they love ignorance, because it somehow gives them hope.
So here's what we do know, or should know: receivership is going to hurt. It's not a perfect option. (Please: give me an example, short of physical burning of their paper money, that doesn't end with significant loss for investors). But it offers the least risk to the most people, and even a chance for taxpayers to get some payment back, should dramatically altered management actually improve the status of these banks.
Today, rumors circulated that the government is going to convert its 8 percent stake in Citigroup Preferred stock to common stock, furthering diluting the value of those shares and giving the government about 40 percent "ownership" in Citi. This is meant to avoid the "nationalization" option.

What I'd like to know is, why? Why fight this? What exactly are we waiting for? (GOP friends -- don't bother answering that question, because I know you're waiting on tax cuts to fix this, just as you're waiting on tax cuts to solve the problem of forgetting your mother's birthday).

We need action. Receivership is the closest we can come, as taxpayers and as participants in the system, to having our cupcakes and eating them, too. (What can I say? Stress makes me hungry).
I hope we hear more about this tomorrow.

1 I have a friend who bakes when she's stressed. I hope she's reading this. I really would like a cupcake. [Return to Post]
2 The most famous current case of receivership, by the way, isn't a bank: it's Britney Spears, whose father has conservatorship over her and her accounts. I think there's a way to make a direct comparison between that situation and the current banking crisis, and even started a post called "Britney Spears is Too Big To Fail," but it actually seems mean to Britney Spears to compare her to most of the major bank CEO's. If I get over that feeling, I reserve the right to recall that title. [Return to Post]