Las Vegas (KTNV) - A Las Vegas woman says she's seeing a sign from above when she answers nature's call. Magdalena Nelson's guest bathroom screams "I love Las Vegas." But while she was cleaning last week, she says an image of Jesus appeared on the bumper sticker on the toilet lid.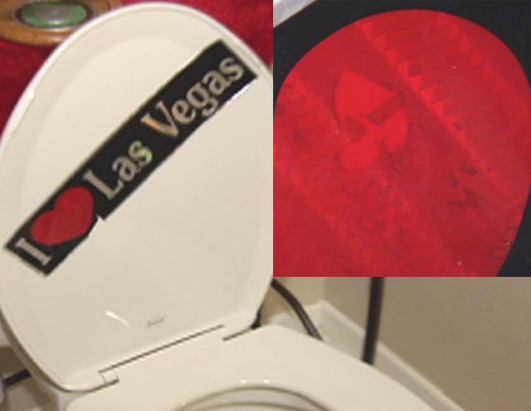 Well I was sitting there thinking
just reading and blinking
when suddenly it got sorta' cold
the lights started blinking
my heat started sinking
when I saw Jesus in the toilet bowl
I don't know what happened
my mind couldn't grasp them
but I started to get kinda' cold
It's a damn bad feeling
when you start getting healing
from Jesus in the toilet bowl
Well I really got saved
my heart was repaved
My life was finally sold
to the man with the plan
and he's all you can stand
he's Jesus is in the toilet bowl
Now I'll always go straight
no longer no hate
my life no longer on hold
for the rest of my life
for me and my wife
we'll have Jesus in the toilet bowl
Now those who will doubt me
well just come and see
the miracle I have on hold
he gave me my pass
while I passed my gas
with Jesus in the toilet bowl
Well it will be no sin
when you go look in
and see this image I behold
but I'm afraid to get up
and leave this set up
of Jesus in my toilet bowl
This was a stupid poem I wrote and posted on OS on September 9, 2009. Would you believe I got eleven ratings for this. This being re-post Saturday and New Years Day, with everyone with hangovers and their heads in the toilet bowl, I just thought it appropriate, Hah!
Image Courtesy of
http://www.freerepublic.com/focus/religion/2329388/posts