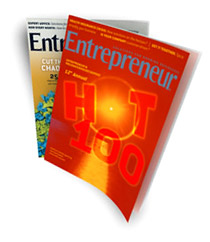 A large group of individual investors who read the May 2008 issue of Entrepreneur Magazine are suing the magazine for misleading readers about a company called Agape World Inc., which was listed No. 73 on Entrepreneur's "Hot 100: America's Top Fast-Growth Business and the Entrepreneurs Who Built Them" list.
The lawsuit against Entrepreneur alleges that the magazine did not practice due diligence in confirming the information about the company provided by Agape to Entrepreneur, which creates an internal criteria for deciding whether a company makes the top 100 list.
I'm not convinced that the magazine was negligent in its fact-checking, and I find it hard to believe that it blindly spun a corporate growth globe and landed its finger on Agape. The processes by which the magazine chooses its top 100 list will likely come out in court and I suspect that it's a fairly legitimate process even if it's a simple set of guidelines. Because I'm here to tell you that no magazine has the staff or the resources to verify all aspects of information provided by companies who enter themselves in contests to make top 100 lists.
Eighty-seven investors based their investment decisions on the Entrepreneur top 100 list and lost millions of dollars when the founder of Agape was arrested in January for hundreds of millions of dollars in mail fraud. His company was exposed as a giant Ponzi scheme.
Even if a magazine makes an excellent effort to fact-check, it can still be duped if the duper is making a good-faith effort to be fraudulent.
Case-in-point: Wine Spectator's 2008 Awards of Excellence for Restaurants. To make this award list, restaurants submitted applications to the magazine. The editors made a good-faith effort to verify the information on which they based their awards. They made phone calls to the numbers provided, read online reviews and visited websites (the restaurant was not visited in person because it was in Milan, Italy).
The eatery called Osteria L'Intrepido was named with an award in excellence and turned out to be fake. In a blog post by Wine Spectator's editor, he wrote:
"To orchestrate his publicity-seeking scam, Robin Goldstein created a fictitious restaurant in Milan, Italy, called Osteria L'Intrepido, then submitted a menu and wine list to Wine Spectator's Restaurant Awards as a new entry in 2008. The wine list earned an Award of Excellence, the most basic of our three award levels.
Goldstein revealed his elaborate hoax at a meeting in Oregon last week. He is now crowing about the fraud on his own Web site. The story has been picked up in the blogosphere, and now Wine Spectator would like to set forth the actual facts of the matter.
He goes on to explain the magazine's process for choosing restaurants and the circumstances under which the faux restaurant was chosen. In subsequent online dialogue about the mishap, the magazine was vilified and shame-on-thems where thrown around the blogosphere.
I'm sorry, but wasn't the magazine a victim of fraud too? The person responsible for submitting the fake info did it on purpose with the intent of discrediting the magazine and then bragged about it.
While the owner of Agape didn't submit fraudulent info to Entrepreneur with the intent of discrediting the magazine, he used the magazine to disseminate fraudulent info that resulted in financial harm to readers. Frankly, it's not Entrepreneur's fault that investors made choices that didn't end in their favor. Entrepreneur didn't intentionally print incorrect info.
These investors seeking $178 million from Entrepreneur are totally misguided in this lawsuit and I will be flabbergasted if a judge agrees. The blame lies with the owner of Agape not the magazine.