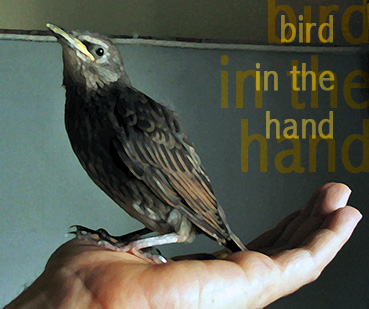 Orphans run in our family. Michael, my husband, was three months old when he became one. His mother's heart exploded as the car she was riding in skated off an embankment on Christmas Eve. The only evidence he ever saw of his father was the photograph he once found hidden in a drawer—it showed his mother's swollen, eggplant-colored face, the work of his father's hand. His grandparents, griefstricken shells at the loss of their only child, made a passing effort at raising Michael. Then his grandmother died of a heart attack. He was nine.
After that, Michael lived with a series of families, some more dysfunctional than others. The most profound impression was made during his shortest stay—a two-week stint with Mrs. Love, a kind but firm black woman who welcomed the twelve-year–old Michael into her own family when a school counselor encouraged him to flee the abusive relationship his grandfather had married into.
There's far more to that story, but this isn't really about Michael—or me, for that matter. It's about the creatures who came into our lives, unbidden, choosing us as their family when we had no intention of adopting. As much as we loved animals, we had decided to wait until we could afford our own home—which means we would have still been waiting to this day. We live in a book-stuffed, claustrophobically cluttered two-bedroom apartment with the hope of owning our own home as distant a possibility today as when we married seventeen years ago.
When the first orphan called to me, we were living in southern California. It was in the mid-nineties, and I was completing my college degree while working full-time in the English Department. One evening after work, I decided to walk down the road and intercept Michael on his way to pick me up.
That's when one of the defining coincidences of our life occurred. I would usually sit on the steps under the wisteria, waiting for our little pickup to zip around the corner into the parking lot. That evening, however, I inexplicably decided to walk away from my office to catch Michael as he was driving in. And he inexplicably decided to take a different route to our meeting spot.
As dusk descended and the air grew crisp, I waited for Michael to arrive. And waited. While waiting, I started to hear a familiar sound, so faint I thought I might be imagining it. I became still, listening more intently.
"Mew . . . mew," I heard. "Mew . . . meow . . . Meow, meow! . . . MEOW!"
I decided to walk in the direction of the cries. The meows grew more insistent as I approached the campus art gallery. The sound was louder, but I still saw no sign of a cat.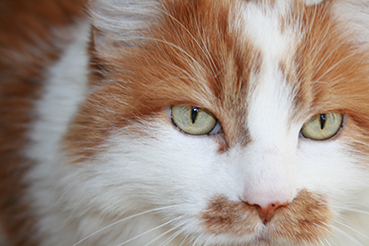 Suddenly, I looked up. "Meow, meow, MEOW, MEOW!" came excitedly from the wooden rafters. A long-haired kitten with a Santa Claus beard belly and fiery cinnamon-orange ears, back, and mustache dashed over to the edge of the rafters, gazing down at me. Our eyes locked. I stretched up my arm to him, unable to reach.
The rafters were eight, maybe ten feet high. I glanced around to find a way up. Climbing onto a round stone sculpture of a woman, I balanced myself on her back and leapt onto the railing that encircled the gallery entryway.
"Meow, meow!" the cat enthusiastically greeted me as I reached up and grabbed him by the scruff of the neck. I tucked him firmly against my chest and hopped down to the concrete below.
"There you go!" I told the several-month–old cat, petting him as he curled around my legs, fixing his grateful eyes on mine. "All better. You can go home now."
I started walking back toward my building. So did the cat. I stopped, pointed him in the opposite direction, and continued on. I glanced back. He was shadowing me again.
"It's time to go home now," I nudged him in the direction of the residences fringing the campus and started walking away more quickly. I looked back. He was trotting behind me. "You are stubborn, aren't you?" I laughed.
By the time I reached my office, it was nearly dark. Michael, it turns out, had been waiting patiently the entire half-hour or so I had been waiting patiently to intercept him on the road. If I had waited for him on the steps like I usually did every evening, this cinnamon-and-white kitten could've been stuck on the rafters all night, and we never would have discovered this member of our beloved karass.
I ran up to the driver's side of the car and told Michael what had happened. "He won't stop following me. I think we might have to take him home," I said.
We had both resisted the temptation to adopt a cat for years, and we worried taking this one with us would prevent him from finding his real home. Michael got out of the car and picked the cat up, walking him over to the lawn and away from the truck. He walked back to the truck, but before he could get in, he noticed the cat had run up behind him. Michael picked him up again and placed him even further away. He raced back and jumped behind the wheel, turning the ignition key. The lights flashed on. Before us, in the middle of the road, an orange-and-cream–colored kitten stood firm, unblinking in the gleaming headlights.
We both laughed. It seemed there was no other choice but to take him with us. I opened the car door and hopped out. He ran up to me and looked up adoringly. I picked him up, climbed into the passenger seat, and placed him on my lap. He immediately broke into a vibrant purr, curling into a ball as we started the fifteen–minute drive home.
Once home, we improvised a litterbox with some shredded newspaper in a box. This feisty, affectionate cat preferred more cushiony accommodations. That first night, he went poop on the papasan and pee on the couch. Michael and I didn't mind. We had already fallen in love with this gift of purring sweetness.
Our hearts rended a little the next morning, when we knew we would have to seek out his original owners. I brought him to work in hopes that he would head home, but he just hung outside the French doors beside my office desk, gazing inside at me until I finally opened the doors. He ended up sleeping curled up on my lap as I worked, and later, I remembered peeking into the English Department chair's office to see him curled up on the desk. I smiled.
Then it was time for the hard part. I put out a campus voicemail and then walked to all the neighbors' houses, asking if they were missing a cat. With each new "No," a little seed of hope began to blossom in my heart, as the chances of him having owners who were missing him grew thinner. I knew there had been litters of ferrel cats on the campus. He looked about seven, maybe eight months old. Perhaps he was a campus kitten.
It was Friday and time for the weekend. We decided to give him one last chance to return home. We placed some food on the porch outside my office just in case. Then we started home, worried to the point of heartbreak.
As we pulled into the parking lot on Monday morning, we found an exuberant cinnamon latté cat waiting outside the French doors. He zoomed up to us, thrilled his new parents had returned. He knew as well as we that he was coming home with us.
As the days passed and the chances of someone claiming him diminished, we began to grow more hopeful that this was a permanent adoption. We bought a proper litterbox, and Boland joined the family.
* * *
Eleven years later, I was working at a different academic institution, this time a university in the Pacific Northwest. Michael, Boland, and I had been living in Oregon for nearly seven years. We had found our way home.
One afternoon, I was walking through the auditorium down the hall from my office. I glanced down and noticed a small black lump on the floor. I froze, thinking it might be a bat, having just witnessed a bat flying up and down the hall a few weeks prior. Slowly, I moved toward the lump. It began waddling over to the first row of seats.
Taking a closer look, I soon realized it was a young bird, covered with a soft gray fuzz and not enough feathers to fly. Out of the corner of my eye, I saw another lump. Two gray fledglings tripped as they drew closer to one another, huddling under one of the auditorium seats. One soon wobbled off to hide under the overhead projection cart.
"How did you get in here?" I asked, glancing up at the decorative hole in the ceiling, where their nest appeared to be. It was fledgling season, and I could still hear chirping coming from thirty feet above. The ceilings were so high, the only way to reach them was to build scaffolding, which they had to do each summer during their annual painting and maintenance. But this was spring, and that wasn't an option. I wouldn't be able to return the baby birds to their nest.
That's when I shifted into high-gear rescue mode. I raced down to my office to grab a box and perform a rapid Internet search. My colleagues—Greg, Stormy, and our intern Shannon—joined the flanks as I dashed back down the hall to gather them up. Greg, a graphic artist, described their beaks as "being possessed of a yellow racing stripe," and we all admired them as the fledglings looked up at us wonderingly.
Stormy and Shannon stayed behind to watch over the birds, placing them in a Kleenex-lined box while I ran back to my office to make some phone calls. First, I tried the Biology Department, hoping to find someone on campus who could come to the birds' rescue.
"Just put them in the bushes," a lab aide advised me, saying that's what the resident expert had told him to do in past cases. I got the same advice when I tried calling Physical Plant. Next, I called the Humane Society. They referred me to a local wildlife rescue hotline. I left a message.
Meanwhile, I would need to find something for them to eat. I wasn't even sure what kind of birds they were. I guessed they might be sparrows and did a quick google for information on nursing baby sparrows back to health. One article recommended preparing a scrambled egg paste.
It was 3:00 in the afternoon. Where was I going to find scrambled eggs at this time of day? I called the dining hall and various food outlets on campus. The chef told me they were cranking on a catering project, but I was welcome to come use the kitchen to scramble an egg if I got desperate. I also tried calling some animal-loving friends I thought might be able to help, but a posse of kitties prevented one from helping while another lamented past failures at bird rescue before graciously declining. Phone call after phone call ended in disappointment. I left another message on the wildlife rescue hotline.
Five minutes later, a volunteer returned my call, asking me to describe the birds. "Do they have long, dark beaks, with some yellow in them?"
"Yeah, that sounds like them," I said, relieved he had helped me identify them so easily.
"That means I can't do anything to help. Starlings are a non-native invasive species, and state law prohibits us from rescuing them," he explained.
Being relatively ignorant about the bird world until that afternoon, I didn't even know what he meant by "non-native invasive species," but it sounded like an awful stigma. Bad enough that the state had to introduce a law to prevent people from rescuing their helpless fledglings. Bad enough that someone committed to helping animals and birds would willingly relinquish them to their fate.
I was running out of options. Whatever happened, I knew I needed to find food for them. I hung up the phone and took to my feet, sprinting across campus to the student union, where I tracked down a half-day–old breakfast burrito.
On my way back from the union, I stopped in at the science building, where I swept through the labs in search of a sterile eyedropper. I caught two science professors in the hallway and urgently explained my need for a clean eyedropper. One of them led me to the supply room, where he provided me with one disposable and one glass eyedropper. Shouting back a thank-you, I sprinted back to my building, where I frantically concocted a scrambled egg glop before racing back down to the auditorium, where Stormy and Shannon were faithfully bird-sitting.
As soon as the fledglings saw the paste-filled eyedropper, they resurrected from their groggy state and started squawking, gaping for food. I couldn't get the egg slop into the eyedropper fast enough. It was so lumpy, the paste kept clogging the eyedropper as the anxious beaks gaped impatiently before me. Sometimes, it would take so long to unclog, they'd start dozing off before I could finish, waking just as the refilled eyedropper neared their beaks. After several rounds of feedings, they collapsed in the box corners, their appetites finally sated.
I didn't know at the time that feeding baby starlings with eyedroppers is a bad idea, since one squirt of liquid into their lungs could result in a serious respiratory infection, pneumonia even. Fortunately, the feedings every twenty to thirty minutes went smoothly, and the fledglings seemed perfectly content to devour their scrambled egg formula by eyedropper.
The day was drawing to a close, and I still hadn't found anyone to rescue the birds. I thought the best I could hope to do was to give them hearty feedings and then find a safe haven for them outside, where they might be rescued by another starling family. Whatever gave me this desperately optimistic notion I don't know, save for the unconscious avoidance of the moral terror that would result from relegating these orphans to a grim fate.
Greg told me he knew of a quiet, lovely spot on the west side of the building. I walked downstairs and out to the warm spring evening, both fledglings still resting in their box. I fooled myself into believing this must be the right thing to do, to put them back into nature, where they belong. I entrusted them to God, my heart rending as soon as I set them down in the flowerbed. They looked a little shivery, so I draped napkins over their fuzzy bodies and placed some egg mixture beside them, first administering a few eyedropper feedings. They appeared so lethargic, I was almost certain their fate was sealed, worrying they had already gone too long without food or water to recover from dehydration. Greg came out to see how they were doing. I could barely speak. We turned around and walked back into the building, tears streaming down my face as I trod heavily up the stairs, each one cutting into my heart as I wondered what to do.
I called Michael, my voice wobbling with a putrid mixture of guilt and heartbreak. "Is there any way to return them to their nest?" Michael asked.
"No, the ceilings are too high," I explained. "And nobody's willing to take them. Everyone just told me to put them out in the bushes. What should we do? I can't just leave them out there," I pleaded.
"Well, of course, we'll just take them home!" Michael said matter-of-factly, as if the solution was so obvious. Why it had never even occurred to me that we could bring them into our apartment I don't know, except I'm sure it had something to do with worrying about how Boland would react.
"We will?!" I cried, ecstatic with relief. I told him to get there as quickly as he could. As soon as Michael arrived, we headed down to the west side of the building with the birds' box, lined with fresh, soft Kleenex.
On the way home, we stopped to pick up some baby bird hand-feeding formula at the co-op. Again, I would later learn this was far from ideal—the heavily corn-based diet would not provide the proper protein/fat balance required by starlings, especially developing ones. I've since learned that canned dog food—Natural Balance liver, for example—is a far healthier alternative.
But the birds were starving and eager to swallow whatever we put down their hatch. We kept up the feedings every twenty to thirty minutes, allowing them to rest quietly in between. We'd placed their box up in our bedroom, closing the door to prevent the curious Boland from entering. When off feeding duty, we'd race downstairs to research how to care for orphaned starlings.
The Starling Talk website was a godsend, and we soon discovered the rich subculture of starling-lovers out there. We learned the fledglings were in their imprinting phase, which meant they would come to view us as their parents if we continued feeding and caring for them. Research ultimately suggested that releasing them at this stage of their development would put them at risk of almost certain death. Having not yet been taught to forage, they would be unable to feed themselves. They were too young to fly and join another flock of starlings. They were quite helpless, and Michael and I naïvely accepted the awesome responsibility of caring for them.
Hailing from the mynah family, starlings possess an exceptional intelligence and can even learn to talk, as books like Arnie the Darling Starling poignantly reveal. Because starlings are a non-native invasive species, a permit is not required for adoption of this wild bird. Some people even intentionally capture fallen fledglings during their imprinting phase, since their highly social demeanor and intelligence make them wonderful avian companions.
That first night, we were still so ignorant, we weren't even sure if starlings slept through the night, or if we needed to continue feeding them. Snatching cat naps in between more distanced feedings, we woke the birds several times during the night to offer them food. They swallowed it greedily, but we now realize it probably would've been better to just let them sleep through the night.
Those first couple of days were a marathon of feedings, research, and practically round-the-clock care. We placed a hot-water bottle under a cushion of Kleenexes in their little nest-box, making sure they would be warm enough through the night, since they didn't have all of their feathers in to protect them from the cold.
On May 18, 2006, I made my first bird journal entry:
Sitting with the Starlings
Franny and Zooey
Five days later, I made these notes:
Zooey, then Franny
first hop, perch, jump
onto edge of bin
then to Michael's hand
& again . . .
Coming home, feeding time
Zooey hops to edge,
into my hand.
Feeds, falls asleep against
my breast.
Every morning, we awoke to the grace of these tiny bundles of life, gaping their racing-striped beaks and calling for us to feed them, to nurture them. There was no question about their belonging. Our family of orphans had expanded to embrace two more.
Note: This is the first chapter in an ongoing series. New chapters will be added to the left-hand column if you wish to continue reading.