When you have never cared for beings so fragile you don't know if they'll last the night, you find yourself surprised by resilience. Not only had Franny and Zooey survived a thirty-foot tumble from their nest in the ceiling, but they had gone for several hours without food or water—not to mention the warmth of their mother's wings enfolding their half-naked bodies. They had weathered our first day together, but we prepared ourselves for heartbreak as we tucked them in for what I would later learn was the most vulnerable period in a fledgling's rescue: the first night.
The next morning, we anxiously climbed the stairs and tiptoed into their room. As we peered over the edge of their makeshift nest, Franny and Zooey gazed back at us, their bright beaks gaping.
Those early days together were full of firsts. On May 26, 2006, a little over a week after Franny and Zooey's arrival, I noted:
first splashing
Such a small note for such a significant moment in their lives. Anyone who knows about starlings knows they love to splash. They get downright ecstatic. If only I had thought to videotape that first splashing. But then I wouldn't have been fully present to savor that proud moment with them. Of course, now I can't recall the moment in any degree of detail, so I still have regrets about not recording it. I now have to wonder how exuberant they were. Was it just a tentative dip of their beaks into the water? Was that the first drink they'd taken on their own? I suspect it was, as my journal entry from May 27 implies they didn't actually hop into the water and engage in full, exclamation-point splashing until the next day:
first bath! (splash!)
It was a week before I finally persuaded Michael to let me take pictures of them. He worried the camera would scare them, but as fledglings they were less fazed by the introduction of a strange object than they would later be as adults. They hadn't yet learned to be weary of newness. Most of the pictures I did take turned out rather poorly, since I was so self-conscious about traumatizing them and just caught a few snatches before guiltily putting the camera away.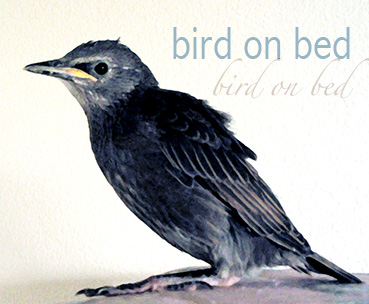 Michael and I guessed from their respective sizes that Zooey was perhaps a day older than Franny. He was a tad larger and always a day or so ahead in his feathering. We never determined for certain how old they were when we first found them, but judging from this progression of photos at Starling Talk, I would put them at about nine or ten days old. They had most of their feathers in, but there was still quite a bit of pink flesh visible underneath, and you could see little pin feathers starting to poke through their delicate skin.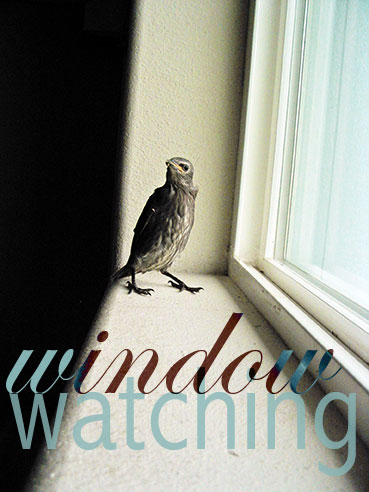 We also guessed that Zooey might be a male because he was both larger and more aggressive, while the petite Franny struck us as more female. Gender stereotypes, perhaps, but given how difficult it is to sex a starling, we went with our guesses for the time being, knowing we might need to amend our assumptions later on when the distinguishing signs became more pronounced.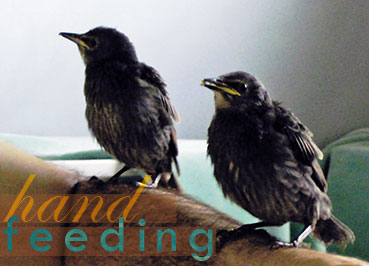 Even after a week, the fledglings still relied on regular hand-feedings, although the intervals became further apart as they aged: from 20 minutes, to 30, to 45, and eventually, an hour. Because Michael works at home, he was able to attend to this relentless schedule of feedings during the day, while I took over the evening shift when I got home. On May 28, I wrote:
Mama on feeding duty
while Daddy takes a
long-needed nap . . .
We had read that whoever spends the most time feeding the fledglings during the imprinting phase is the one the birds will tend to bond with the most, so I worried they would develop a preference for Michael. Thankfully, Franny and Zooey were nondiscriminating, and they were just as delighted to balance on my arm while I stuck little globs of formula down their throats as they were on Michael's.
Franny and Zooey quickly became integrated into our daily lives. In what we once thought a watertight schedule of work and nonstop creative projects, we were surprised to find pockets of time to feed, water, and play with the birds. Their habits were soon definining our own domestic routine. We woke with birdsong shortly after dawn, ascending the stairs to greet Franny and Zooey. The days were punctuated by feedings, waterings, Kleenex-changings, splashings, and playtimes. Since starlings are social birds, we tried to spend as much time as possible with them. We worried Boland would start to resent Franny and Zooey, but he proved astonishingly magnanimous.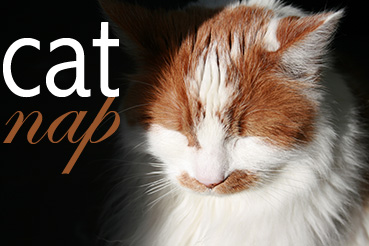 Despite a decade of habituation to life as an only child, Boland joined us in welcoming his new feathered siblings into our home. This shouldn't have come as a surprise given his equanimous and laidback personality, but Boland's practice of chirruping at the birds behind our apartment meant complacency was no guarantee. At first, he displayed a modicum of curiosity as Michael and I disappeared behind closed doors for feedings. He would sometimes linger in the hallway quietly while we visited with the birds. And we did have to suffer a day-or-two–long meowing phase after he caught a glimpse of Franny and Zooey just as the door was closing behind us one time. That spell passed, though. He soon understood these new creatures were part of the family, and he resumed his standard cat duties with lackadaisical aplomb.
Boland didn't even get jealous when Franny and Zooey got their own room. To protect the birds from their curious brother, we relinquished our bedroom that first night, moving the mattress downstairs to the livingroom/office area. Michael bricolaged a nestbox out of a giant cardboard box, and the birds slept in fledgling-sized wicker baskets in two corners of the box.
Each basket was lined with fluffed Kleenex, which we changed as regularly as diapers. Fortunately, fledglings have a habit of pooping outside the nest, so they generally deposited their self-contained sacs of urine (white) and poop (greenish-black) on the newspaper lining their box. On May 28, I noted in my journal:
Nighttime: the birdies have
outgrown their nests—
now blankies on the windowsill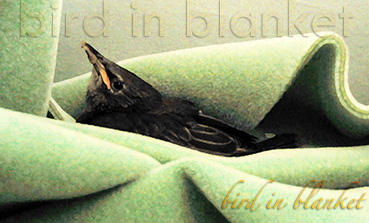 We secured their window nests to avoid any more Jack and Jill tumbles. Franny and Zooey weren't yet ready to fly, but they would be soon. For now, they were still toddlers, waiting to be tucked in with a bedtime lullaby. On May 26, I recorded the secret to sending the birds into a fast sleep:
drumming the starlings to sleep
We were just beginning to learn the importance of music in their lives. They had already begun to sing with an amazingly rich repetoire that seemed to expand daily. There was one piece in particular they liked to sing the most. Michael once said they were telling the story of how they came to be here. The long, descending whistle that sounds like a falling bomb is the part where they fell from their nests in the ceiling. He didn't say this, but I think the gentle, hush-hush whispering is for when Michael would drum them to sleep with a paradiddle lullaby. And then there's the chorus of screeching hallelujahs, ascending in volume with each repetition. When I asked Michael what that one meant, he said that was the part in the story when we opened our door to Franny and Zooey for the first time, and they realized, at last, they were home.
Note: This is Chapter 2 in an ongoing series. If you missed the first chapter and would like to read more about our family of orphans, you can do so here. Future chapters will be added to the list in the left-hand column as they become available.