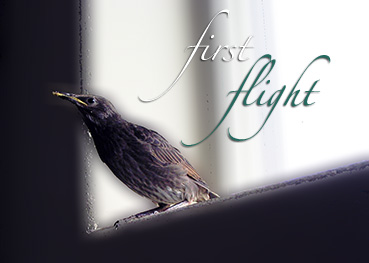 Something is wrong. I've flipped through my first bird journal three times now, but to no avail. How could that be? How could I possibly have been so negligent? Did I really fail to record what in hindsight seems perhaps the most significant milestone at this age: their first flight?
The only documentation I can find is the closing paragraph of a speech I wrote a week after Franny and Zooey joined our family. In this speech delivered by a colleague on my behalf, I explained why I couldn't be present to join in honoring a friend who had done so much to help the vulnerable in our community—we were too busy caring for our own vulnerable creatures:
"Just one week later, the starlings' adult feathers have come in, and they have begun to flap their wings. Already, they are able to stand without wobbling, run without tripping, and fly a short span across the room where we've set up a sanctuary. Not long from now, they will be even more independent and will be able to feed themselves, unassisted. Like the countless orphaned starlings Rosemary has nurtured over the years, they will soon be able to spread their wings, and take flight."
What I do remember is how quickly the fledglings were growing up. Every day, more of their feathers were coming in, and they were beginning to exercise their new wings. At first, they didn't have enough feathers or strength to become airborne. It was obvious this stage wouldn't last long, however, and we realized they were on the verge of flying the coop—which at first was just a giant cardboard box with the top cut off.
We began researching cages for starlings. The Starling Talk website outlined the following criteria: "Store bought cages should have bar spacing of no wider than 1/2" or 5/8". Very large cages are best for starlings, as they need room to fly!" We read elsewhere that the bars should be vertical to avoid damaging their wings, which could get caught in the criss-cross pattern of some styles of cages. On May 25, we ordered a black double flight cage, which we hoped would arrive before they actually started to fly.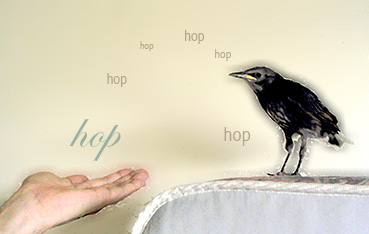 During the weeklong interval before the cage's arrival, the fledglings' abbreviated hops graduated to long jumps. They would stand on the edge of the mattress that was propped against the wall and practice jumping onto Michael's hand. Soon, their wing-flapping grew stronger and more graceful, and one day while I was at work, Franny and Zooey each made their first flight.
Such is the heartbreak of the working mother, and I now realize that is why this crucial moment is missing from my journal. When I got home that evening, I watched the birds stand on the window ledge, revving themselves up for flight. They would get a fierce look in their eyes as they concentrated on the target, summoning the strength to vault through the air to Michael's waiting hand.
There was something so extraordinarily inspiring about that faithful leap. I wonder, how is it they knew how to do this? How is it they knew their wings were made for flapping, their feathers for flight? And what a humbling experience to watch these wild creatures fling themselves boldly into the air, expecting to be caught. Trusting their Daddy's hand not to move. Alighting at their destination, they found it exactly as they had believed it would be.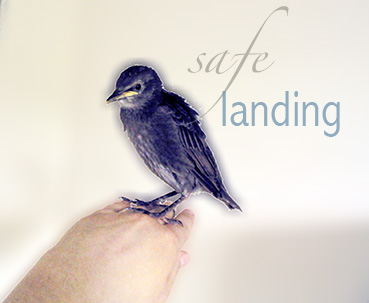 As delighted as we were by this achievement and their growing confidence, we were dismayed to realize how much more trouble they could get into by flying about the room at will. We decided it might be safest to get a small, intermediary cage at a local pet store as we waited for the flight cages to arrive. On May 27, I recorded this cryptic note in my journal:
excursion downstairs
in the C
The "C" was the small cage, and I will never forget the terror they exhibited when we placed them in the cage and carried them downstairs. We draped a blanket over the cage to calm their frenzied flapping, but we could still hear their panicked breathing as they clung to the bars of the darkened cage. At the time, we felt it was necessary to remove them from the room—protected from Boland by the cage—so Michael could contend with the ant brigade that had recently marched into their room through the upstairs bathroom heater vent.
Under normal circumstances, Michael and I avoid killing all life forms, however small, and we have often adopted unconventional, nonviolent measures to rid our kitchen of invading ants or fruit flies. In this case, however, we felt an urgency to release the birds from their cage as soon as possible, and the only way we could see to remove the ants quickly was the dreaded vacuum cleaner. The only reason we didn't let the ants alone in the first place is we worried they could bite and possibly harm the birds (we later learned the acid from ant bites can actually stunt pin feather growth). So we deluded ourselves into thinking that, perhaps, they could survive getting sucked into the vacuum's chamber. Our delusions were soon proven as such. We still feel guilty about the legendary ant massacre of May 2006.
Ten, maybe fifteen minutes later, we gently carried the blanket-covered cage back up to the birds' room. We removed the blanket and opened the cage door. They anxiously fled to freedom. That was the first and last time the birds ever spent time behind bars.
On June 6, 2006, I wrote a longer-than-usual entry about the arrival of the double flight cage, which was really two cages joined as one:
"The flight-c's arrived yesterday. That's what we're calling them, so as not to alarm Franny & Zooey. I worry, though, that nearly three weeks of free reign in the back bedroom will make the C-A-G-E-S—however capacious—all the more agonizing. Franny, perhaps, will appreciate the sanctuary away from her bully brother (Zooey! I thought we taught you mutual respect, equality, and love! You're supposed to support your sister—not step all over her and attempt to peck out her left eye!)."
By now, however, Franny and Zooey were already accustomed to their independence. Having witnessed the trauma they experienced when confined to a cage, we could never bring ourselves to subject them to that horror again. So instead, we set up their room as a giant aviary. We removed all potential hazards from the space, leaving a card table with their food and water and covering the floor with newspaper, blankets, towels, and tarps. Michael strung rope perches across the room and bird-proofed everything in sight. The flight cage remained unassembled in the hallway, while the birds flew freely about the room. Their domestic habitat was growing wilder by the day.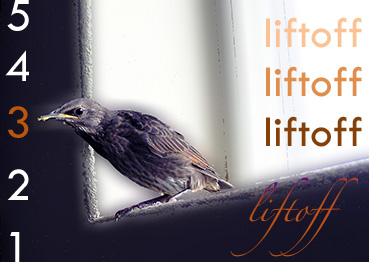 It wasn't long before the birds' territory expanded even further. They didn't seem too happy with the idea of being locked into their room, so Michael turned one of his old 4x4' paintings into a hinged door for the hallway. It served to keep Boland safely on the other side, while also giving Franny and Zooey a waystation for perching on their way to the bathroom, where we had installed full-spectrum UV lights and set up a splashing station for them. By the time we turned the second bedroom/storage room into a mealworm farm, the entire upstairs of our small apartment had gone to the birds. Yes, Franny and Zooey are spoiled. Blissfully so.
As I write this three years later, it's hard to remember a time when flight was new to Franny and Zooey. They take flying jumps between the bedroom and bathroom so often—from shower rod to rope perch, hallway gate to food bowl—it's strange to think of them incapable of scaling the tall sides of their first cardboard crib. They went from tucked in, partially feathered lumps to magnificently plumed birds fully capable of tucking their own selves in, thank-you-very-much. No more singsong lullabies for the fledglings, who are just as happy singing themselves to sleep. They still go through spells where they act like Mama's and Daddy's babies, flying after us if we head for the stairs before they're done playing. Like this morning, when Zooey flew whirligigs over my head twice when I tried to leave the bathroom. So I returned, and we sang together, sunned, and even splashed a bit later with Franny. Although the birds are full-fledged adults now, they still enjoy spending time with their parents. It's joyful to watch them become more independent with each passing day, still expressing love for us while freely, exuberantly, taking flight.
Note: This is Chapter 3 in an ongoing series. If you missed any of the previous chapters and would like to read more about our family of orphans, you can click on the appropriate links in the left-hand column.