OSHAWA, Ontario -- General Motors has announced plans to close one of two assembly lines at its Canadian plant that once formed the core of a Canadian labor force numbering more than 40,000 workers. According to a report in The Globe and Mail:
"The Canadian Auto Workers union received official notice Friday that GM will begin shutting down its consolidated assembly line in the fourth quarter, which will wipe out 2,000 jobs, reducing the number of GM employees in Canada to about 8,000."
Among other adjustments for the automotive giant that received bail-outs from both the United States and Canadian governments, downsizing the Oshawa operation will mean that the Chevrolet Equinox crossovers currently built in Canada will instead be built in Spring Hill, Tenn., where GM is reopening a plant it closed following its Chapter 11 restructuring in 2009. Workers at the Spring Hill plant will earn wages of about $14 an hour with minimal benefits pursuant to an agreement between GM and the United Auto Workers union, a sharp contrast to the prevailing hourly wage of about $32 per hour for Canadian Auto Workers employees at the Oshawa plant.
The CAW's Chris Buckley, president of Local 222, called GM's wage-cutting a "race to the bottom" and maintains that should the CAW agree to such cuts, Canadian auto workers would soon be expected to work for the $6 an hour GM pays Mexican workers.
In related news, the Canadian Parliament is considering a measure to build a fence along the country's 5,500-mile-long land border with the U.S. to prevent the unlawful entry of American job seekers willing to work for a pittance at jobs most Canadians consider beneath them. Getting ahead of federal authorities, the sheriff of Slave Lake, Alberta, (
that's a real place
) has instructed his officers to begin checking the immigration status of any persons they encounter who are at least 40 pounds overweight, show signs of recently visiting a tanning booth, or correctly pronounce the diphthong in words like "house."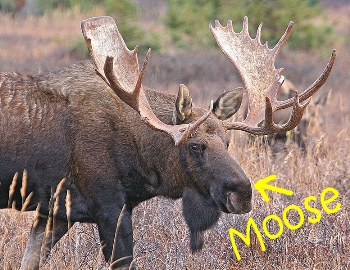 The rising tide of illegal American immigrants has spawned ghetto neighborhoods in most Canadian cities. In those so-called "sapback villages," American immigrants play their native music in the streets, engage in such traditional pastimes as hog-butchery, child beauty pageant judging and festooning their front porches with star-spangled bunting. While men from such neighborhoods shuffle off by dawn's light to the grim toil of their daily lives -- parking cars, washing dishes, blowing leaves, stuffing pot pies -- the women and children are left behind in crowded, unsanitary housing where they are the only people in Canada who don't get everything for free just for being alive.
American immigrants enter Canada by a number of means: Some come on foot, skittering along makeshift rope bridges spanning the icy chasms that separate the world of their birth from the world of their ambitions. Others come by leaky canoes, poled along by human traffickers known as
kayotes
. Some stow away aboard Tommy Hilfiger trucks bound for Toronto's fashion district. Others just drive, there being no laws to stop them since Canadians aren't intrinsically afraid of their neighborhoods to the south.
Said Donald Sutherland, a well-known Canadian who has aged really well, "I would hate to see the rancor around this issue rise to the level of anti-American sentiment, but that's a real danger." And indeed in some corners of Canada one can already see signs of that sentiment, including in Saskatoon where the manufacturer of a line of tee shirts bearing the slogan "Yanqui Go Home!" is completely sold out with weeks of back orders.
According to Sutherland, "However we may feel about our American friends, the fact is we do have to consider the issue of border security, and honestly, without a sensible policy, we could find ourselves overwhelmed by numbers. Canadians don't want to see anyone suffering, but at a time when we're finding it difficult to live up to our promise of a McCormick reaper in every barn, we just don't have the resources to care for the needs of millions of undocumented Americans."
But Sutherland's is not the only opinion on the matter. Said one average working stiff in Spring Hill, Tennessee, "I don't have time for your flippant satire. I'm just glad we're getting some jobs back in this country."