SAN DIEGO -- As we all know by now, Mitt Romney went and said some things at a private fundraiser in the Boca Raton home of Sun Capital front man, bon vivant, man-about-town and maker of fortunes, Marc Leder, that he wishes the world hadn't found out about. But thanks to the folks at Mother Jones the world did find out and my oh my has it caused a stir for Romney and the Romneyites.

Romney said about 47% of us Americans that we "are dependent upon government... believe that [we] are victims... believe the government has a responsibility to care for [us]... believe that [we] are entitled to health care, to food, to housing, to you-name-it," and that we "are people who pay no income tax."

I don't know about you, but I take umbrage.

The Rominee said a whole bunch more that I found equally umbrageous, but the one thing he said that caught my attention was that it wouldn't be a bad thing to be Hispanic. Referring to his father he said, "Had he been born of Mexican parents, I'd have a better shot of winning this," adding, "[W]omen are open to supporting me," but "we are having a much harder time with Hispanic voters..."

So I started ruminating on that cud of insight and concluded that on one issue at least, Mitt might be right. I think my life too would be a good deal easier if I was Hispanic and here are five reasons why.

1. Personal Attention: I came back from a sojourn in Tijuana recently with a pocketful of pills not covered by my health insurance and the Customs agent gave me not so much as a glance. I wagged a passport at him, he asked what I had to declare and I answered, "I declare, officer, you have a trusting face," wherewith he waved me into the U.S. of A. without incident. I felt utterly insignificant and rudely dismissed.

Now had I been Hispanic, boy howdy would things have been different! For Hispanic border-crossers the whole Immigration and Customs Enforcement bureaucracy springs into action. If I were Hispanic, they'd have asked me my birthday, where I lived, why I had gone to Mexico and all manner of questions intended to ensure that I'd had a nice trip and to update their records so I could be included on the mailing list for their monthly newsletters. They might even have taken me into the private recesses of the border complex so I could see first-hand my country's security apparatus in action. I've crossed that border a hundred times and I have not yet seen anything behind a closed door. After waiting in line for two hours to walk across a filthy border, Hispanics get treated like people. I get treated like an interruption.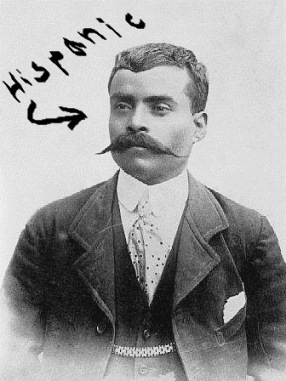 2. Less Traveling: Were I Hispanic, I'd have a built-in excuse to skip out on all future road trips to Arizona. Seriously.

3. Ease of Identification: Whereas now I must answer, when asked about my ethnicity and family history, "Well, I'm a 13th generation American on one side, part Cherokee on another, of mostly Welsh and English descent with some Dutch influence..." and on and on, were I Hispanic, whether from Peru, Guatemala, the Caribbean or wherever, people would be perfectly comfortable referring to me as, "That Mexican Guy."

4. Better Employment Options: Try getting a job as a grant writer and part-time author of pithy satire. It sucks. Believe me. Everyone and his brother is out there looking for a gig, partly because anyone who can't do anything very well figures he or she will take up writing, and partly because there just aren't that many jobs for shirkers like me.

Would that I were a lucky Hispanic! One finds few competitors in the fruit-picking, dish-washing, hotel-cleaning and meat-packing industries. Those are wide open fields in which one can enjoy the freedom that comes with working under-the-table with no benefits. I could get myself a job washing pesticides off strawberries and know that I could work 12, 14, 16 hours a day without some human resources overseer insisting that I be compensated at time-and-a-half. If I left my job, willingly or otherwise, there'd be no documentation of my ever having been there and thus no real connection between me and any form of invasive regulatory agency like the Occupational Safety and Health Administration or state offices of Workers Compensation or Unemployment Insurance and what-not. No Social Security operatives would ever insist on knowing my personal information or forcing me into the sedate life of retirement. I could work away to my death in the company of my friends, their wives and children, all without having to fight for a job against a bunch of entitled shirkers like grant writers, bloggers and the like.



5. Frequent Breaks: I think the best thing of all about being Hispanic would be the option, whenever I felt the need for a quick nappy-poo, of pulling up the nearest cartoon cactus, leaning back against it and placing my head on my knees while I sacked out under the spreading shade of a gargantuan sombrero. I work in an office and for me there ain't no stinkin' siestas. My boss catches me catching some z's and there's hell to pay. But if I was Hispanic and decided to grab some shut-eye, my boss and co-workers would leave me in peace and whisper to themselves, "I think the emphasis on leisure in their culture is really quite charming," and other not at all derisive, elitist shit.

My wife would benefit equally from the Hispanic advantage. She's a White woman who runs a medical office and works herself silly all day every day. But were she a Latina and felt a little tuckered around noon she could draw up a corner of the couch and watch a telenovela, exclaiming "Ay Dios mio," when Claudio reveals to Silvia that the man she thought was her father is actually her nephew, all while she's supposed to be cleaning Mitt Romney's house.

Those are the first five things that leap to mind. I'm sure there are many other advantages to being Hispanic, the sorts of things I can't be expected to appreciate fully because unlike Mitt Romney I don't know the full extent of the disadvantage facing a man with hundreds of millions of dollars in personal assets, a man born to the burden of great wealth, great opportunity and great privilege. Had I even the faintest notion of how difficult things must be in the course of an ordinary day for a man like Mitt Romney, then perhaps I'd know just how fortunate we would all be, really, to be Hispanic.

I think this evening I'll ask my friend Jorge what he thinks, after he gets home from the Obama rally.

[Note: I am indebted to my friend D.A. Kolodenko whose idea I stole for the foregoing.]