Aristotle described 'philia' (τὸ φιλεá¿–n) as:
"wanting for someone what one thinks good, for his sake and not for one's own, and being inclined, so far as one can, to do such things for him" (1380b36–1381a2)
fellow-voyagers and fellow-soldiers (1159b28)
lifelong friends (1156b12)

This diary entry was written on 8/29/07 and is dedicated to my lifelong friend and fellow-voyager O. Because last night I could not help but be reminded of how very much you mean to me. And how precious it is to find in this world someone whose spirit fits you as if they were made of your own skin.

The one who will hold your hair out of the way when you throw up.
The one who will not tell you that you have toilet paper stuck to your shoe, but will point it out to complete strangers so that they can laugh at you too.
The one who won't wipe the bottle before drinking after you.
The one who will let you use her toothbrush because you stayed up all night drinking and dancing to Abba songs-- and are now late for work.
The one whose humor is a perfect match for your own.
The one who thinks that Champagne straight from the bottle at 9:30 in the morning is a perfectly lovely way to start your vacation.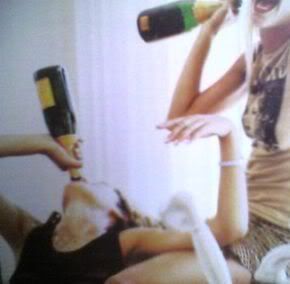 August 29, 2007
Of everything that I have ever hoped and dreamed for my daughter; love, happiness, self-confidence, wisdom, and a hunger for personal growth, I think the thing I have hoped above all else is for her to have a friend-- at least one, who shares a bond with her that is unfathomable to most in its depth and selflessness. A soulmate and kindred spirit who matches her own vivacious and courageous lust for fun and life. In this we have both been very fortunate. Finding our most satisfying and selfless love in deep friendships.

I know my writing now may sound rather light-hearted--
but it is not.

I am writing now with tears kissing my eyelashes and a sense of juxtaposition that I never thought possible. I am in mourning. Mourning for my daughter, and for another mother who will not be able to kiss her daughter goodnight tonight.

Cheyenne has lost her 'philia'. Her O.

She was just here in this house with us yesterday.
Cheyenne spent the night with her and they stayed up late into the night laughing, talking about boys and taking pictures. As I look through those pictures tonight what I see breaks my heart. I see that girl who was a perfect match for my own daughter in her wit and absolute love of life-- and fun. They were positively raucous when they were together.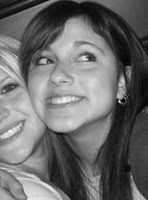 She passed away last night in the kitchen of her parents' home.
Heart failure. The paramedics could not revive her.
She was 16 years old.

I have spent this day trying to console Cheyenne. That has not been possible. I understand that well. I don't imagine she'll be all right for quite some time.

We're helping Lona's parents, bringing them food, helping to set up bulletins and map quests for the funeral and viewing. I'm arranging a candlelight memorial for her friends to attend also, they are so lost right now and hurting, I thought a time and place for all of the teenagers to come together from their various High Schools would give them an opportunity to help one another and share their grief.

Tonight I'm creating photo albums and Guestbooks for her friends to leave messages for her and for her family. I've been working with Cheyenne also to make video montages for her friends to use on MySpace. That seems to be where they're all congregating right now. The messages they've been sending to her and her family, to Cheyenne, to one other... even to me, have made me realize just how virtually interconnected their young world is. I watch them write their pain and console one another. All of them trying, as we are, to find comfort and give comfort too. Knowing that these are only teenagers. And that they are far too young to have acquired the long-sightedness that allows us to survive and move forward when the world comes crashing down makes it all the more heart-wrenching. There is no phrase that we adults use in times like this that doesn't ring hollow, and shallow, and useless.

Cheyenne is now sleeping on the couch in the room with me. Her face is like an angel. I haven't been able to help myself, but get up from time to time to tuck the blanket more tightly around her and kiss her forehead. I smell her hair, that clean, shampoo-fresh smell that always wafts into the room two steps ahead of her. I can't help but think of another mother who must be longing to hold her daughter just one more time tonight. I can't stop remembering holding that mother in my arms this evening as her body was wracked with pain and grief. It was the kind of sobbing that left my own body vibrating long after I had let her go. I can still feel it now, that phantom body against my chest, as if her pain has rubbed off on me and into me.

Chey has cried herself to exhaustion. Working on the montages meant looking through photos of the two of them that were so hilarious and goofy that we both couldn't help but break out in laughter-- and then break down into tears for all that will not be. I am only hoping that she'll sleep through the night, but I know that is unlikely. For now I'll let her sleep and work on the montages and photoalbums alone.

We'll share their 'friendship montage' on Thursday.
Until then, please forgive my absence from the blog and visiting whilst I take care of matters that won't wait.

And to O...
Thank you for being there for me and being there for Chey also.
I am grateful every day that you are a part of my world.
My philia.
Lona Halden singing 'Beautiful' at the International School of the Arts