Slash and Ozzy Osbourne hit the stage at Bridgestone Arena with the kind of raw charisma and fuel-driven performances that distinguished them from their peers in their earlier days and now from those who follow in their footsteps.
From the moment they hit the stage you could feel it: that natural magnetism that is sadly missing in rock and roll these days. These guys are the real deal. They're fucking Rockstars!

The first thing that is glaringly different in their show is their awareness of their audience. They hit the stage then take a moment to assess the crowd before them, Slash swaggers along the front of the stage, his signature Les Paul wailing, throwing a crooked smile to those who stand screaming in front of him. Ozzy Osbourne prowls the stage back and forth like a caged tiger, pointing at people in the audience, throwing devil's horns to the rowdiest fans. Their acknowledgement is what makes this concert different from others. It's not a rock and roll show--it's a rock and roll party! And everyone is expected to participate.


The reason these men have remained relevant over the long haul is not just a matter of talent, it's the connection that their fans feel with them; a connection that continues to grow stronger as they move forward in their musical careers. Slash's incredible, distinct guitar playing which fails to comply with any corporeal descriptor; it affects everyone with the same force, but the connection it makes with each of us is so very personal that it cannot be neatly summed up or explained away.

Ozzy Osbourne's most defining talent is far more enigmatic. It is a fact that at the beginning of every new decade the most popular music and musicians are tagged by era and dumped. Rarely does a band, or the music they created, survive into the next decade. People love Ozzy Osbourne more today than ever before. Die hard fans who have stuck by the Prince of Darkness through thick and thin are met head-on by the devotion of a new generation of fans.

The enthusiastic crowd is unique; fans dating back to Ozzy Osbourne's Black Sabbath days are out-numbered by high school and college kids, some wearing their Slash top hats, others wearing vintage Blizzard of Ozz t-shirts. Ozzy Osbourne and Slash are not going away any time soon. The youthful audience promises them both another decade of music making. But more importantly, these kids know every single song from start to finish. They scream along to classics like "Mr. Crowley" and "Night Train" as well as songs from the 2010 releases Slash and Scream from Ozzy Osbourne.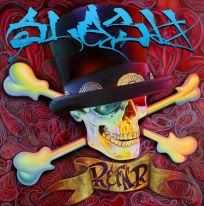 Slash hit the stage first, opening with the fiery, hard-rocking single "Ghost," which featured a stand-out vocal performance by former Cult frontman Ian Astbury on the album, but it was the chemistry between Alter Bridge's Myles Kennedy and Slash that truly made a difference in the live performance. They were undeniably meant to play together. The chemistry between these two awesome artists would prove to be the glue that held the entire set together; Slash's incredible, gut-wrenching guitar playing and Myles Kennedy's powerful, versatile vocals was absolutely mind-blowing.

Backed by Todd Kerns (bass), Brent Fitz (drums) and powerhouse veteran rhythm guitarist Bobby Schneck, they ran through a mix of fan favorites from Guns N Roses, Velvet Revolver, Slash's Snakepit and the latest self-titled release Slash.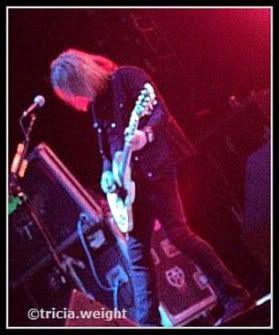 The one thing that was most evident was how much these guys enjoy playing together--and how much they love their audience. They drove the crowd crazy again and again as they stood on the edge of the stage and pulled them to their feet.
Slash had a cat-that-ate-the-canary smile on his face the entire time, they were rocking the fuck out of Nashville--and he was loving every minute of it.

There was only one glitch in the show and it was as unexpected for the bands playing as it was for the audience. Nashville has a noise ordinance. A noise ordinance in Music City USA? Crazy. It meant Slash hit the stage early causing absolute chaos as people bolted across the venue and blocked entrances trying to get to their seats. It also meant that the set lists were shortened--Ozzy took the hardest hit, even cutting his four song encore down to two.
Needless to say the crowd was still hungry for more when Ozzy Osbourne hit the stage.


As odd as it may sound, after four decades making rock n roll, Ozzy Osbourne has never looked or sounded better. He hit the stage full of energy, looking healthy and happy. You could tell immediately that he is having a blast on this tour. And the music? Backed by some of the greatest musicians in rock and roll the Prince of Darkness was truly in his element. He was absolutely incredible.

There are few songs in rock and roll that are as easily recognizable from their opening notes as Ozzy's. He kept the audience on their feet for the whole show. The opening notes of "Mr. Crowley," featuring Adam Wakeman's goosebump inspiring keyboards, "Crazy Train" and "Mama, I'm Coming Home" sent the crowd into a frenzy. One of my favorite Ozzy tunes, "Road to Nowhere" had the entire arena swaying along with Ozzy's beautiful delivery.

Ozzy lost about a third of his set that night, but hey. He's the man. He made sure Slash fans got their fill and also that his band members were showcased. Guitarist Gus G and Tommy Clufetos got to be the rock stars that night, they did their solo sets in full--and totally blew the crowd away! Ozzy is just such an awesome guy when it comes to supporting other musicians. He's always so proud of the musicians playing with him and he's quick to move his spotlight over to them. You gotta love Ozzy Osbourne--he's just so fucking cool!

Randy Rhoads, Zakk Wylde: Ozzy has always hunted out the very best when it comes to rock guitarists and his newest addition, Gus G, is definitely destined for the same kind of accolades. He is just incredible.
I'd also have to note Blasko's performance; he never stopped moving! If rock concerts were Olympic events he would have medaled across the board from high jump to hurdles. Besides his immense talent as a bass player, Blasko is also an incredible stage musician--he packs a fierce, energetic performance. We really need to keep an eye on this guy. I have a feeling we'll be hearing a lot more from him in the future.

From here Slash will go on to Soundwave Festival in Australia. You can check Slash.Ultimate-Guitar.com for more up-coming tour dates.

For Ozzy Osbourne tour dates and announcements visit Ozzy.com
Slash's Band
Slash – lead guitar
Myles Kennedy – lead vocals, guitar
Bobby Schneck – rhythm guitar
Todd Kerns – bass
Brent Fitz – drums

Ozzy Osbourne's Band
Ozzy Osbourne – lead vocals
Gus G – guitar
Blasko – bass
Tommy Clufetos – drums
Adam Wakeman – keyboards, additional guitar

Slash Set List
1.Ghost
2.Mean Bone
(Slash's Snakepit)
3.Nightrain
(Guns N' Roses)
4.Been There Lately
(Slash's Snakepit)
5.My Michelle
(Guns N' Roses)
6.Rocket Queen
(Guns N' Roses)
7.Back From Cali
8.Starlight
9.Sweet Child O' Mine
(Guns N' Roses)
10.Slither
(Velvet Revolver)
11.Paradise City
(Guns N' Roses)

Ozzy Osbourne Set List
1.Bark at the Moon
2.Let Me Hear You Scream
3.Mr. Crowley
4.I Don't Know
5.Fairies Wear Boots
(Black Sabbath)
6.Suicide Solution
7.Road to Nowhere
8.War Pigs
(Black Sabbath)
9.Shot in the Dark
10.Rat Salad
(Black Sabbath)
11.Iron Man
(Black Sabbath)
12.Crazy Train
Encore:
13.Mama, I'm Coming Home
14.Paranoid
(Black Sabbath)
Linkin Park Releases Dates for 2011 A Thousand Suns Tour and New Concert Video

Originally Concert Review: The Scream Tour - Slash and Ozzy Osbourne
Photos © tricia.weight@gmail.com