MACHINE HEAD DAVE McCLAIN - Wacken, Mayhem, Soundwave Revolution and Tattoos
It's loud. It's hot. It's chaotic... It's Mayhem!


Dave talks about opening the Mayhem Festival Rockstar Main Stage, headlining the Revolver Stage, playing the inaugral Mayhem Festival and Germany's Wacken Festival as well as touring with bands like Slayer, Iron Maiden and Pantera.


He also discusses Machine Head's up-coming tour plans and the recent cancellation of the Australian Soundwave Revolution Festival due to headliners Van Halen's unexpected pull out, at least that's the popular opinion--Once again promoter AJ Maddah is in the thick of a mess, though February's regular Soundwave Festival is still on--so far. Along with Machine Head, a total of 50 bands were scheduled for the festival, however Machine Head is still heading out on the road--with an amazing array of of tour-mates.
Dave also shows off his first tattoo and strips down to show off fresh ink, still wet, no less!


Due to the bands warming up we never got a chance to discuss touring with Metallica and Dave's weird ass drum set-up, but Machine Head will be here in February (tour dates below)... who knows? Maybe we can catch up with them again then.
And in a quieter place.
Keep up with Machine Head: MySpace.com/Machinehead Facebook.com/MachineHead Twitter.com/MfnH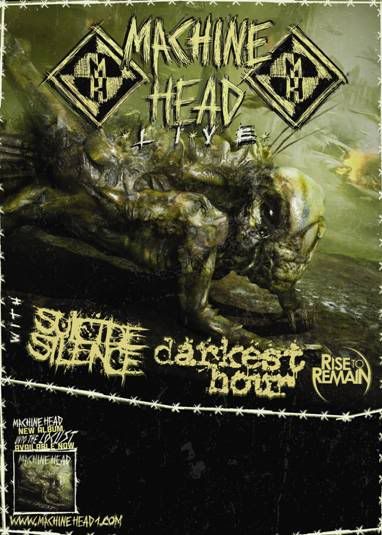 MACHINE HEAD U.S. Headline Tour begins 1/15/2011 with Support from SUICIDE SILENCE, DARKEST HOUR and RISE TO REMAIN
1/15, Denver, CO @ Summit Music Hall
1/17, Sauget, IL @ Pop's
1/19, St. Paul, MN @ Station 4
1/20, Milwaukee, WI @ Rave Ballroom
1/21, Royal Oak, MI @ Royal Oak Music Theatre
1/22, Chicago, IL @ House of Blues
1/24, Columbus, OH @ Newport Music Hall
1/26, Portland, ME @ State Theatre
1/27, Montreal, QC @ Metropolis
1/28, Toronto, ON @ The Sound Academy
1/29, Buffalo, NY @ Town Ballroom
1/31, Pittsburgh, PA @ Stage AE
2/1, Baltimore, MD @ Ram's Head Live
2/2, Philadelphia, PA @ Trocadero
2/3, New York, NY @ Best Buy Theatre
2/4, Worcester, MA @ The Palladium
2/6, Norfolk, VA @ NorVA Theatre
2/7, Charlotte, NC @ The Fillmore
2/8, Atlanta, GA @ Masquerade
2/10, New Orleans, LA @ House of Blues
2/11, Houston, TX @ House of Blues
2/12, San Antonio, TX @ Backstage Live
2/13, Dallas, TX @ House of Blues
2/15, Farmington, NM @ Top Deck
2/16, Tuscon, AZ @ Rialto Theatre
2/17, Hollywood, CA @ Avalon
2/18, San Francisco, CA @ The Warfield
Visit Machinehead1.com for tour updates and tickets.
Read the Mayhem Festival Review: http://bit.ly/qEyCA1
New Album - MACHINE HEAD - UNTO THE LOCUST: Release date: September 27th, 2011 on Roadrunner Records - Unto the Locust Album Review: on Seattlepi
http://bit.ly/qyLkef and Blogcritics http://bit.ly/ommv48
Purchase Machine Head music on Amazon: http://amzn.to/p70WfA
Unto the Locust on iTunes http://bit.ly/mSJgWR © 2011 WMG