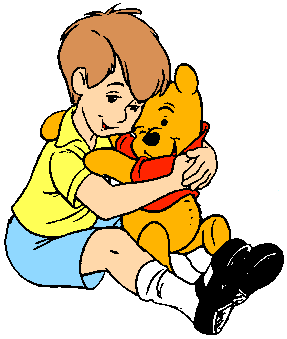 AA Milne's Winnie the Pooh characters
"Promise me you'll always remember: you're braver than you believe, stronger than you seem and smarter than you think." Christopher Robin to Winnie the Pooh
We all need a friend like Christopher Robin; someone who believes in us when we don't believe in ourselves, sees how strong we can be (and pushes us in that direction) and knows how smart we really are. All too often, we allow ourselves to believe the lies we've been told for too long. We become convinced that we are the person the world has molded us into; and we begin to behave as if we truly are that person. We miss opportunities because we're fearful of failure; we don't realize our potential because someone's misguided attempt at advice has tripped us up. That's when we need a friend like Christopher Robin. Yes, I know he's fictional, but the qualities that make him a great friend are real.
"You're braver than you believe…" The power of those words when spoken by a true friend is incredible. Don't ask me why it's easier to believe that from a friend's lips than it is to believe it when we say it ourselves. I don't know why; it just works that way. I want a friend who knows how brave I am because she knows me better than I know myself. I want a friend who will tell me, "Of course, you can do that. Why would you ever think you can't?" She'll say it with such conviction that I would never dream of doubting her.
"…stronger than you seem…" A real friend knows the "me" I don't show to the world, the "me" I sometimes even forget. She will remind me of the strengths she knows I possess and she won't let me hedge on that knowledge. A true friend sees through me. She's not fooled by the masks I wear or by my sudden, inexplicable insecurities. She knows what my strengths are and she knows how to reach them. And she knows when it's necessary to do just that.
"…smarter thank you think." We all do it—play dumb sometimes. Maybe it's because the task we're facing seems bigger than we are, or because we're just too tired to tackle it. There are hundreds, maybe thousands of reasons why we convince ourselves we aren't smart enough or capable enough. In doing so, we short-change ourselves on so many levels. A true friend wants the best for me. She wants me to reach for the stars because she knows how happy I'll be when I catch a star or two. She keeps me grounded, but pushes me to reach for those shiny, twinkling stars--always reaching. You're smarter than you think.
It's true—everyone needs a Christopher Robin. I've found mine and I'm holding on to her for dear life. Life is better with a Christopher Robin friend to get me through the day. I'm sure of it.